Our Fortnite Season 8 Week 1 Challenges List and Cheat Sheet brings you all of the solutions and answers for the challenges you need to complete for the week. We have maps to treasure and item locations, as well as tips for completing all of them as quickly as possible!
This week we're visting Pirate Camps, searching chests at Retail Row or Junk Junction, dealing damage with various weaponry, visiting giant faces carved into mountains, using the new Volcano Vents, eliminating enemies with different weapons, and dealing damage to vehicles that are being driven by enemies!
Fortnite Season 8: Week 1 Cheat Sheet
If you want to check at where to find all the challenges, here's a cheat sheet for you! Check below for more detailed information on these challenges. Credit to SquatingDog.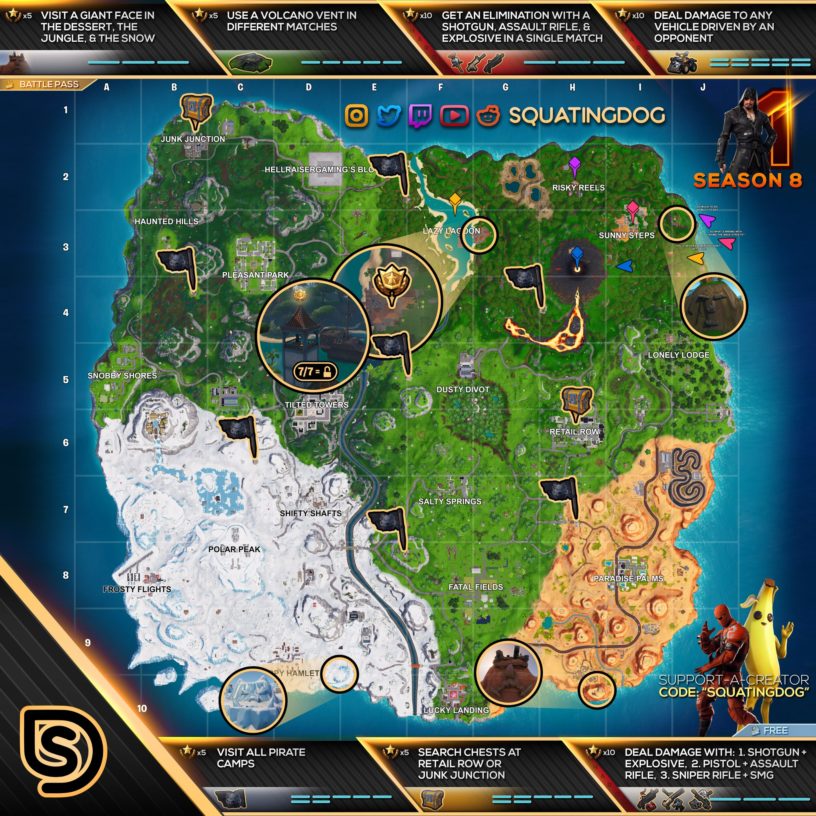 Week 1 Challenges List for Season 8
Free Battle Pass Challenges List
Paid Battle Pass Challenges List
Hidden Battle Star
Check out our Fortnite Season 8 Guide for guides on every week of challenges! We've also got all of the hidden items in our Season 8 Hidden Battle Stars Locations post.
Visit all Pirate Camps (7)
Pirate camps are scattered around the map now, you can find them all listed on the map above.
Search Chests at Retail Row or Junk Junction (7)
Believe it or not Retail Row and Junk Junction survived the earthquakes and volcanoes! Time to head to these spots and loot up the chests.
Stage 1 of 3 - Deal damage with a Shotgun and an Explosive Weapon in a single match (2)
You have to use each of the weapon combinations in the same match. There's three stages to this and it starts with Shotgun and Explosive Weapon. You just have to deal damage with them, and you can use grenade and rocket launchers or throwable explosives for credit. The second stage is pistol and assault rifles, which might be a pain with the kind of weak pistols that are in the game right now. Final stage is sniper rifle and SMG which might be the hardest as a lot of people still struggle with snipers. Your best bet is to head to an LTM if you can't complete one of these, you'll get a lot of chances in those modes.
Visit a giant face in the desert, the jungle, and the snow (3)
There's multiple giant faces on the map now, and you'll find all three listed on the cheat sheet!
Use a Volcano Vent in different matches (5)
The Volcano Vents are a new feature added to Fortnite in Season 8. You can jump onto them and they will launch you into the air and put you into skydiving mode. You can find these all around the north eastern part of the map. Mostly near the volcano and lava areas, but south of Lazy Lagoon and west of Sunny Steps are good locations.
Get an elimination with a Shotgun, Assault Rifle, and Explosive Weapon (3)
This one shouldn't be too bad, you don't have to do them all at the same time at least!
Deal Damage to a vehicle driven by an opponent (200)
This would be a whole lot easier if planes didn't get vaulted! However, there's still vehicles that are going to be driven around so you'll just need to fire at them when enemies are in them.
Hidden Banner
Once you complete all of the week 1 challenges you will get this loading screen of the new Blackheart skin and his Fishstick crew! You'll notice the hidden battle star floating above the building in the Lazy Lagoon area.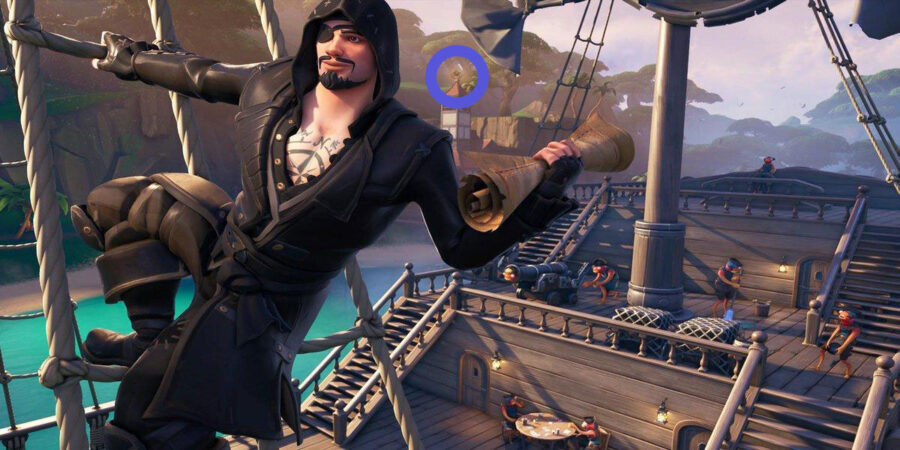 You can find the exact location on the map below, it's right on top of one of the buildings.