Our Fortnite Season 8 Secret Battle Stars Locations Guide features an up-to-date list of every week available to find those hidden stars and banners! This guide will feature leaked loading screens when they are available so you'll know where you need to head well before we get to that particular week! You'll want to bookmark this page so you know exactly where each star and banner is located.
What's up with these secret battle stars? Well, it all started in season 4 where you could unlock a loading screen whenever you completed all of that week's challenges. Some eagle eyed player noticed the outline of a battle star in one of the loading screens. They went to the location and low and behold there was a star that they could collect!
What do the hidden Battle Stars do?
Once you collect one of the hidden battle stars you are given 10 stars towards your battle pass. This is helpful for leveling it up quickly and unlocking all of those sweet cosmetics you paid to get.
Why is there sometimes a hidden banner?
Every other week there will be a hidden banner. I'm not exactly sure why they added this, but it gives people a small extra cosmetic that they can collect. I personally am more interested in the battle stars, but at least it's a little something free that you might enjoy.
Check out all of the loading screens from past and present with our Fortnite Loading Screen List!
Mystery Discovery Skin
Every new season brings in a new mystery skin! We've seen skins of all types end up as the hidden cosmetic, such as the robotic A.I.M., hooded Enforcer, mysterious Visitor, and the powerful Prisoner! Once we have an idea of what skin will be given when you finish the Discovery challenges, we'll be adding it right here!
Season 8 Hidden Battle Star Locations
Each week you complete will unlock a loading screen, that screen has a hint to the location of the hidden battle star! Before you go hunting for these stars, be sure you complete the particular week's challenges because it won't be there until you do so.
Check out our big post with guides to every challenge week of Season 8: Fortnite Season 8 Guide!
Week 1 Battle Star Location
Like most seasons we start off with a loading screen featuring one of the new skins! This time we're greeted by Blackheart and his crew of Fishsticks. They are on their way to find some booty, but you will be on your way to the Lazy Lagoon where you can see the hidden battle star hovering above a roof.
The exact location is found on the map below. Head on over to the Lazy Lagoon and to the buildings on the east side of it to find the star!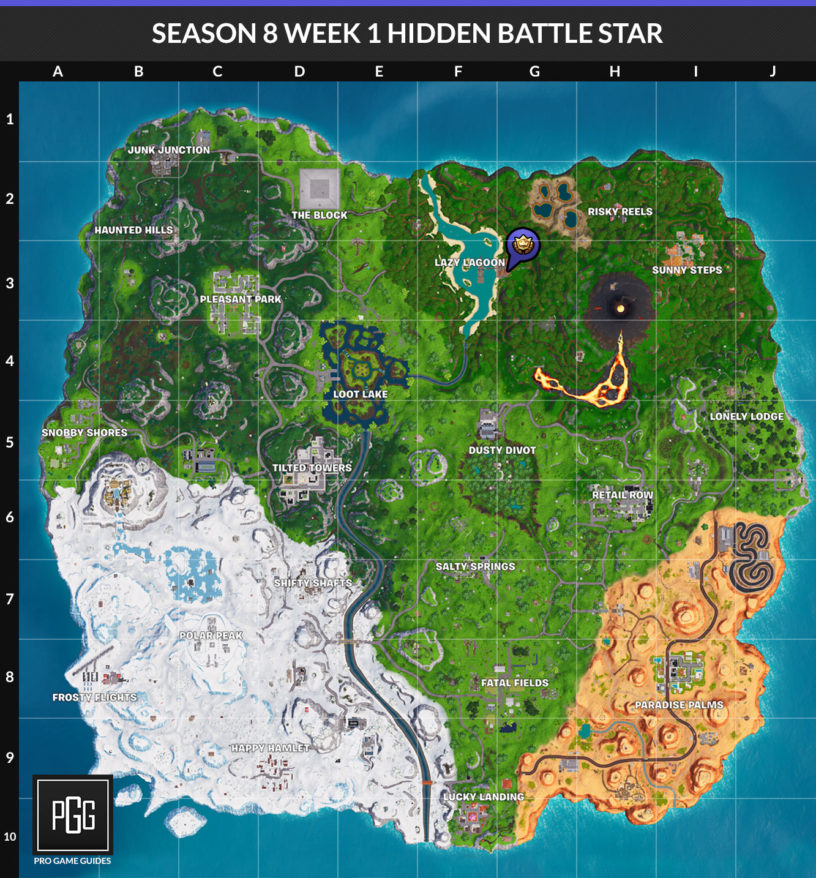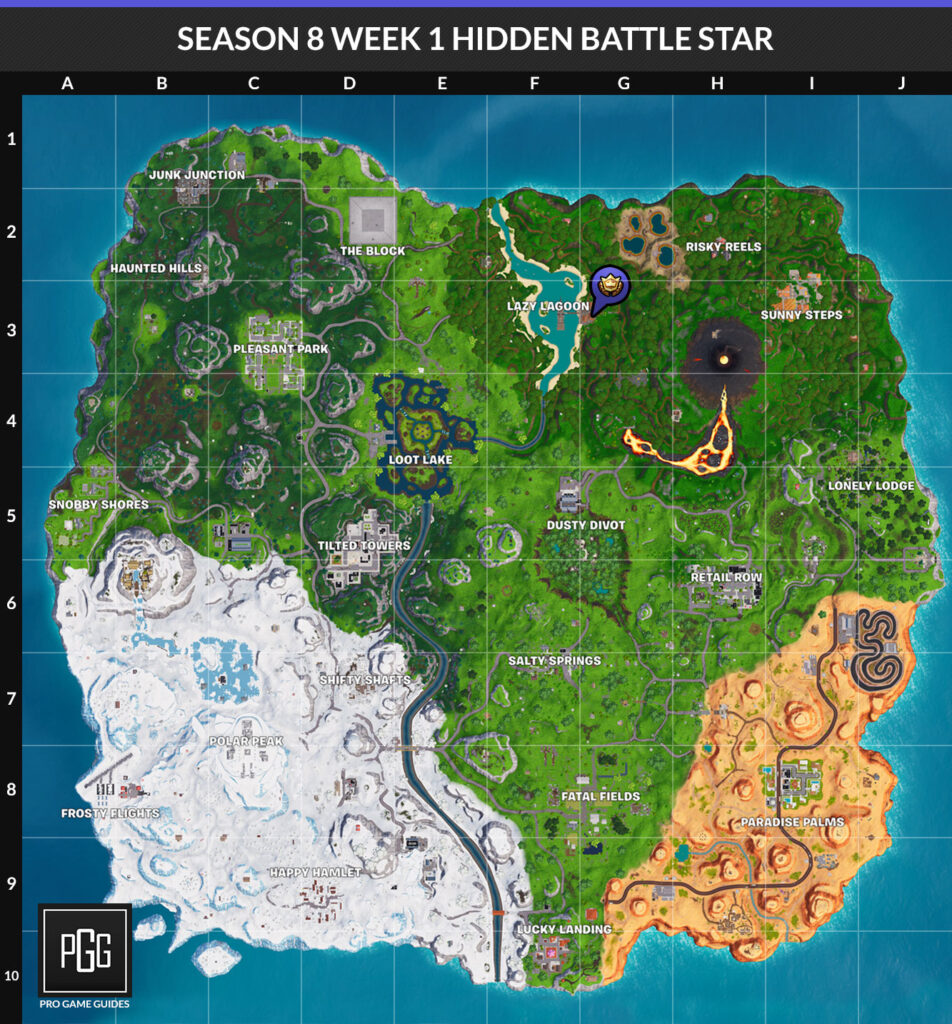 Week 2 Hidden Banner Location
The second week features a loading screen with The Prisoner near his molten throne! It appears he is unleashing the Hybrid skins onto the world, so be careful out there. You'll notice the icon of the hidden banner on the left side of the loading screen.
You will need to make your way inside of the volcano and right near the throne of The Prisoner. You can find the exact location on this map:
Week 3 Hidden Battle Star Location
The third week features Sidewinder running away with some stolen treasure! To her left features the hint to the location of the battle star.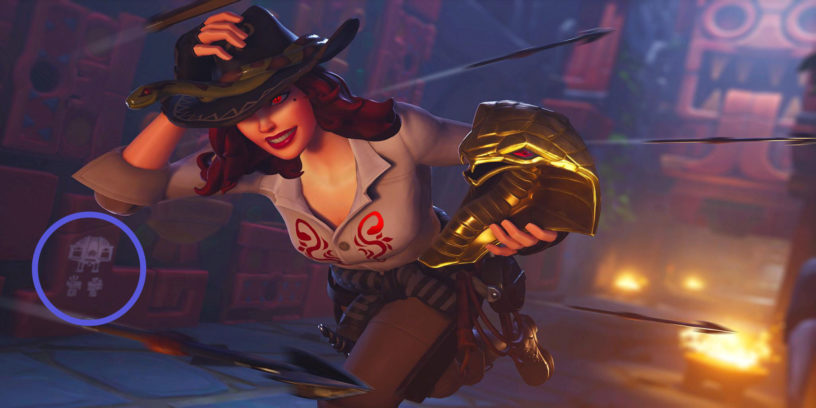 This location is south east of the big volcano and on the side of a hill. If you need more direction, I've included a video below the map!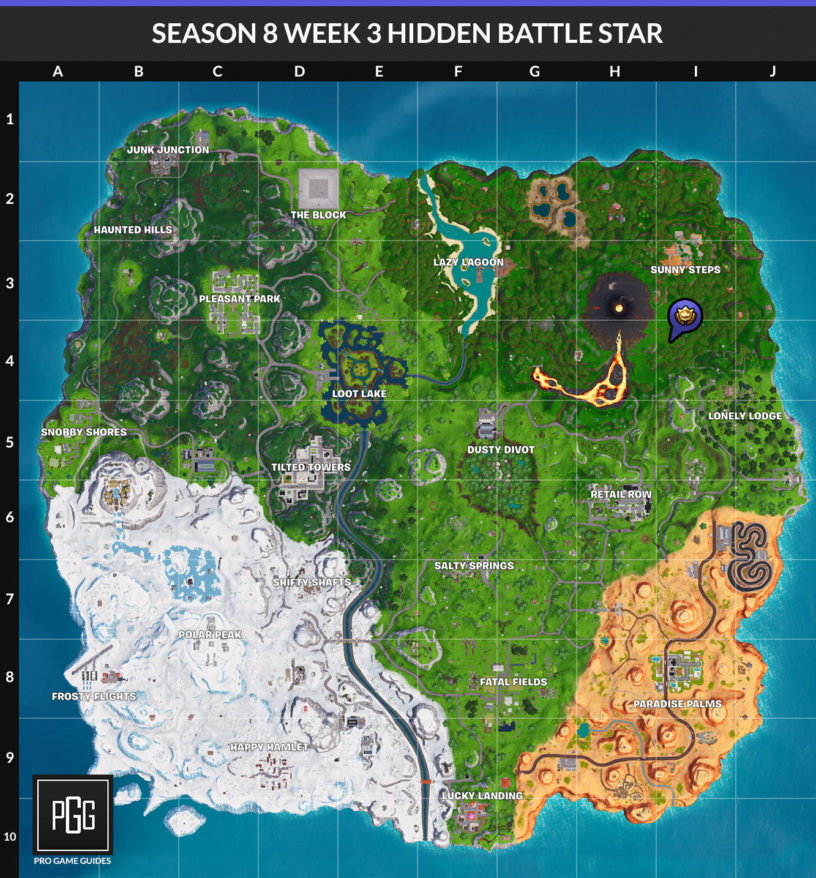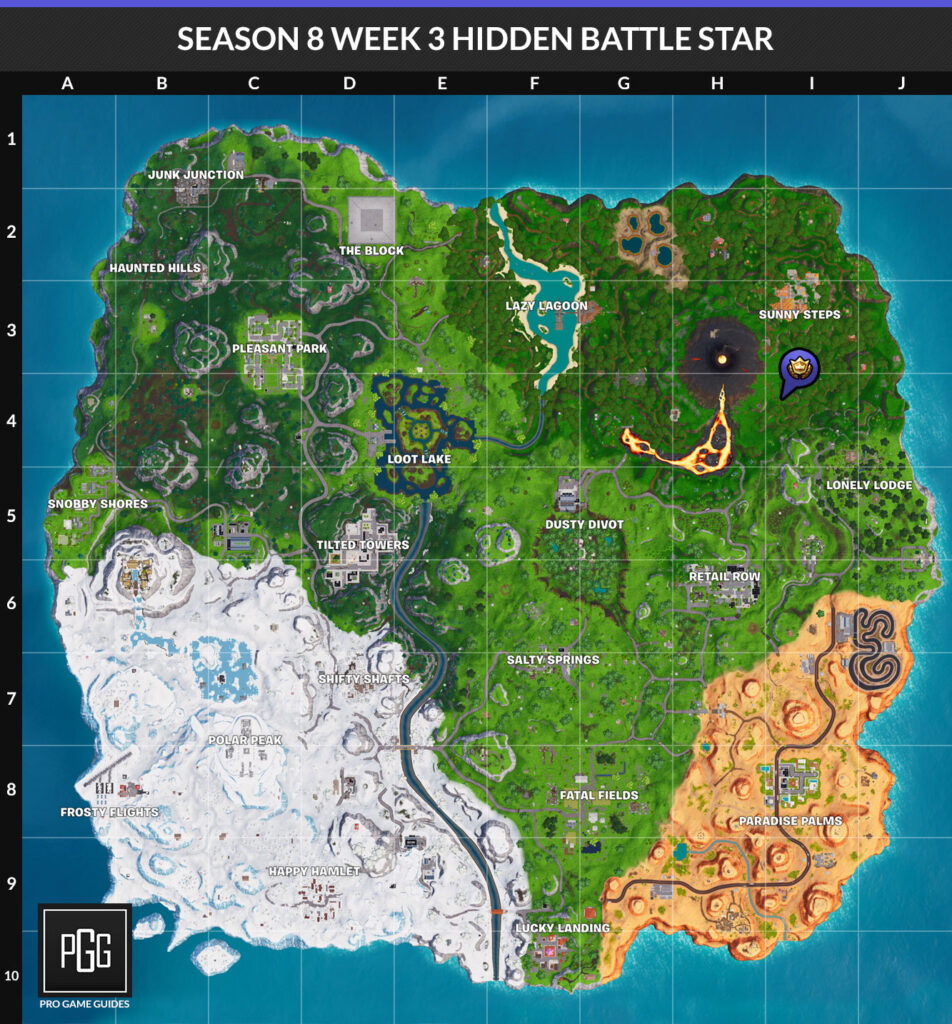 Here's a video showing the exact location if you are still having trouble finding it:
Week 4 Hidden Banner Location
Once you've completed all the week 4 challenges you will be given this Peely skin loading screen! While this looks like a fun time for the king of the bananas, it's actually pretty likely they are preparing to heave the king into the volcano! Anyway, if you are looking for the hidden banner you can see it to the right of the throne on the lantern pedestal.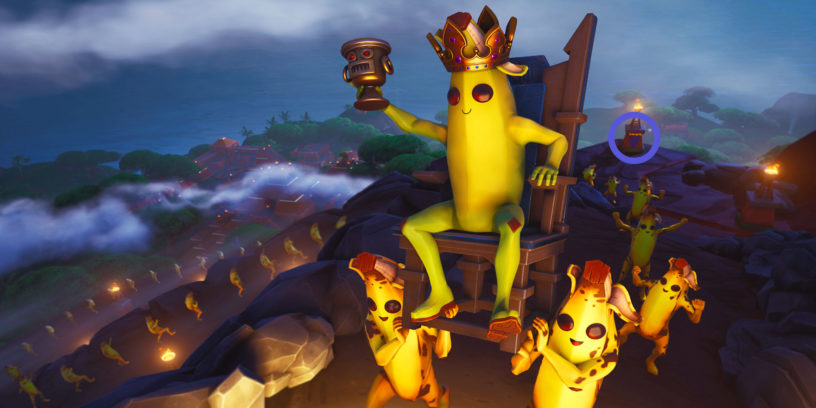 The exact location is near the volcano, and quite close to the opening of it. Here's a map to the exact location: