Our Fortnite Season 8 Week 10 Challenges List and Cheat Sheet brings you all of the solutions and answers for the challenges you need to complete for the week. We have maps to treasure and item locations, as well as tips for completing all of them as quickly as possible!
This final week of Season 8 challenges has us launching through flaming hoops with a cannon, harvesting various resources in a single match, eliminating opponents at Tilted Towers or The Block, dealing damage with an Infantry Rifle or Heavy Assault Rifle, searching for a treasure map in Junk Junction, dealing damage within 10s of landing after using a Volcano Vent, and getting up real close to our opponents for an elimination!
Fortnite Season 8: Week 10 Cheat Sheet
Here's a full cheat sheet on how to complete all of the challenges in week 10! Credit to ItsEnergie. We've got more flaming hoop locations in our more detailed guide below.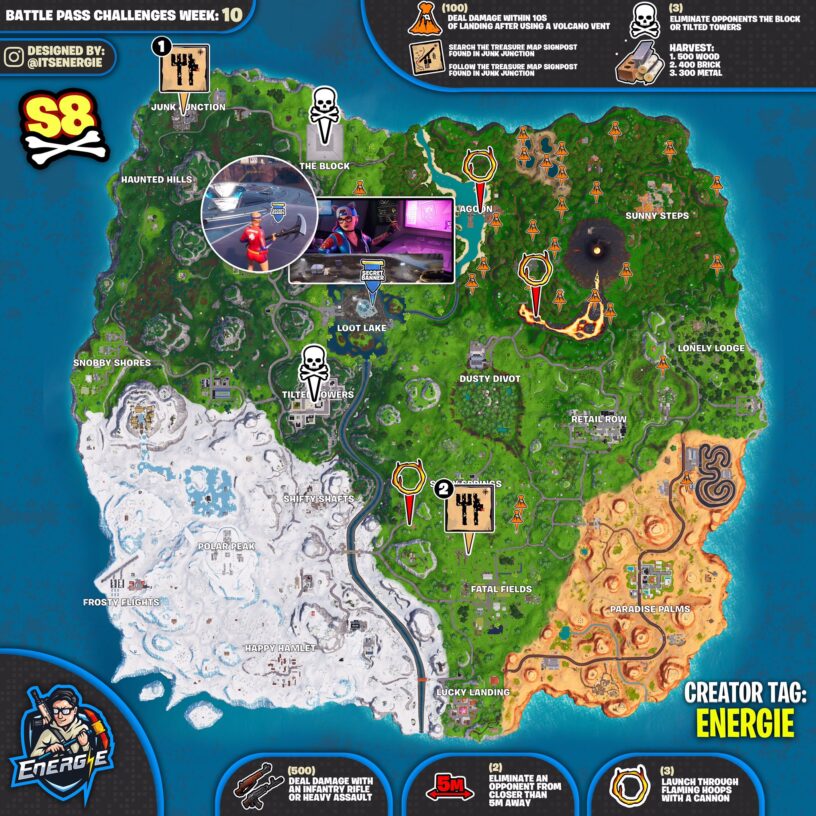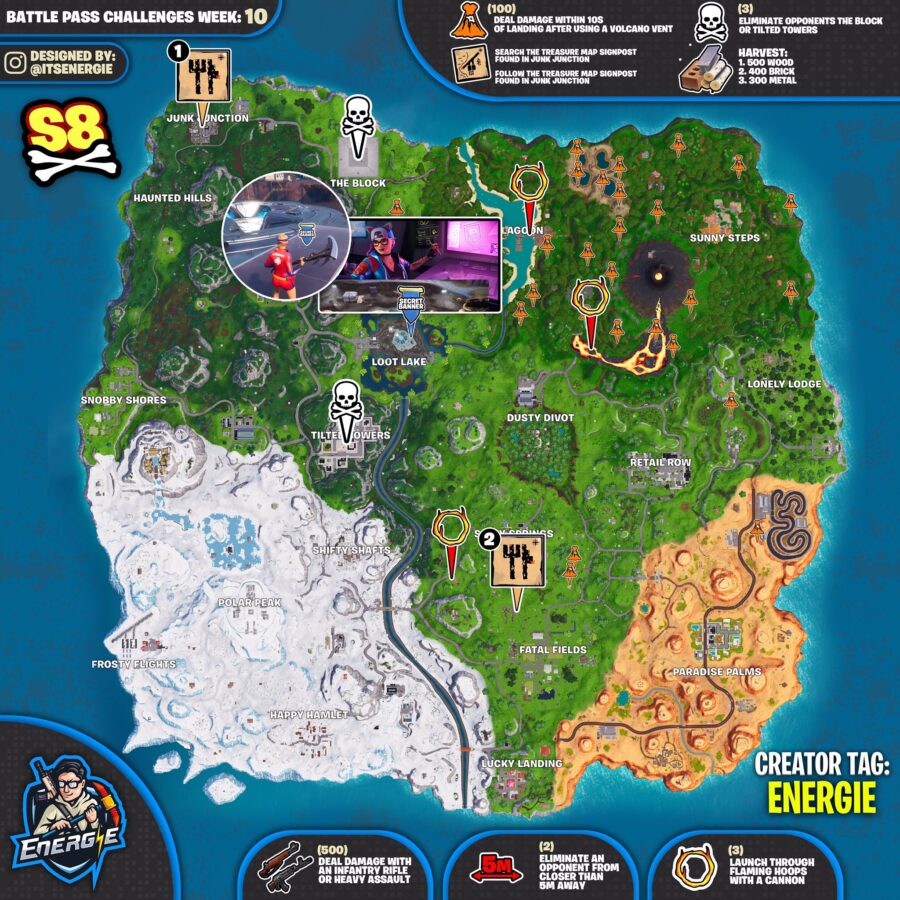 Week 10 Challenges List for Season 8
Free Battle Pass Challenges List
Paid Battle Pass Challenges List
Hidden Item
Check out our Fortnite Season 8 Guide for guides on every week of challenges! We've also got all of the hidden items in our Season 8 Hidden Battle Stars Locations post.
Launch through flaming hoops with a Cannon (3)
You'll find the majority of flaming hoop locations near the Pirate Camps that are scattered around the map. There's a hoop location south of Pleasant Park, south of Loot Lake, north of Polar Peak, south of Salty Springs, right over the big pirate ship in Lazy Lagoon, over the lava near the big volcano, and there's another north of Paradise Palms. The map below uses the battle star to display the hoop location, and the cannons are where you should fire yourself from to get through the hoop!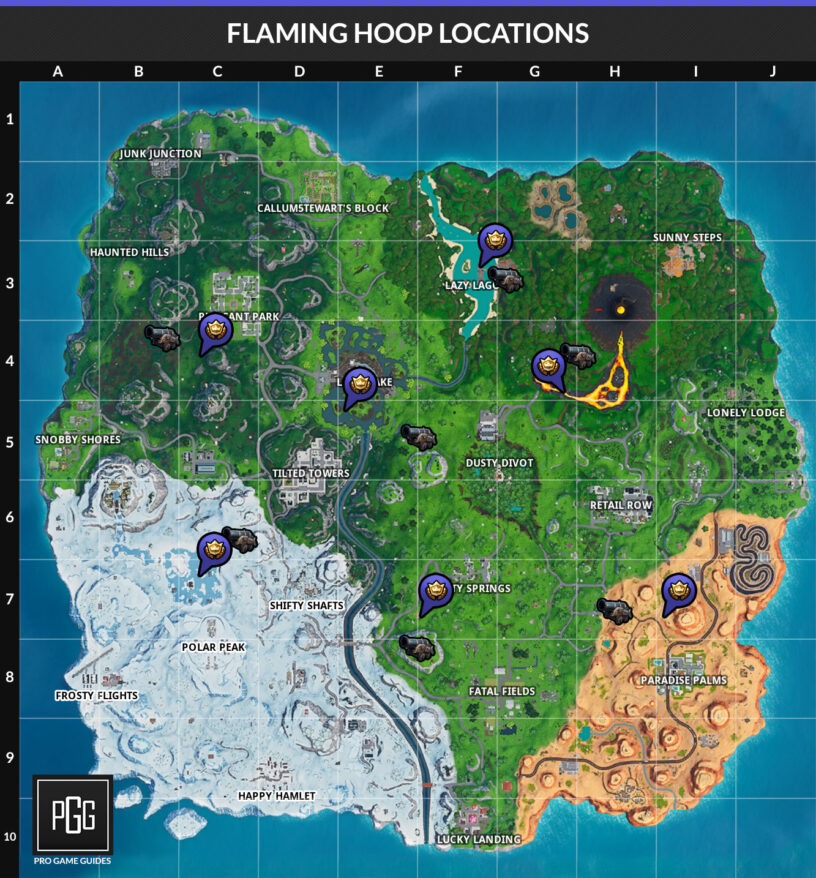 Stage 1 of 3: Harvest Wood in a single match (500)
There's a ton of forest area surrounding the volcano and near the Sunny Steps and Lazy Lagoon. You can also head to Lonely Lodge for more deforestation opportunities.
Stage 2 of 3: Harvest Stone in a single match (400)
Stone can be found most easily in quarry areas, there's a couple to the west and east of Fatal Fields. You can also head to the quarry that's south east of The Block.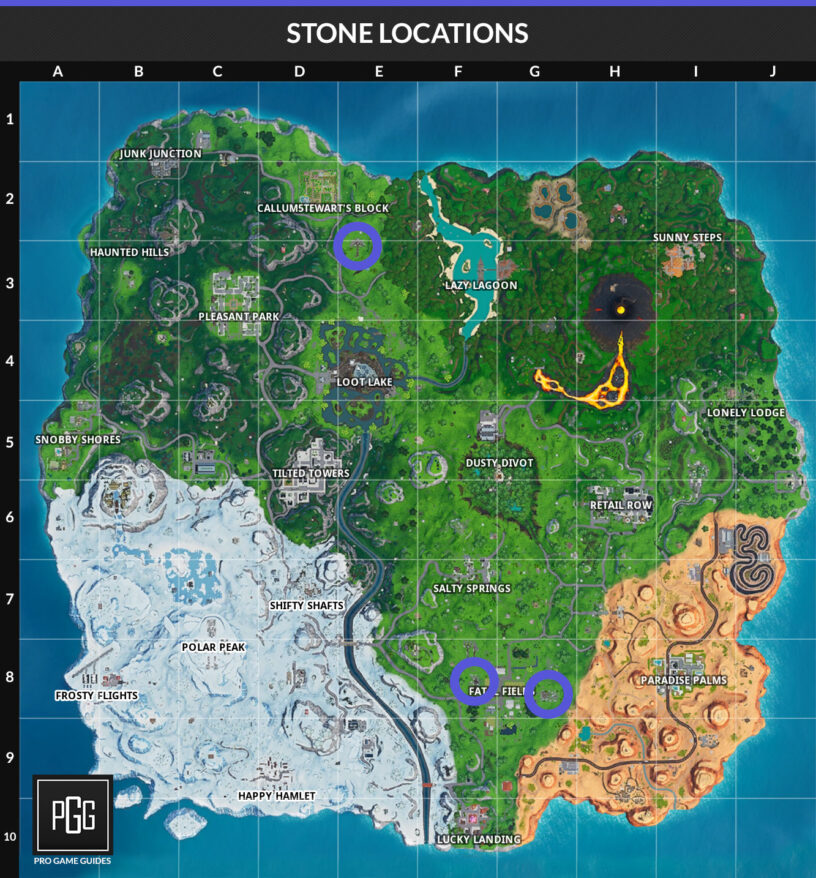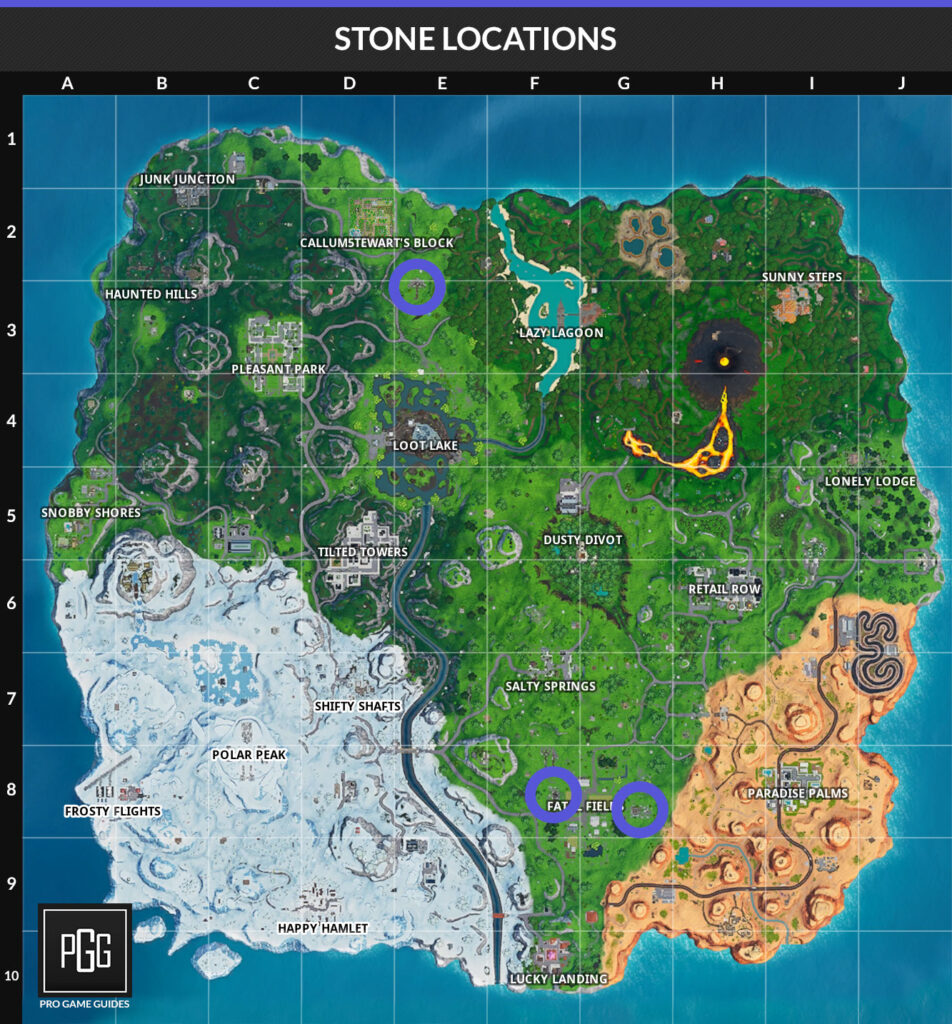 Stage 3 of 3: Harvest Metal in a single match (300)
Metal can be found in spots with a lot of cars or crushed cars. In Junk Junction there's a bunch of these, there's also a mini Junk Junction that's south east of Paradise Palms. To the east of Retail Row is the RV Park, there's quite a bit of metal that c an be farmed there.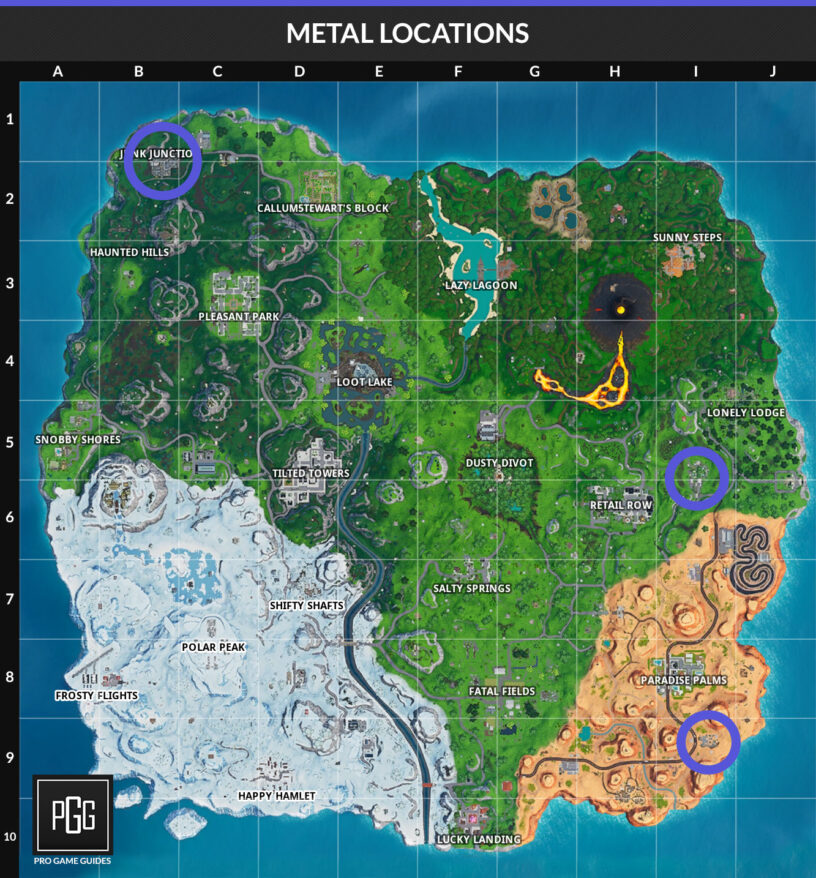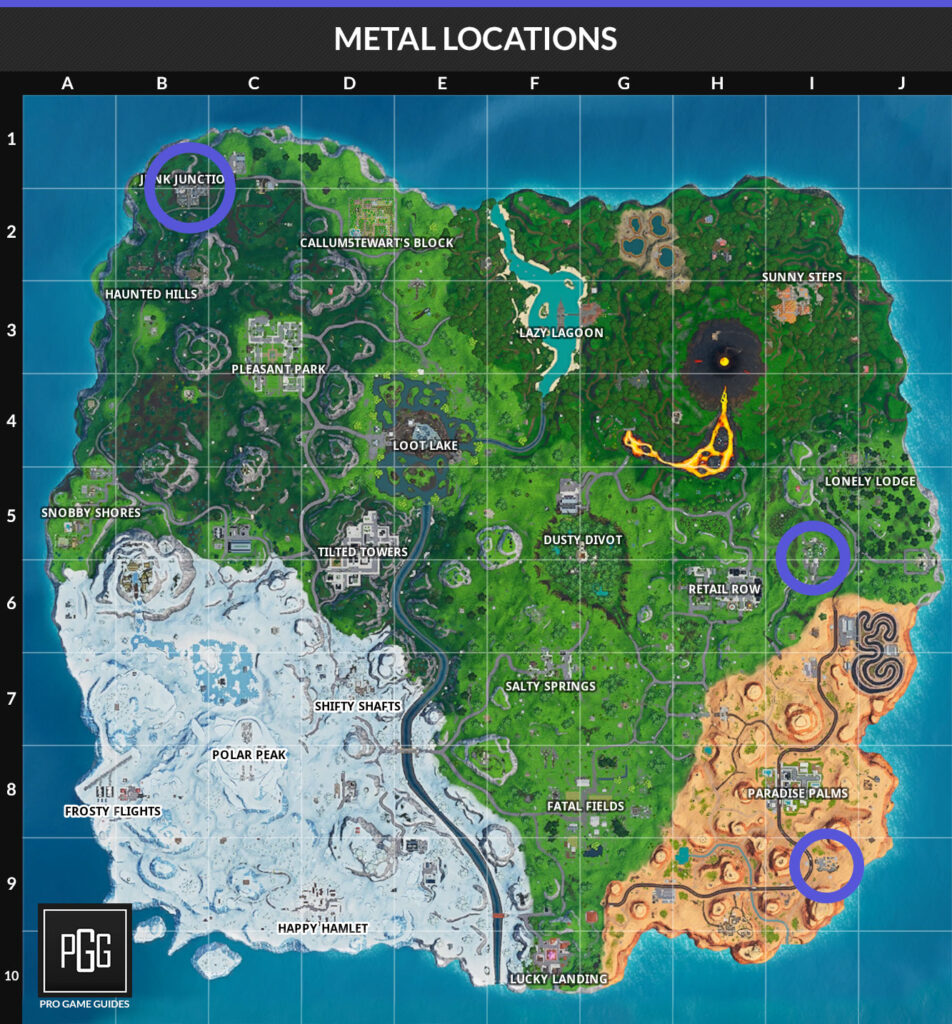 Eliminate opponents at Tilted Towers or The Block (3)
Not too hard, head to Tilted Towers and mix it up with all the people that are still landing there after all this time. The Block is going to be more of a casual landing spot, so it's up to you how exciting you want this challenge to be.
Deal damage with an Infantry Rifle or Heavy Assault Rifle (500)
Both of these weapons are pretty good now. The Infantry Rifle got off to a poor start, but it's now worth picking up as your midrange weapon. The Heavy Assault Rifle is weaker now with the reduction in rarity, but it's still pretty solid.
Stage 1 of 2: Search the treasure map signpost found in Junk Junction (1)
We did a similar challenge like this in Paradise Palms. You'll need to find the signpost, and once you interact with that you will get a location to the treasure itself.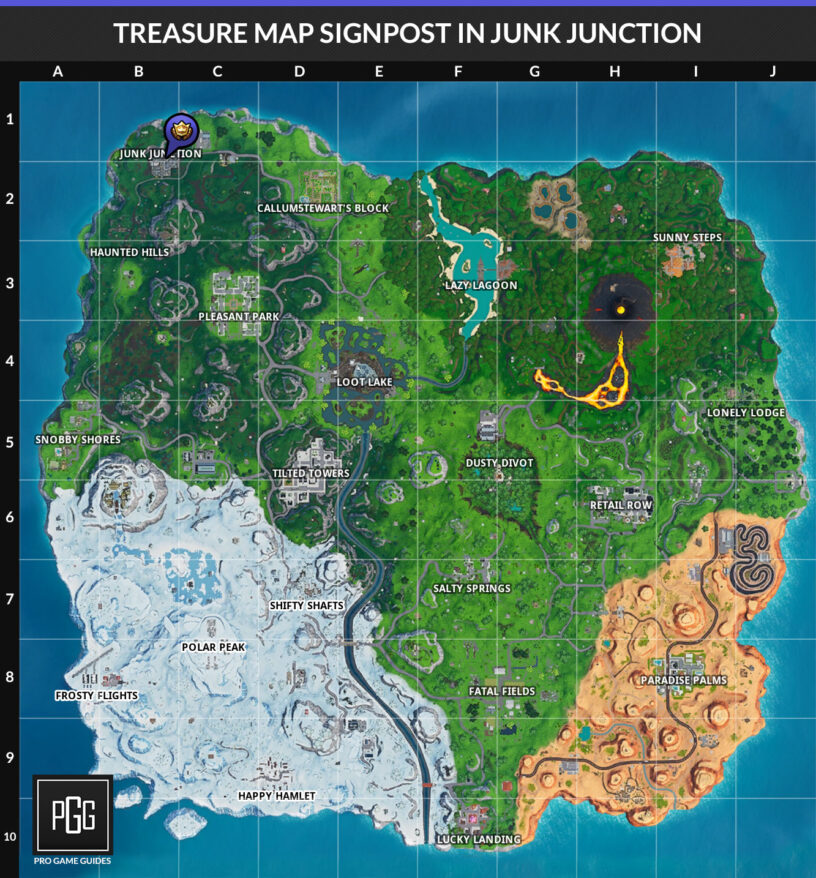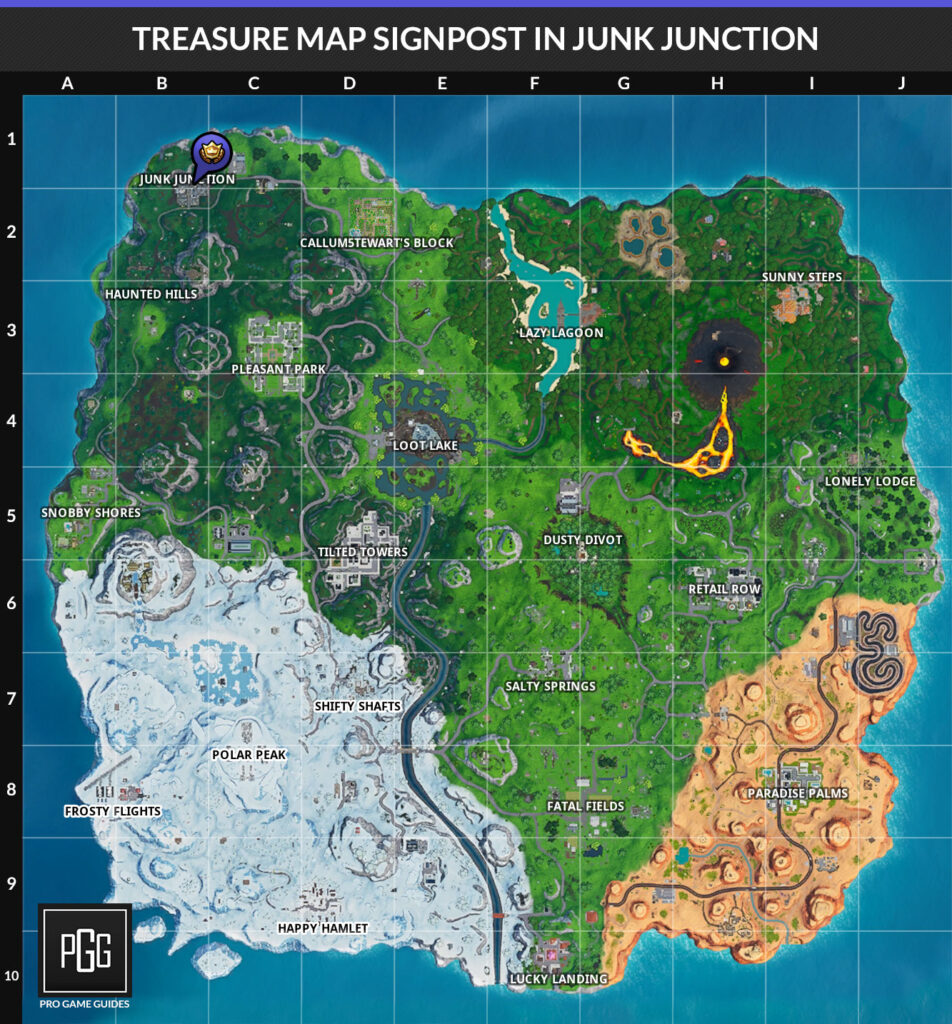 The exact location is right next to the basketball court area, and is in-between some crushed cars and other compacted junk. Here's a look at it: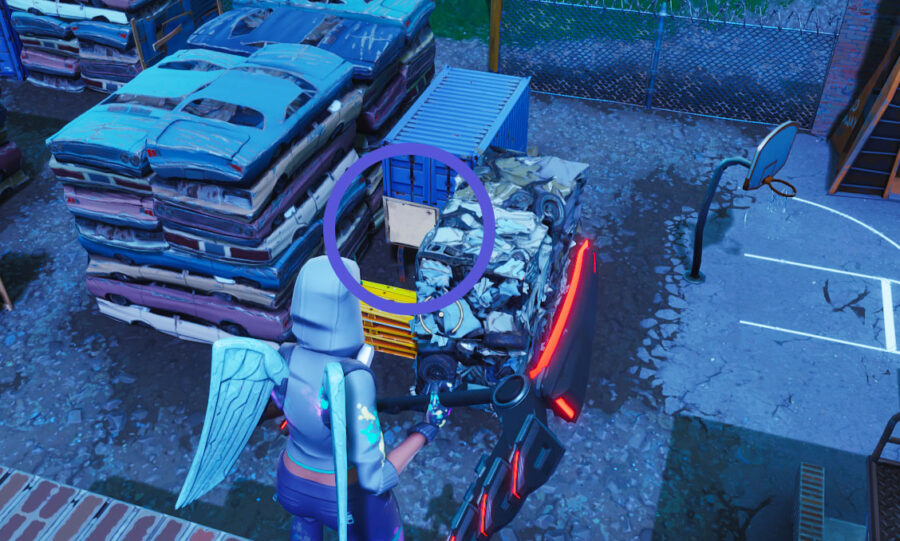 Stage 2 of 2: Follow the treasure map signpost in Junk Junction (1)
Once you interact with the sign, the following treasure map will display itself.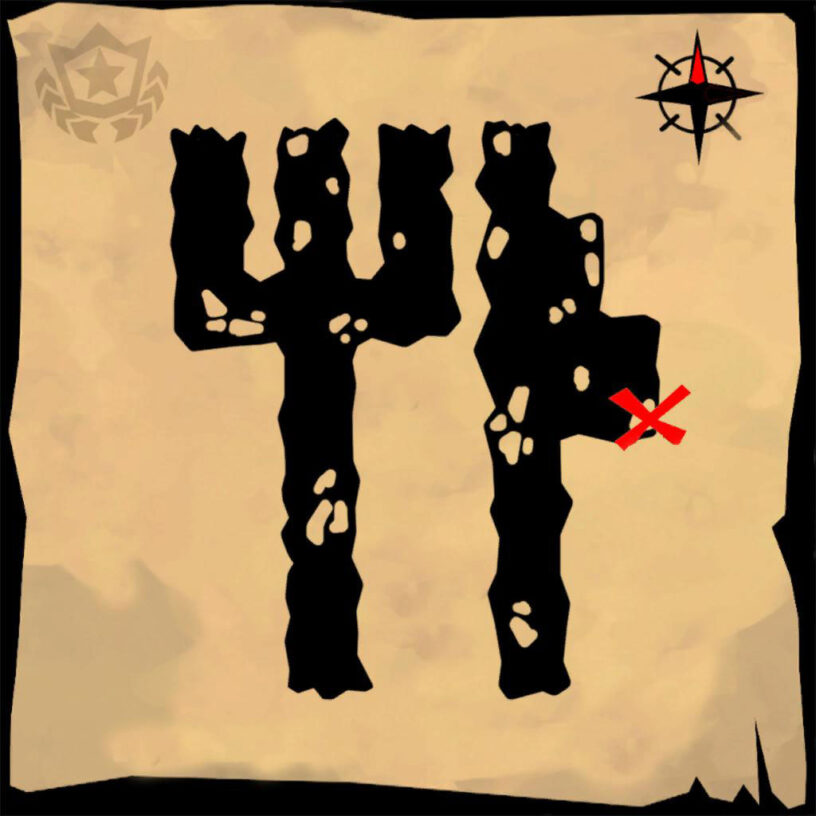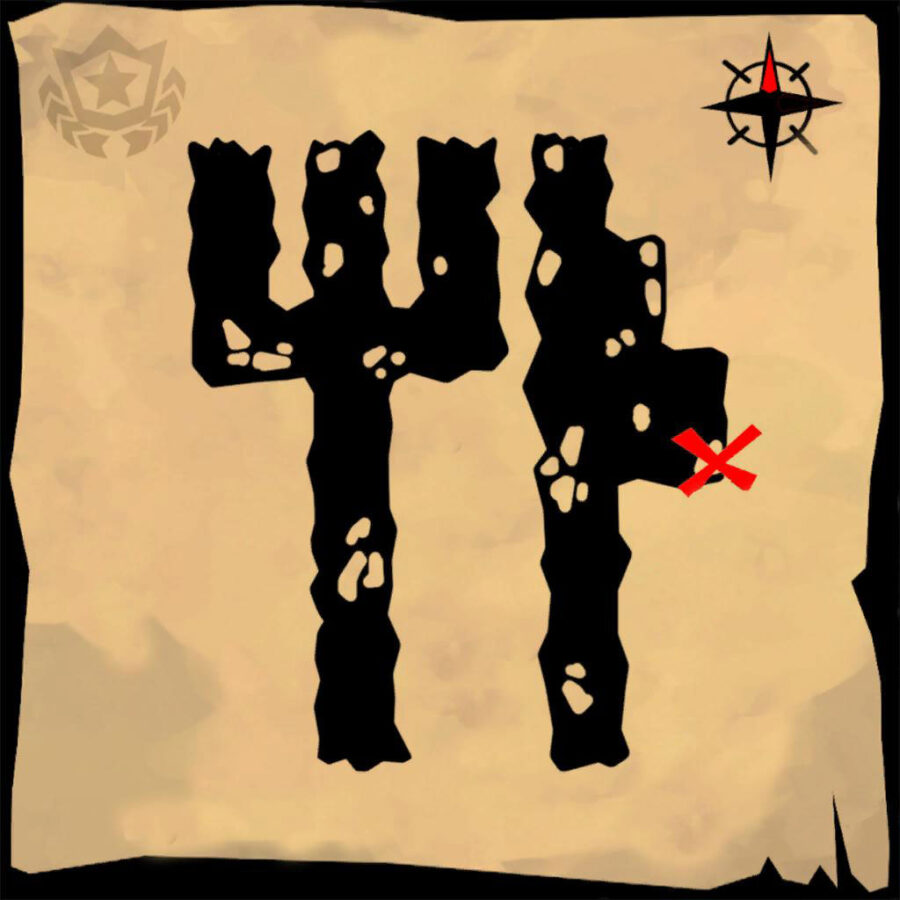 That looks familiar... It's a Fork and a Knife! This location can be found just north of Fatal Fields, the exact location can be found on the map below.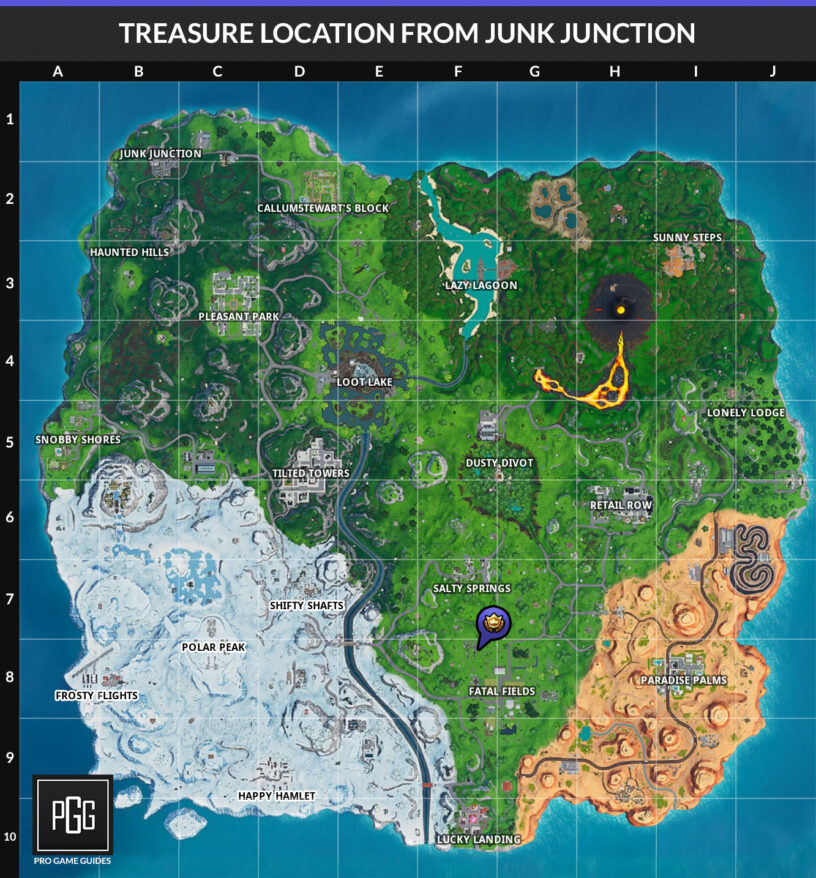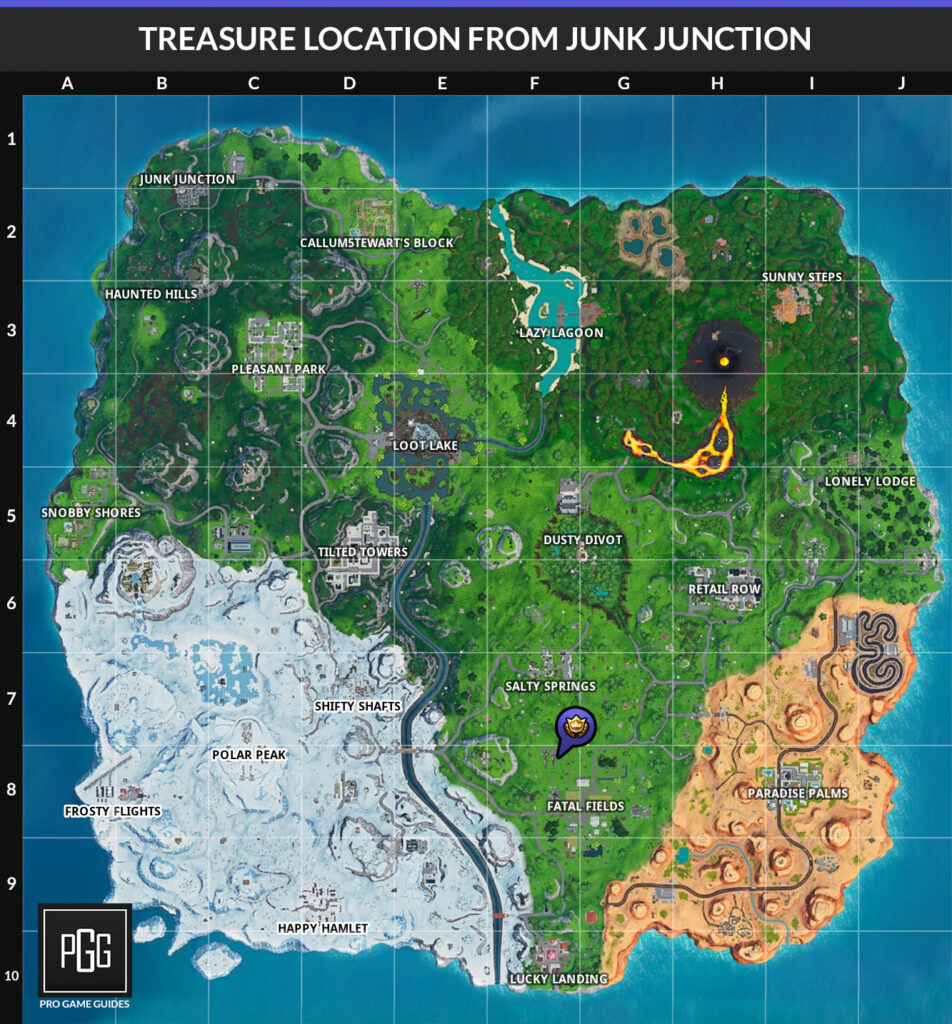 Deal damage within 10s of landing after using a Volcano Vent (100)
This one might be kind of annoying, it would be best done in an LTM because it's going to be kind of a pain to complete. However, you do get 10 seconds, so it shouldn't be too terrible. The majority of vents are located to the north east, but there's also some near Salty Springs that might be good for jumping on and getting into some populated areas.
Credit to LootLake.info for the map below.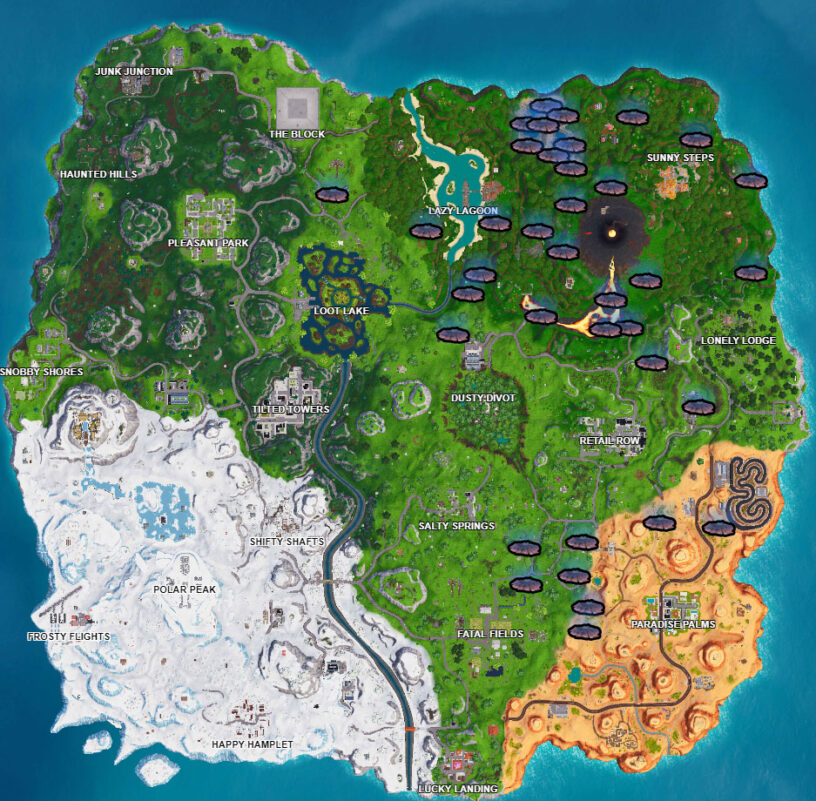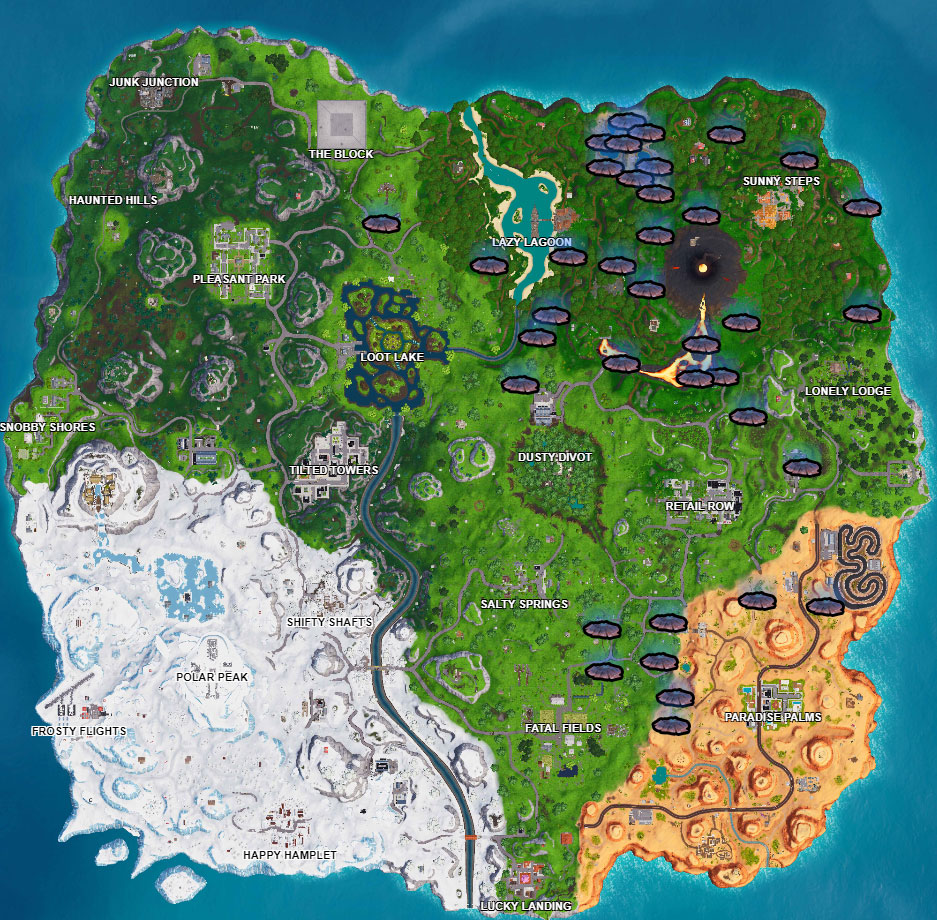 Eliminate an opponent from closer than 5m away (2)
Get up real close to your enemies and shotgun them in the face for an elimination. This one shouldn't be terribly difficult, but if you are struggling then LTMs are good for ones like this.
Hidden Item
Once you complete week 10 of the battle pass, you will receive the following loading screen that features a bunch of the skins from the season looking at the crazy thing that is being uncovered under Loot Lake! If you look over the open truck on the left, you will see the hidden banner icon hovering above it.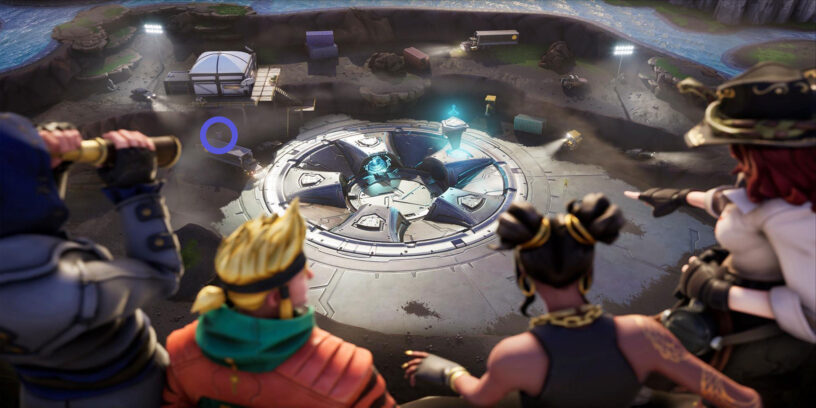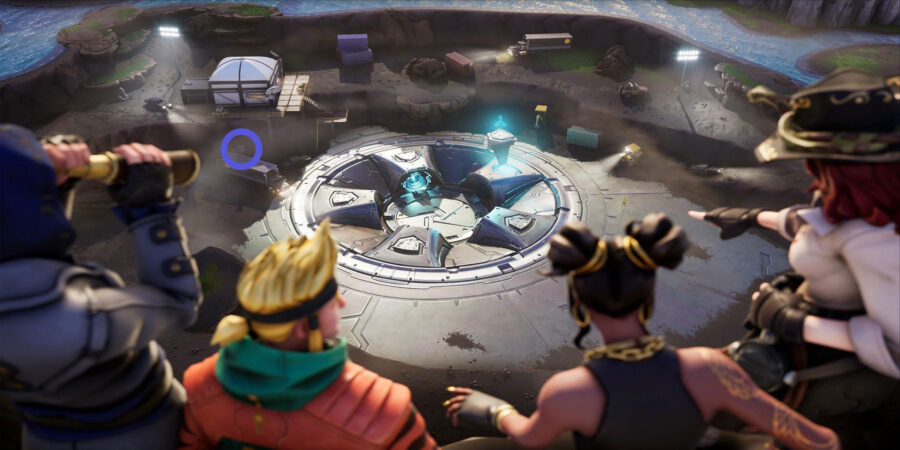 You will find this exact location in Loot Lake at the location below!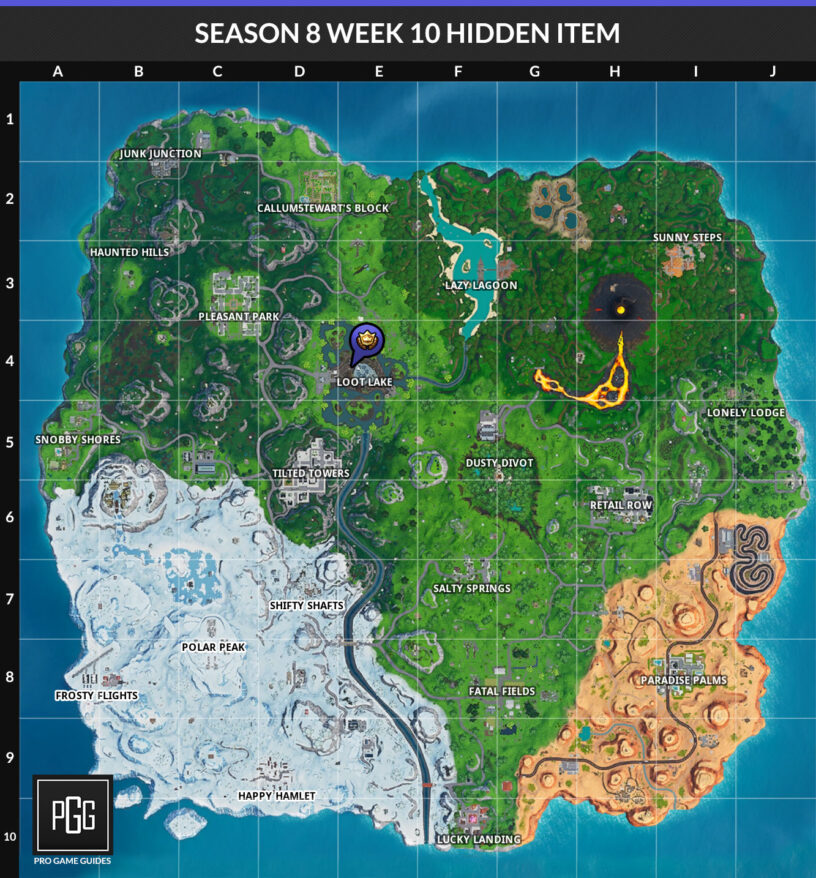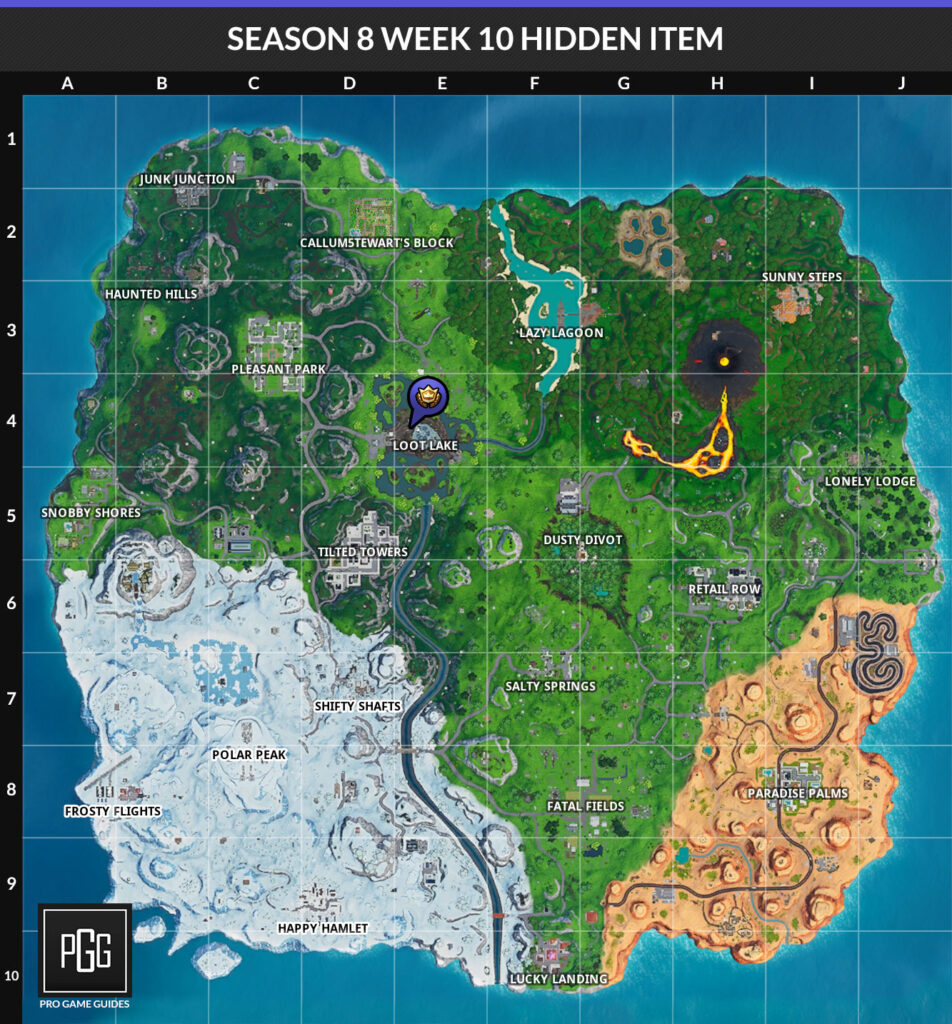 For more help, check out this YouTube video of the exact location: