Our Fortnite Season 8 Week 3 Challenges List and Cheat Sheet brings you all of the solutions and answers for the challenges you need to complete for the week. We have maps to treasure and item locations, as well as tips for completing all of them as quickly as possible!
This week we're bouncing around different locations in a single match, visiting the desert, jungle, and snow, placing trap slot items in a single match, searching for a battle star where the magnifying glass sits on a loading screen, searching chests at Sunny Steps or Fatal Fields, dealing Headshot damage to opponents, and getting an elimination with various weaponry!
Fortnite Season 8: Week 3 Cheat Sheet
If you want to check at where to find all the challenges, here's a cheat sheet for you! Check below for more detailed information on these challenges. Credit to ItsEnergie.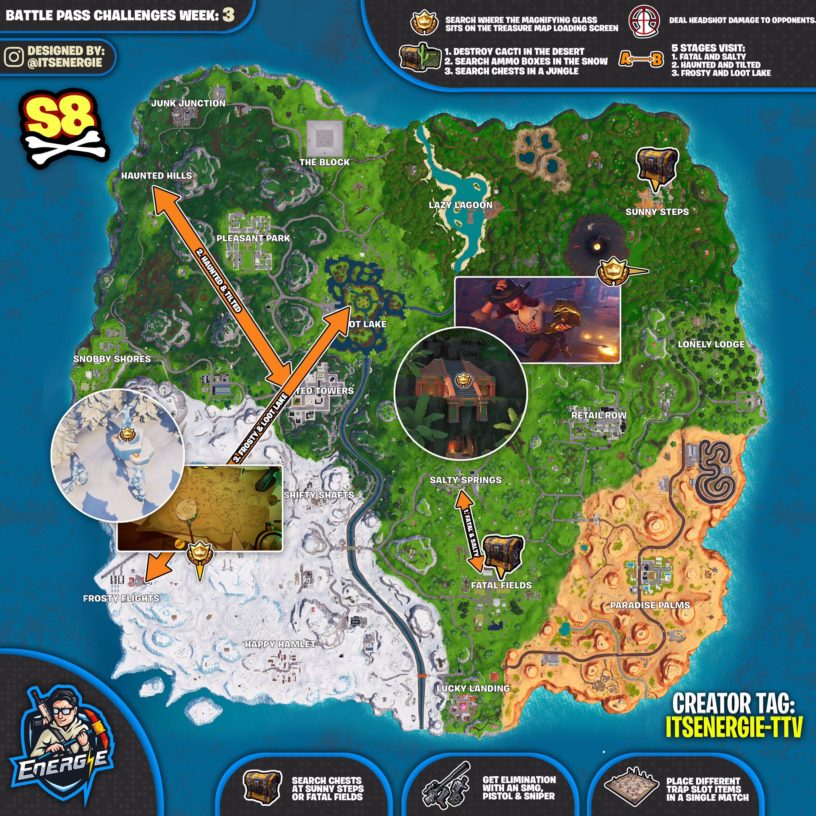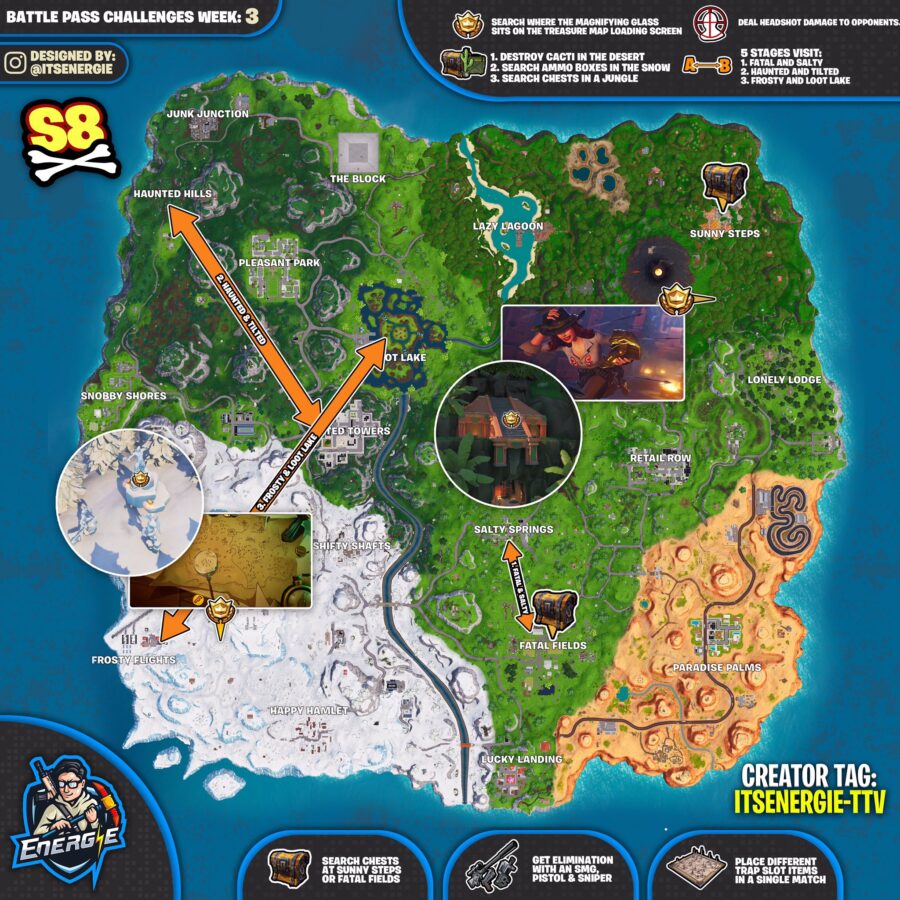 Week 3 Challenges List for Season 8
Free Battle Pass Challenges List
Paid Battle Pass Challenges List
Hidden Item
Check out our Fortnite Season 8 Guide for guides on every week of challenges! We've also got all of the hidden items in our Season 8 Hidden Battle Stars Locations post.
Stage 1 of 3 - Visit Fatal Fields and Salty Springs in a single match (2)
This one will have you heading to two different spots three different times. The first is Fatal Fields to Salty Springs, second is Haunted Hills to Tilted Towers, and the third is Frosty Flights to Loot Lake!
Stage 1 of 3 - Destroy Cacti in the Desert (30)
Head to the desert biome and start hacking down some cactus, you'll then need to search ammo boxes in the snow, and finally head to the jungle in the north east and search through chests!
Place different Trap Slot items in a single match (2)
This one is pretty easy, all you need to do is place any item that can take up a spot in your trap slot inventory. These are traps, turrets, or a campfire and whatever else might be here by the end of the season! Make sure to do it right away, you don't want to get eliminated before getting a chance to place them.
Search where the magnifying glass sits on the Treasure Map loading screen (1)
This is kind of a weird one, but there are a bunch of loading screens as part of your Battle Pass. One of them has a treasure map, and placed on top of it is a magnifying glass. Here's what it looks like: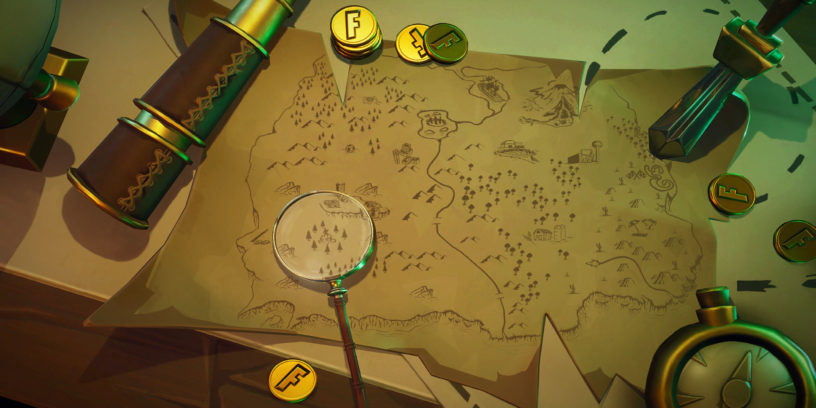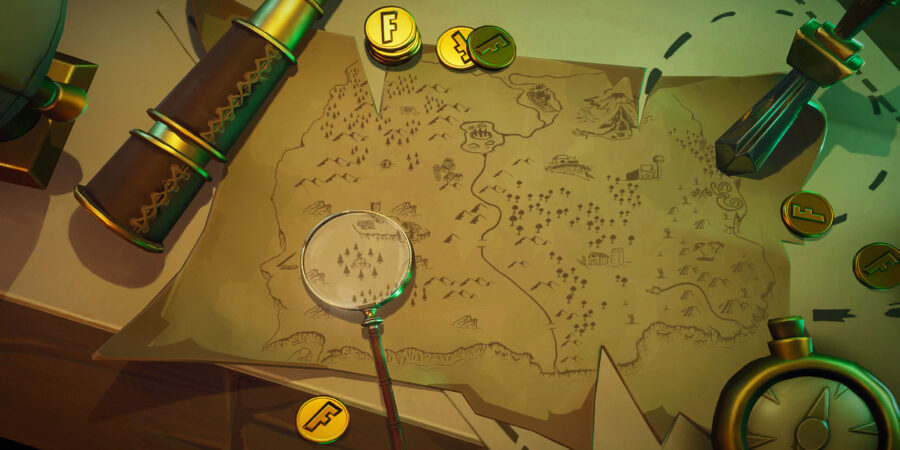 As you can see, the spot it is highlighting is in the snow biome in an area surrounded by trees. You can find that location and pick up the star by using this map: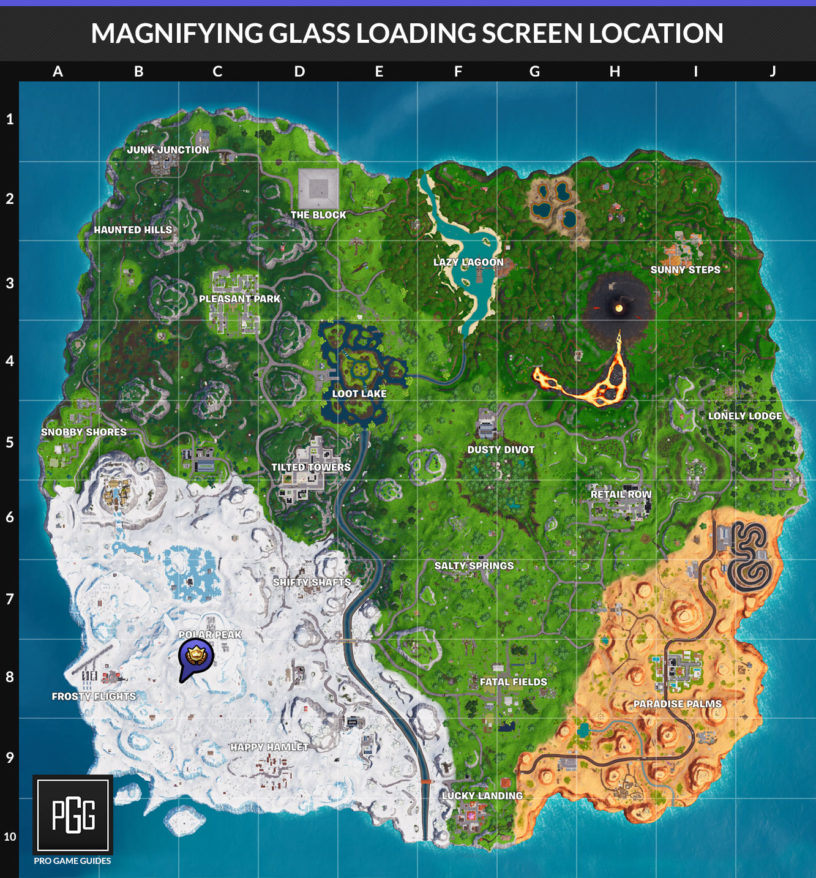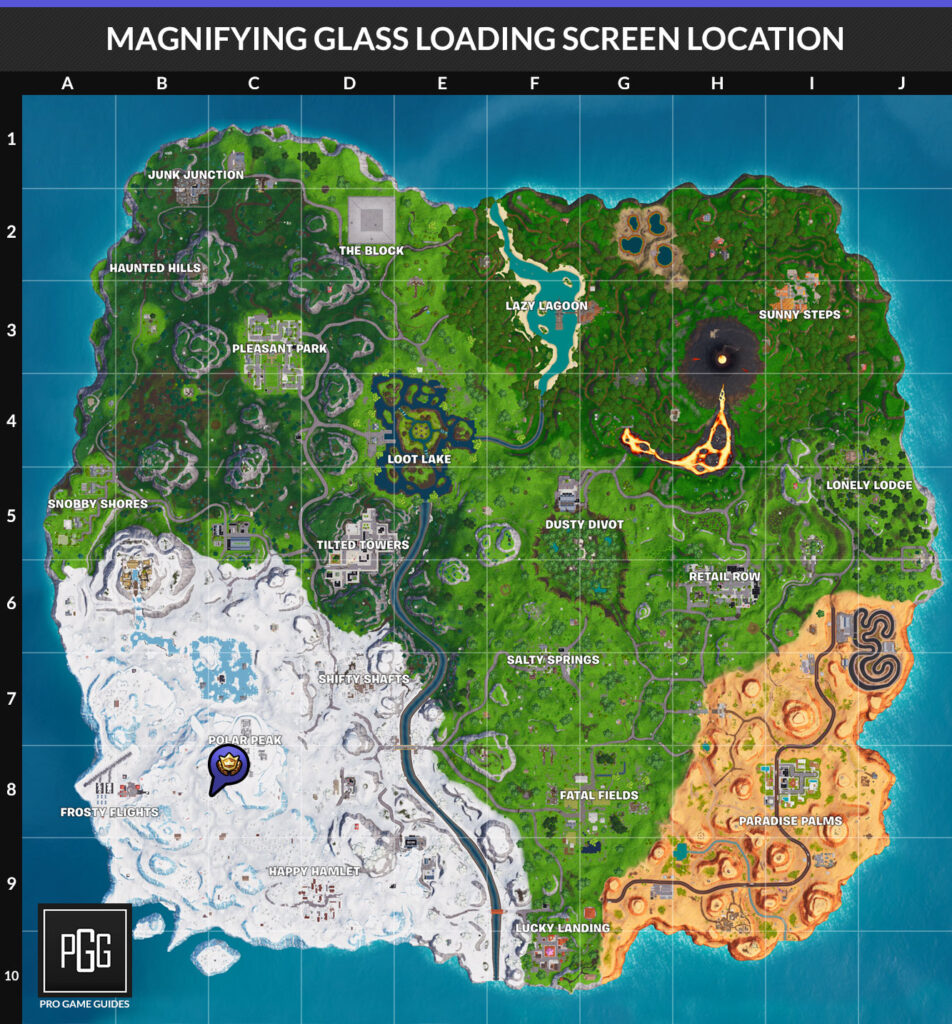 Search Chests at Sunny Steps or Fatal Fields (7)
This is an easy one, but you'll likely want to head to Fatal Fields because Sunny Steps is a pretty popular destination.
Deal Headshot Damage to opponents (500)
Another easy one! You could go for the challenge of landing two sniper headshots, or just do it the typical way by shotgunning away your enemies!
Get an Elimination with an SMG, Pistol, and a Sniper Rifle (3)
Note that you don't have to do all of these in the same match, you can just complete them separately. The SMG and Sniper Rifle options shouldn't be too hard, but the Pistol one might cause some trouble. Head to an LTM if you are struggling, that usually makes these a lot easier.
Hidden Item
Once you complete all of the week 3 challenges you will get this loading screen of Sidewinder pilfering the cobra back bling in a very Indiana Jones-esque scene! You can see the location of the hidden of the battle star in the bottom left that's painted on the side of the wall.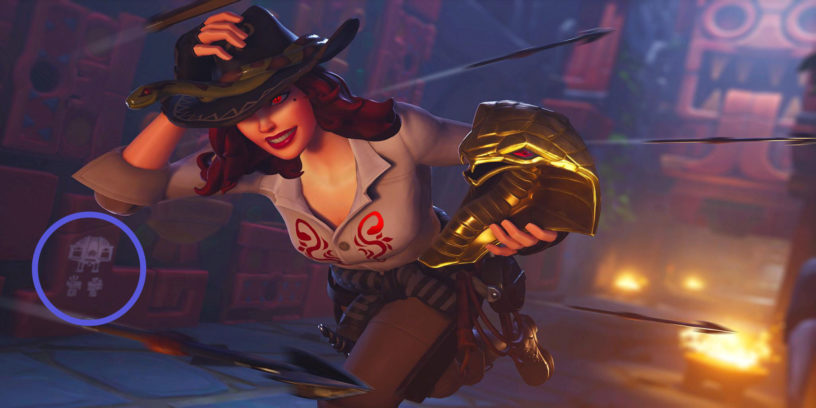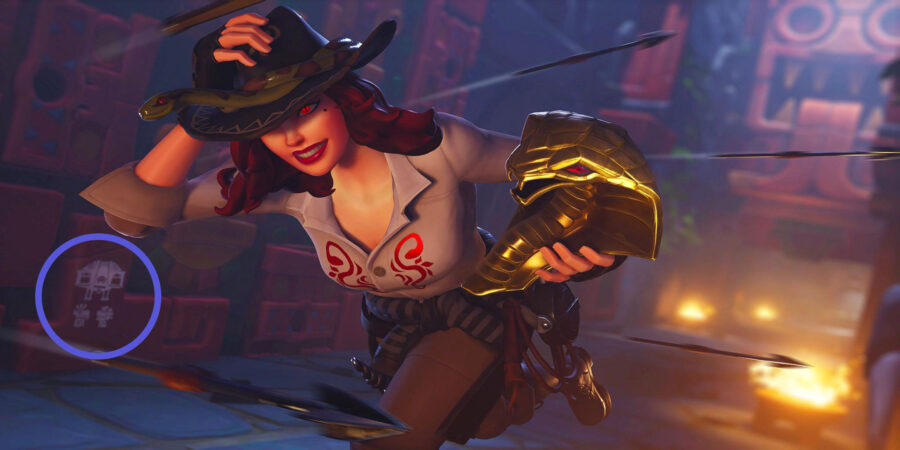 This location is south east of the big volcano and on the side of a hill. If you need more direction, I've included a video below the map!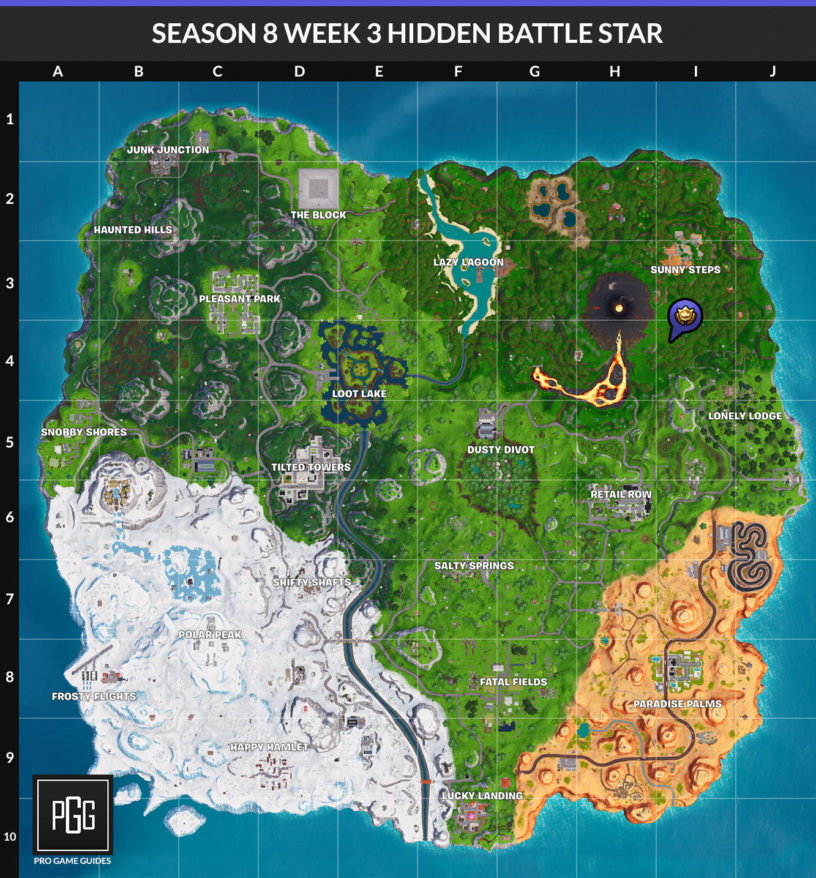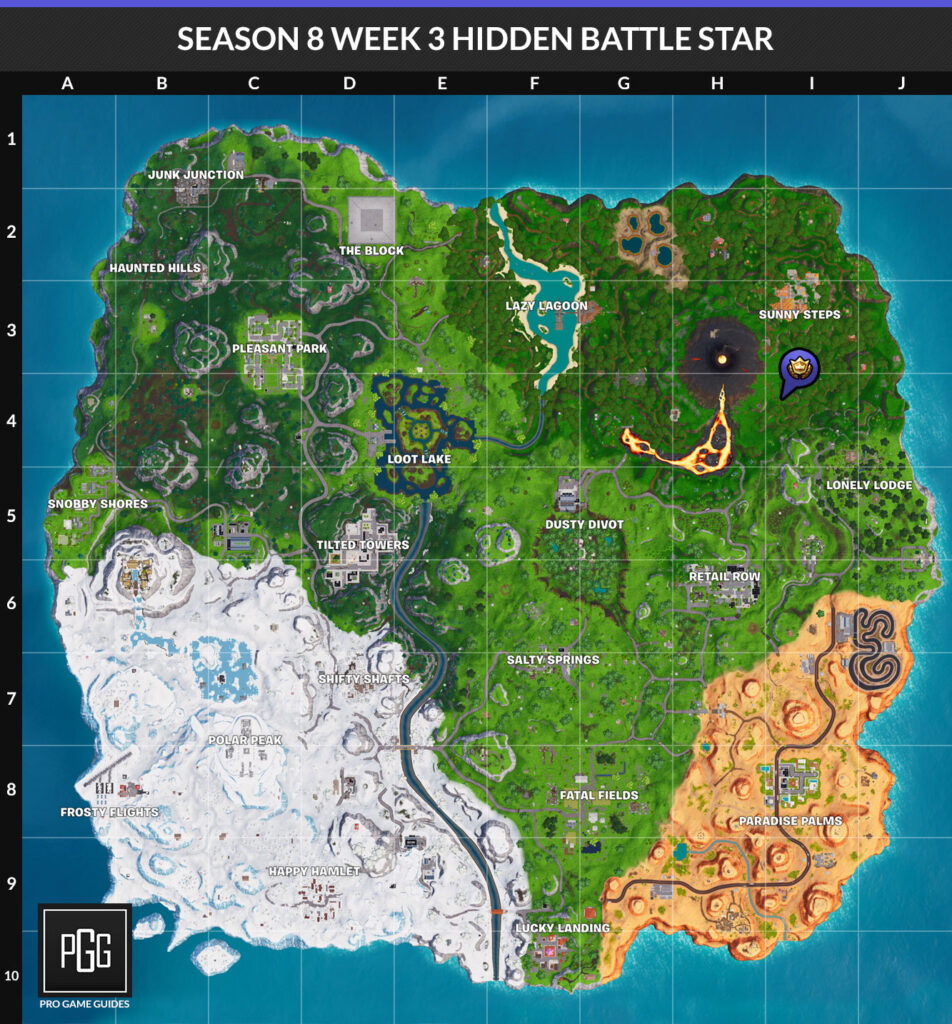 Here's a video showing the exact location if you are still having trouble finding it: