Our Fortnite Season 8 Week 7 Challenges List and Cheat Sheet brings you all of the solutions and answers for the challenges you need to complete for the week. We have maps to treasure and item locations, as well as tips for completing all of them as quickly as possible!
This week we're dealing damage with a pickaxe to our opponents, visiting Pirate Camps in a single match, visiting various areas in a single match, dealing damage to players that are above us, searching chests at Loot Lake or Snobby Shores, dealing damage on ziplines and enemies who are on ziplines, and eliminating opponents in different named locations!
Fortnite Season 8: Week 7 Cheat Sheet
Here's a cheat sheet for all the challenges, credit to itsEnergie!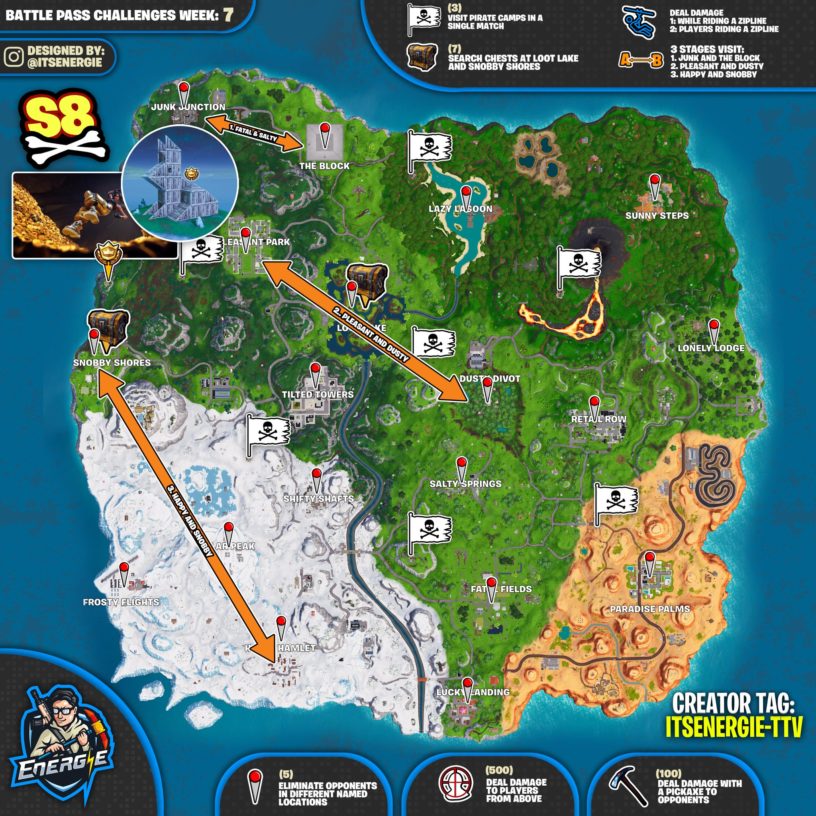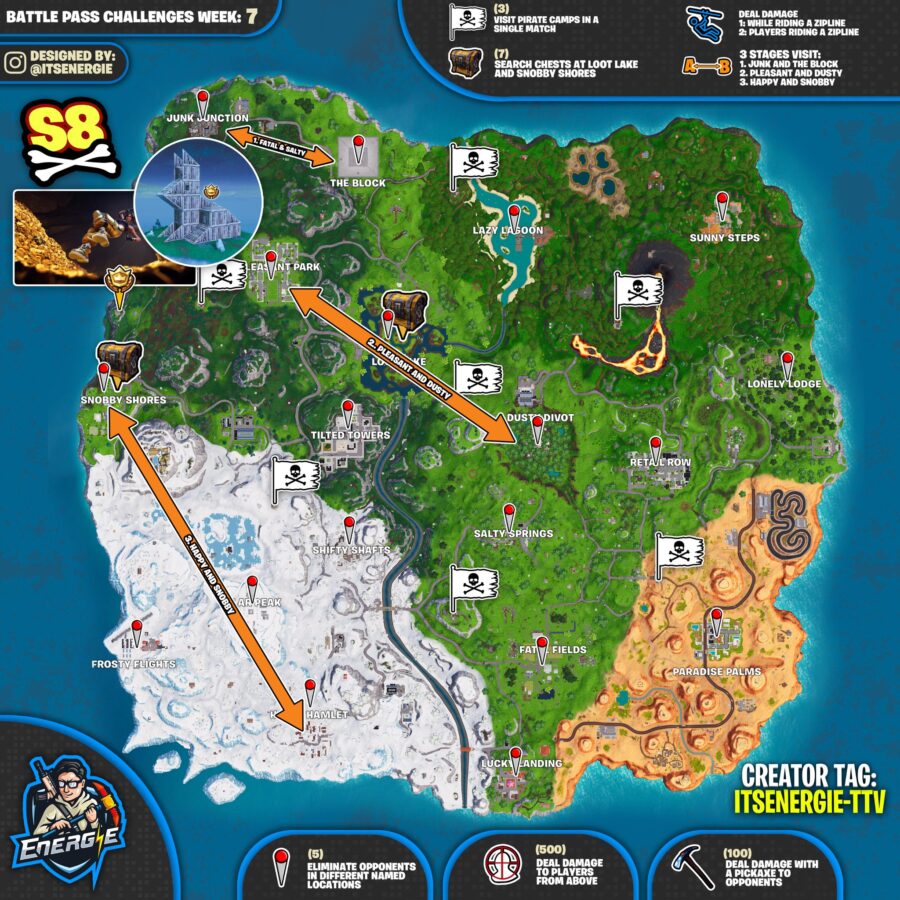 Week 7 Challenges List for Season 8
Free Battle Pass Challenges List
Paid Battle Pass Challenges List
Hidden Item
Check out our Fortnite Season 8 Guide for guides on every week of challenges! We've also got all of the hidden items in our Season 8 Hidden Battle Stars Locations post.
Deal damage with a pickaxe to opponents (100)
Time to bludgeon your enemies with your pickaxe. This is more easily done in Duos or Squads, but you can also just land on some poor soul in solos and hack away at them as they try to loot a building.
Visit Pirate Camps in a single match (3)
Might be kind of difficult, but you can always grab a Baller and plunger around the map. The easiest three might be the one west of Pleasant Park, to the one south west of Tilted Towers, and then to the mountain one west of Fatal Fields. I think this could be the safest to avoid players, but it's going to be random chance. There's no real right order, you just kind of have to get lucky with how people rotate. I would head to an LTM for this one, that would make it way easier. Pirate Camp Locations can be found below!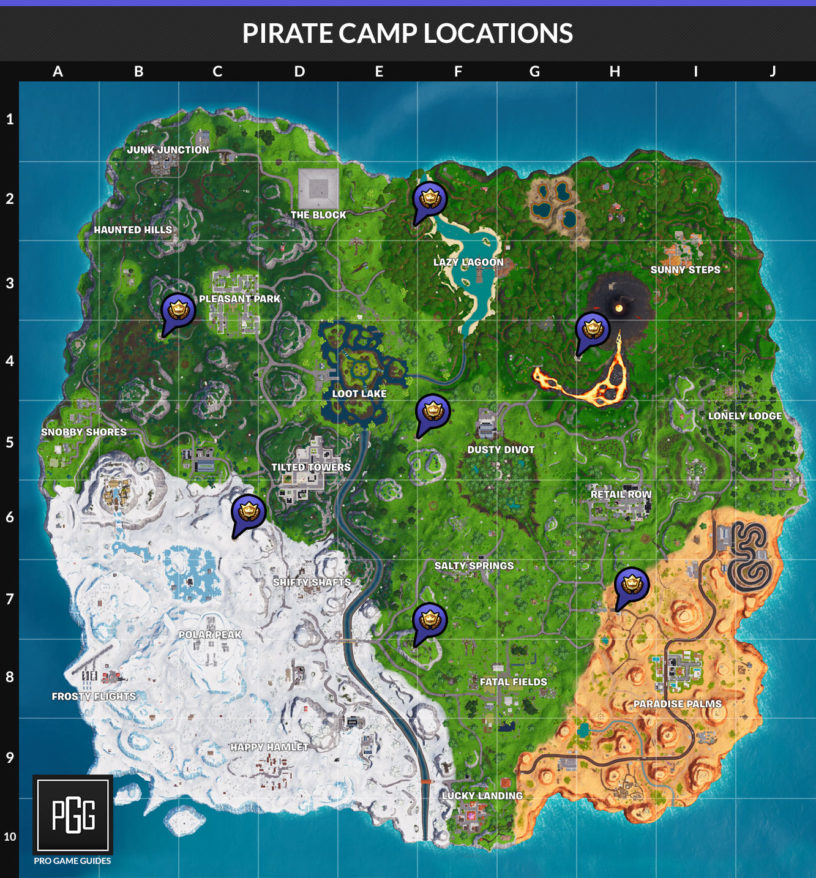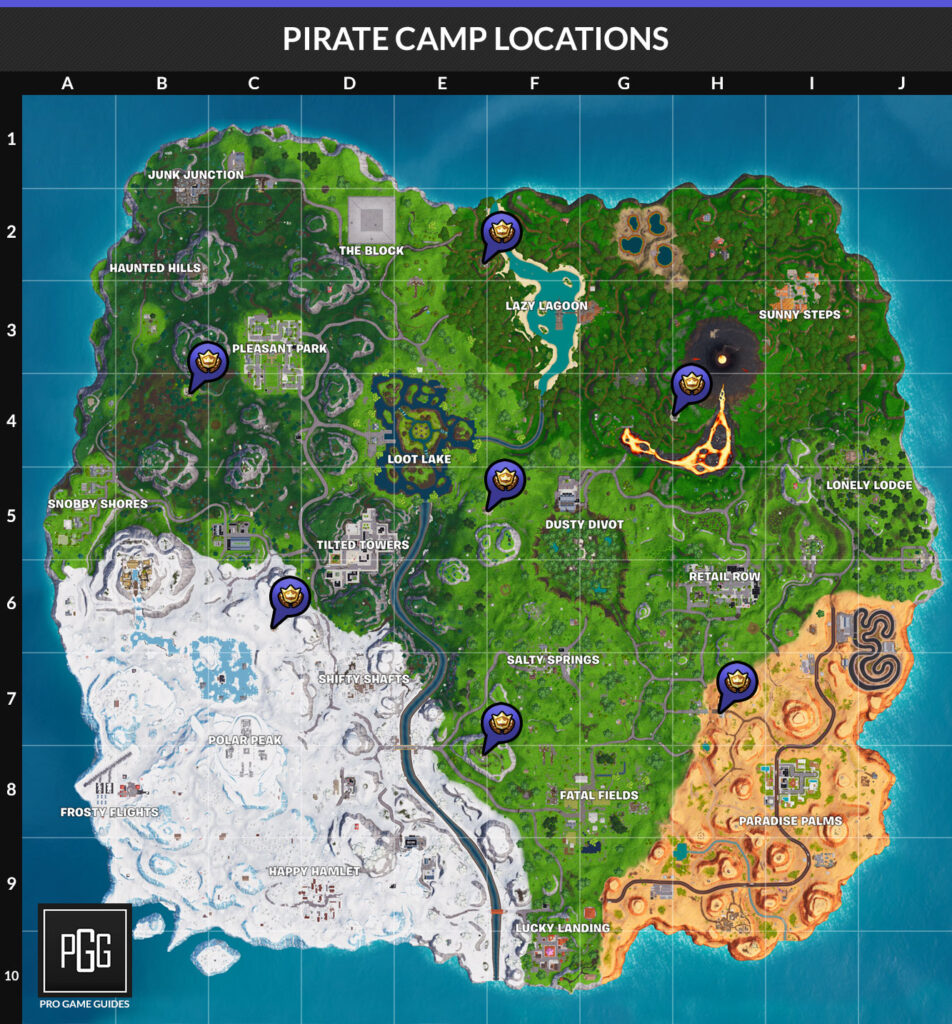 Stage 1 of 3 - Visit Junk Junction and The Block in a single match (1)
This is a three stage challenge, first you'll go to Junk Junction and then The Block, second to Pleasant Park and then to Dusty Divot, and third to Happy Hamlet and then to Snobby Shores.
Deal damage to players from above (500)
There's not a lot to doing this one, you'll likely just end up finishing it by playing the game normally. If all else fails, head to the Team Rumble LTM.
Search chests at Loot Lake or Snobby Shores (7)
Snobby Shores might be the easiest spot to do this in terms of not too many people going there. Loot Lake isn't a bad spot to land, but there's a lot of areas where there isn't that many resources around it so you are really out in the open. I'd just land at whichever spot you know the chest layouts for more.
Stage 1 of 2 - Deal damage to opposing players while riding the Zipline
This is an interesting one, you'll have to ride on a Zipline and manage to shoot someone while you do this. As far as we can tell, all you need to do is manage to deal at least 1-damage to someone while you are on the line. This stage shouldn't be that difficult, especially if you jump into an LTM. The second part, however, might be a bit more difficult. In this part, you'll need to damage an opposing player who is riding the Zipline. Again, this would be way easier in an LTM because people don't take it as seriously.
Eliminate opponents in different Named Locations (5)
Pretty simple one, just go to different named locations on the map and get an elimination.
Hidden Item
Once you complete all of the week 7 challenges you'll get this awesome loading screen with Luxe heading into a hidden treasure trove! The clue is clearly at the top left of the image, and it isn't obvious what it is at first. If you flip it around, however, you'll notice that it looks like a rabbit with a battle star hanging above it!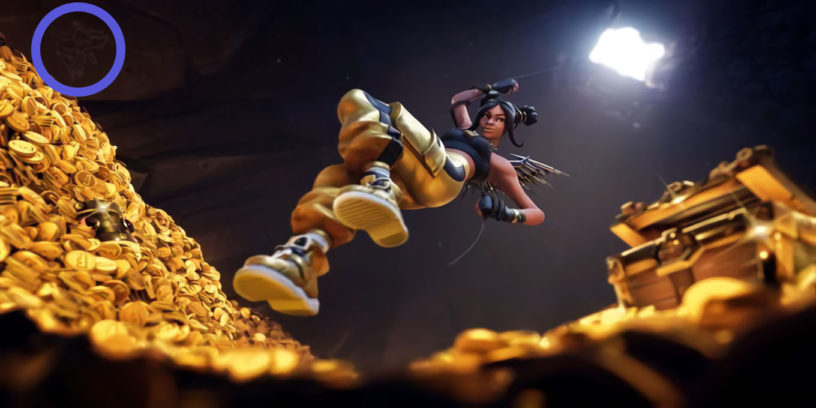 To find the rabbit, you must head to the very west side of the map, and you'll find the star over its back!