Our Fortnite Season 8 Week 9 Challenges List and Cheat Sheet brings you all of the solutions and answers for the challenges you need to complete for the week. We have maps to treasure and item locations, as well as tips for completing all of them as quickly as possible!
This week we're landing at various locations, searching chests at Polar Peak or Lonely Lodge, riding 3 different Volcano Vents without landing, dancing between different objects, dealing damage to opponents from below, reviving a teammate at a Reboot Van, and getting eliminations in different matches!
Fortnite Season 8: Week 9 Cheat Sheet
Here's a cheat sheet with all of the challenge information. If you want some more info, be sure to keep scrolling to get some more tips! Credit to ItsEnergie.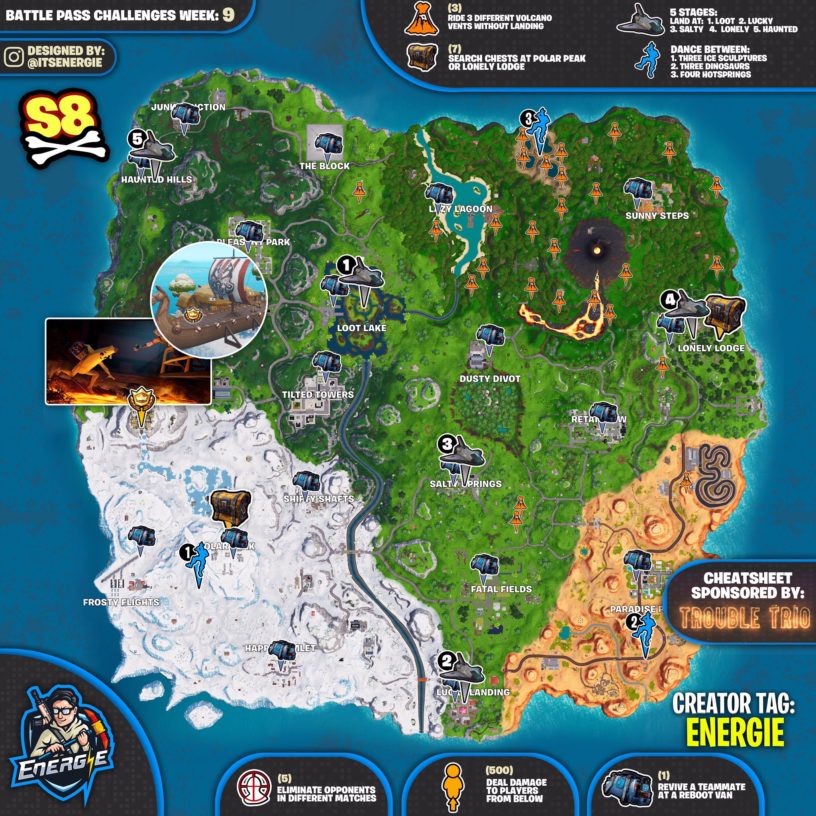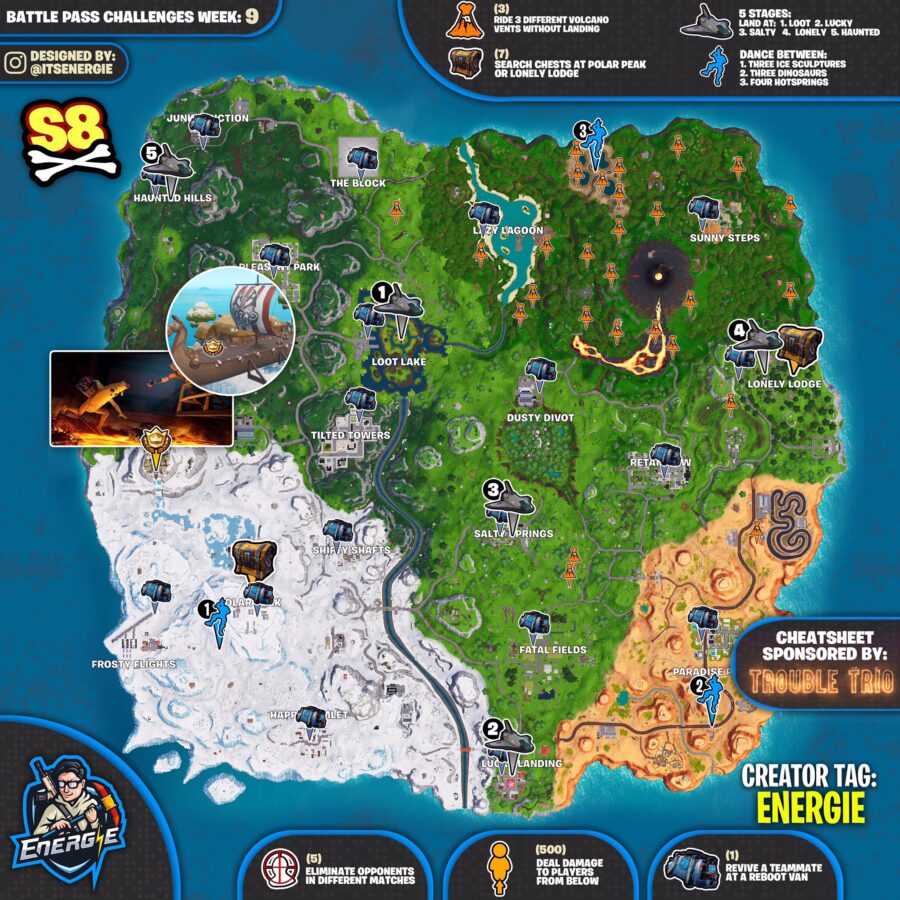 Week 9 Challenges List for Season 8
Free Battle Pass Challenges List
Stage 1 of 5: Land at Loot Lake (1)

Stage 2 of 5: Land at Lucky Landing (1)
Stage 3 of 5: Land at Salty Springs (1)
Stage 4 of 5: Land at Lonely Lodge (1)
Stage 5 of 5: Land at Haunted Hills (1)
Paid Battle Pass Challenges List
Hidden Item
Check out our Fortnite Season 8 Guide for guides on every week of challenges! We've also got all of the hidden items in our Season 8 Hidden Battle Stars Locations post.
Stage 1 of 5: Land at Loot Lake (1)
Simple enough challenge, but you'll have to do it five times and at different places. Those places in order are: Loot Lake, Lucky Landing, Salty Springs, Lonely Lodge, and Haunted Hills.
Search chests at Polar Peak or Lonely Lodge (7)
Another pretty simple one, you'll need to decide which is better for you. Lonely Lodge is going to be your most vacant option, especially if the bus path is pretty far from it. Polar Peak will be more populated, but maybe that's just your style!
Ride 3 different Volcano Vents without landing (1)
There's a nice concentration of these over in the thermal pools area of the map. It's just north east of Lazy Lagoon, so be sure to head there for the easiest way to complete this challenge! I recommend doing the "dance between x objects" challenge first, because this will take you over to the hotsprings I mentioned as the third step of that challenge! The map below shows you some of the Volcano Vent locations, thanks to Lootlake.info.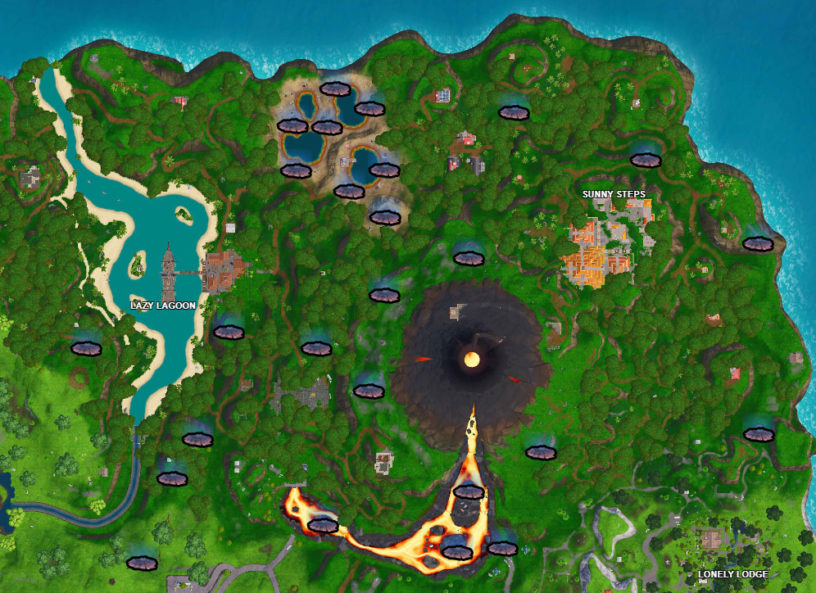 Stages 1 of 3: Dance between three ice sculptures (1)
This is a three step challenge that has you dancing between various objects on the map. Make sure to have a dance in your favorites selections, and use it in the middle of the requires objects. The first one to dance at is between ice sculptures, which can be found south west of Polar Peak!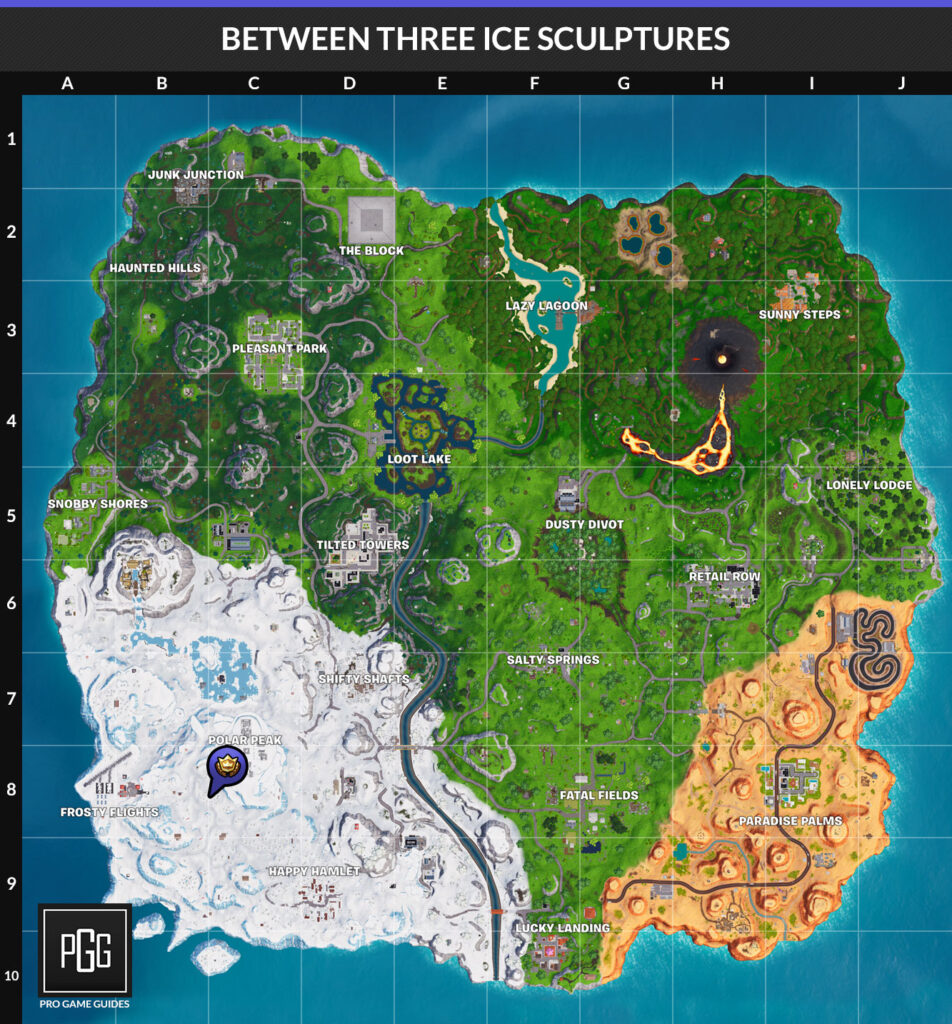 The second one is dancing between three dinosaurs. You'll be able to find that over in the desert area south of Paradise Palms!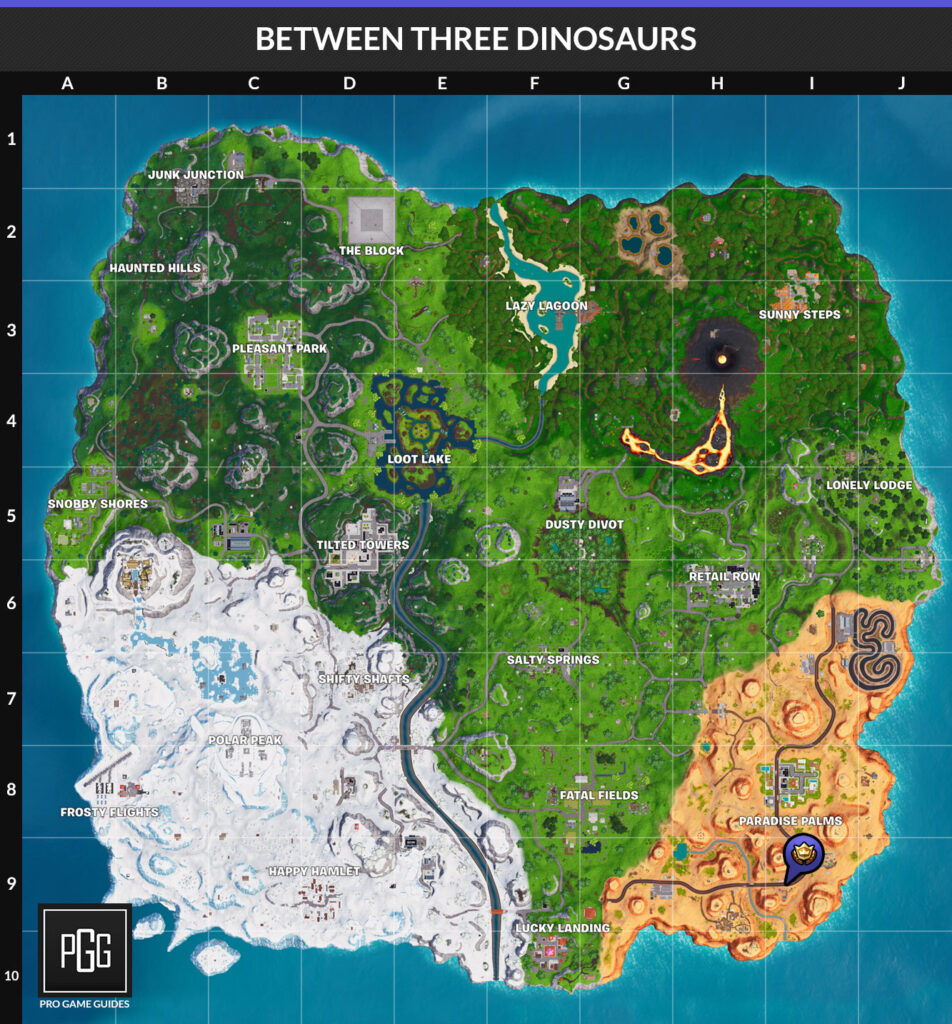 The third and final step of this challenge has you dancing between four hot springs. That's a good thing, because you can complete your volcano vents challenges while you are over here!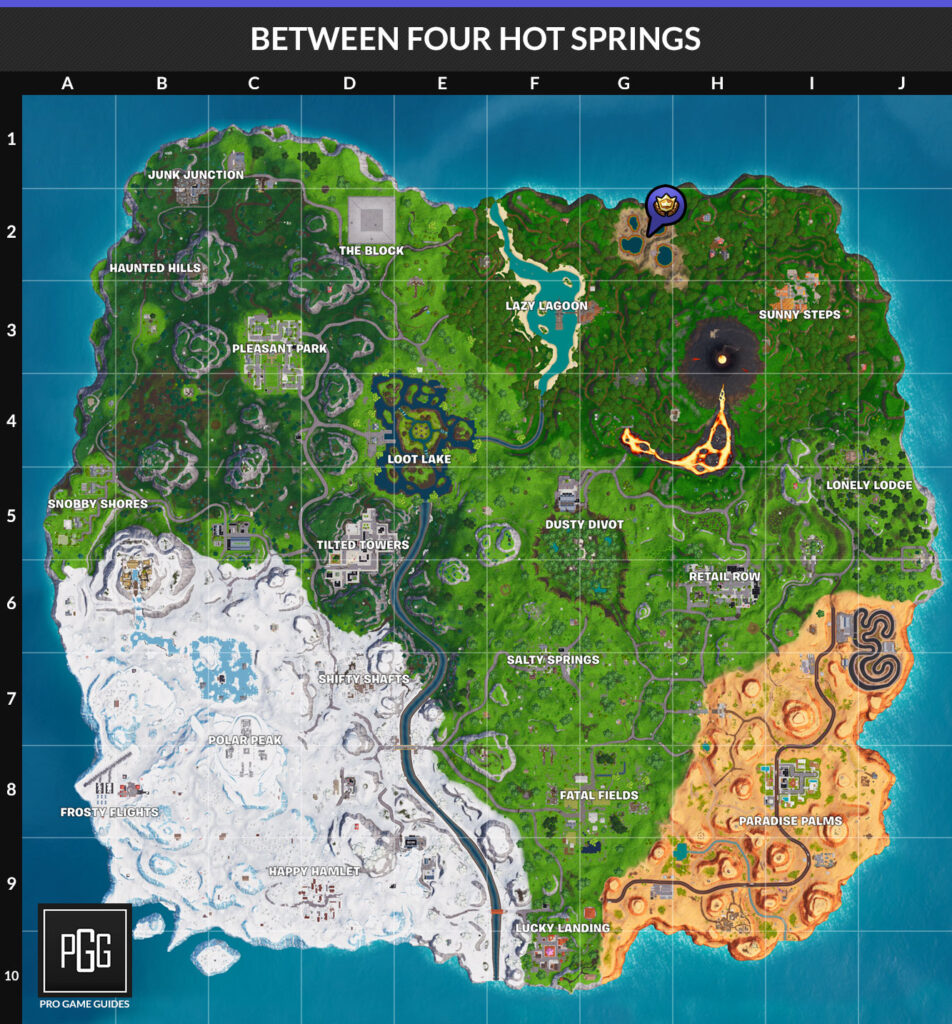 Here's video of the exact locations:
Deal damage to opponents from below (500)
Not too hard, just become a low ground warrior and deal damage to opponent from below! If you're struggling, head to the LTMs because they are generally easier for damage and eliminate challenges.
Revive a teammate at a Reboot Van (1)
The Reboot Van is new to Fortnite and gives you the ability to revive a teammate that's been eliminated. Grab their Reboot Card and head over to one of the vans to get credit for this challenge. You can find all of the locations of the vans below.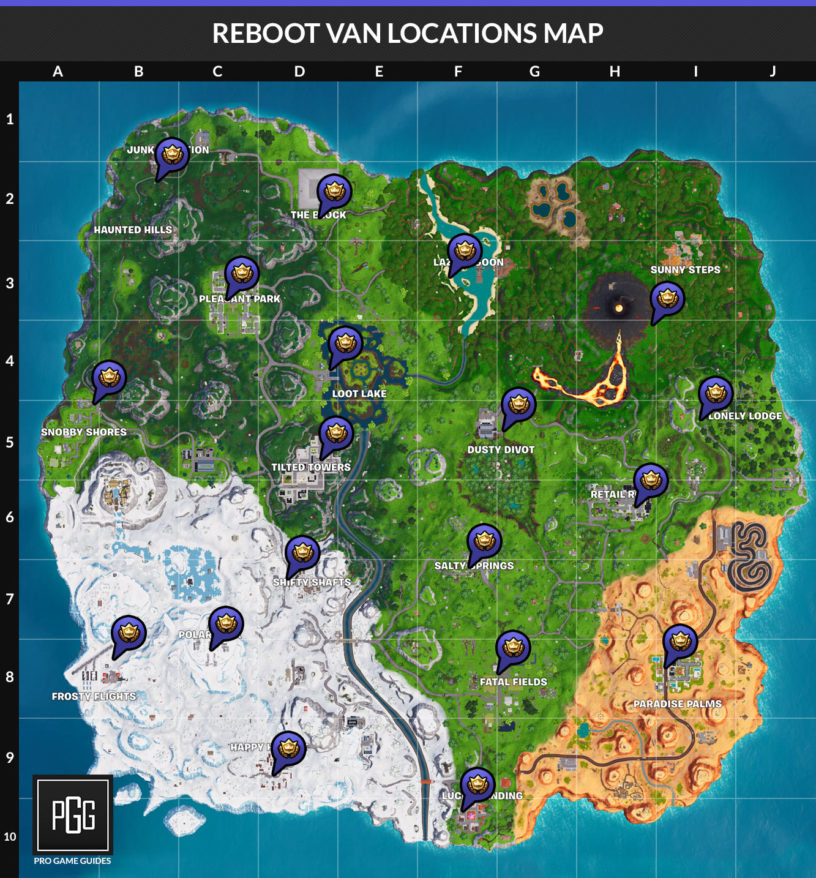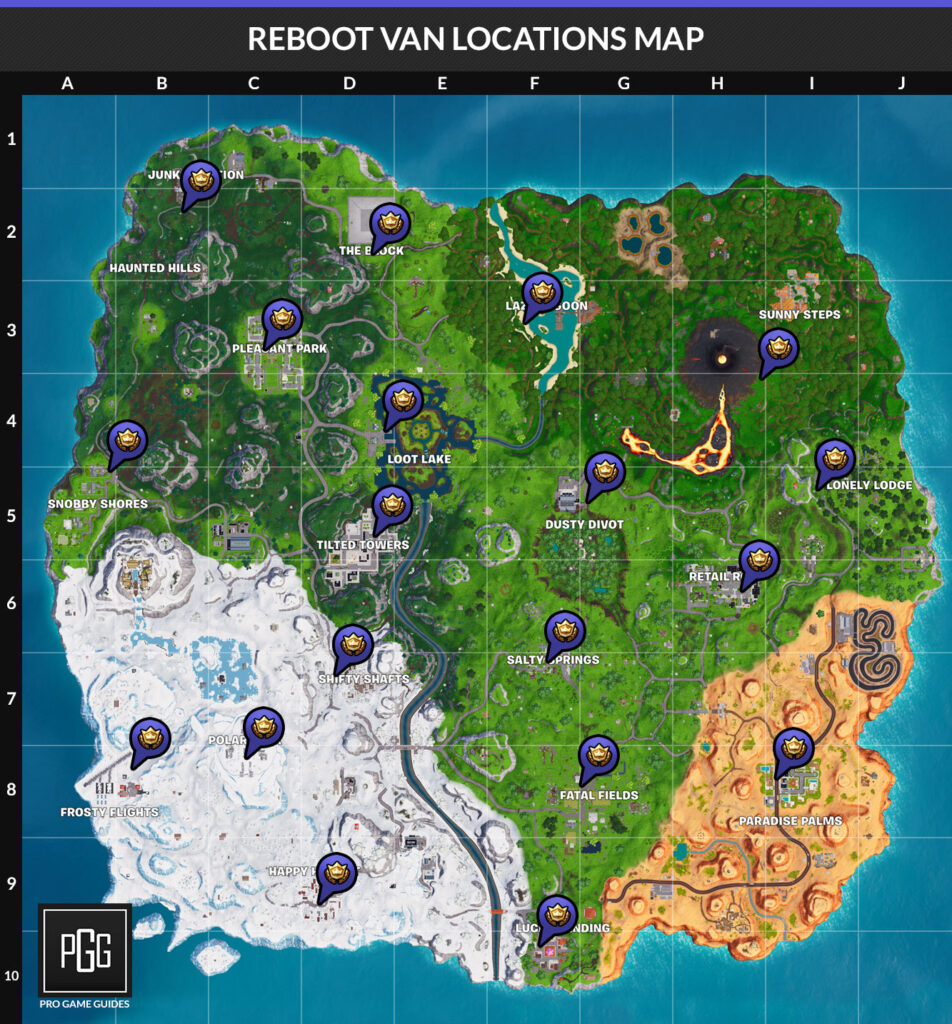 Eliminate an opponent in different matches (5)
You'll just need to play a bunch of matches and you will eventually finish this one. I would just try to complete this one passively, but again if you are struggling head into an LTM and this will be easier!
Hidden Item
Once you complete all of the week 9 challenges you'll get this awesome new loading screen of Peely potentially becoming a roasted banana as they attempt to grab some loot! Hopefully, Jonesy will be able to save them from certain doom. Anyway, if you look on the wall back there you'll see the drawing of a Viking ship with a battle star over it.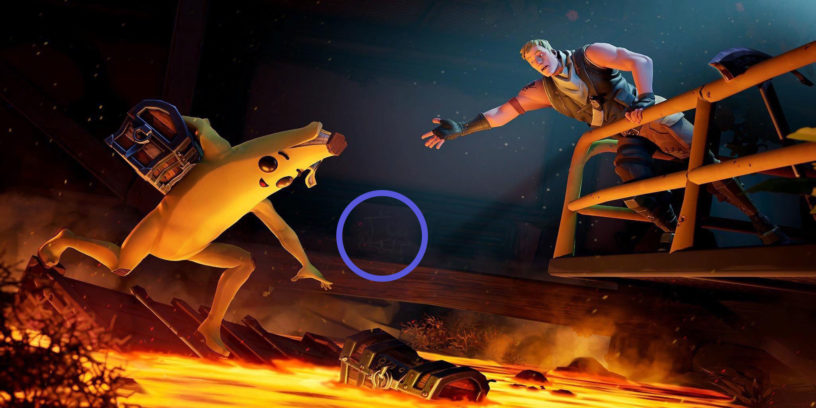 For the exact location, check out the map below! Head over to the Viking Village and on the ship towards the very front will be the battle star.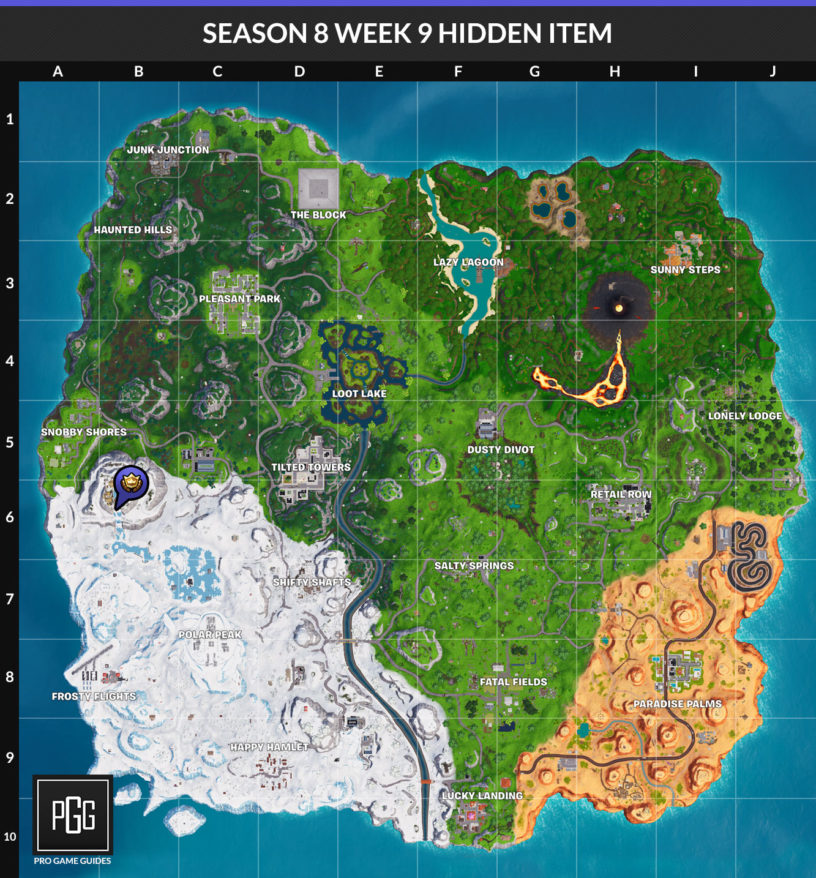 Here's a video with the exact location: