Our Fortnite Season 9 Week 1 Challenges List and Cheat Sheet brings you all of the solutions and answers for the challenges you need to complete for the week. We have maps to treasure and item locations, as well as tips for completing all of them as quickly as possible!
In the first week of Season 9 challenges we're riding Slip Streams in the new POIs, visiting all the sky platforms, dealing damage to an opponent after using a Shadow Bomb, picking up a Legendary item in different matches, searching chests at Lucky Landing or Loot Lake, getting scoped weapon eliminations, and dealing damage to opponents from great heights!
Fortnite Season 9: Week 1 Cheat Sheet
Here's a full cheat sheet for Week 1 of the Season 9 Battle Pass! Credit to ItsEnergie. For more detailed information, scroll down for more insight!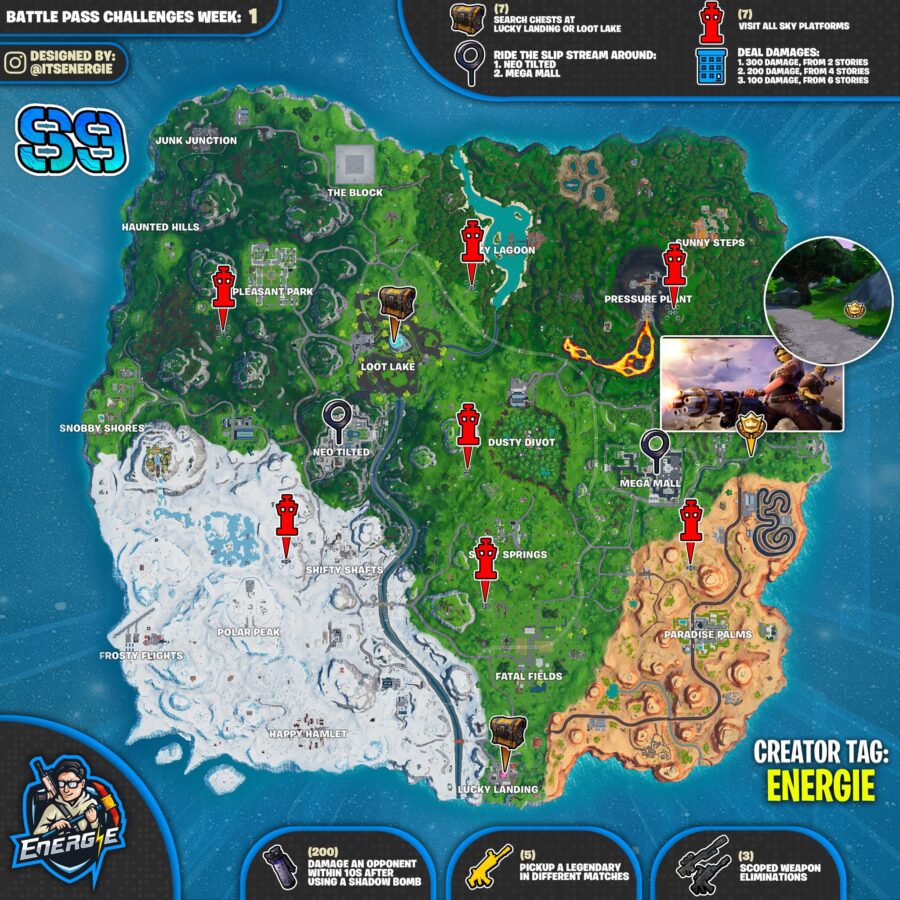 Week 1 Challenges List for Season 9
Free Battle Pass Challenges List
Paid Battle Pass Challenges List
Hidden Item
Check out our Fortnite Season 9 Guide for guides on every week of challenges! We've also got all of the hidden items in our Season 9 Hidden Battle Stars Locations post.
Stage 1 of 2: Ride the Slip Stream around Neo Tilted (1)
Time to try some of the new stuff in Fortnite Season 9! The Slip Stream are new structures you'll find at various parts of the map. You can jump through them and they will quickly move you across the area. One of these devices can be found in Neo Tilted, which is located right where Tilted Towers used to be.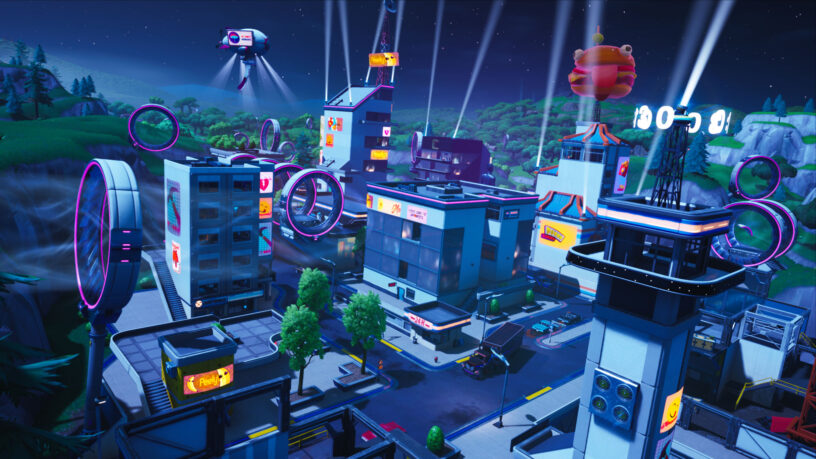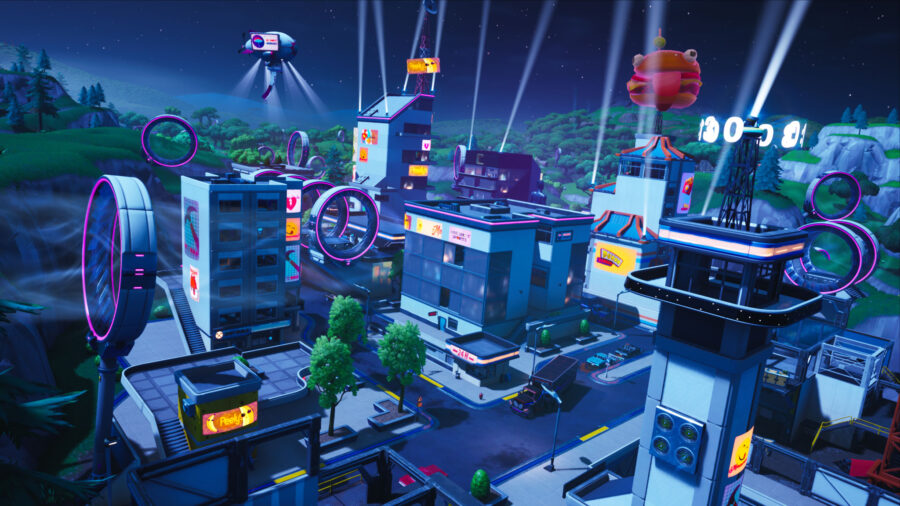 Stage 2 of 2 - Ride the Slip Stream around Mega Mall (1)
Mega Mall is another new area, this replaced Retail Row. Same thing with this challenge, just go ahead and glide through the Slip Streams!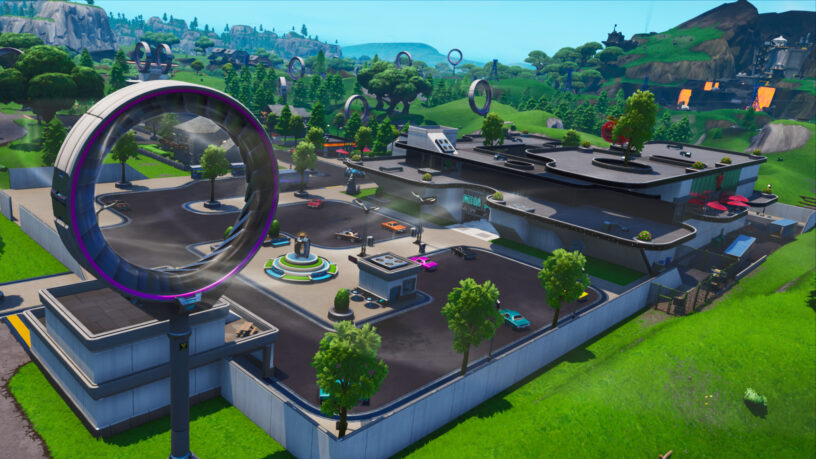 Visit all Sky Platforms (7)
Sky Platforms are a new addition to the game, and you'll find them hovering at various parts of the map.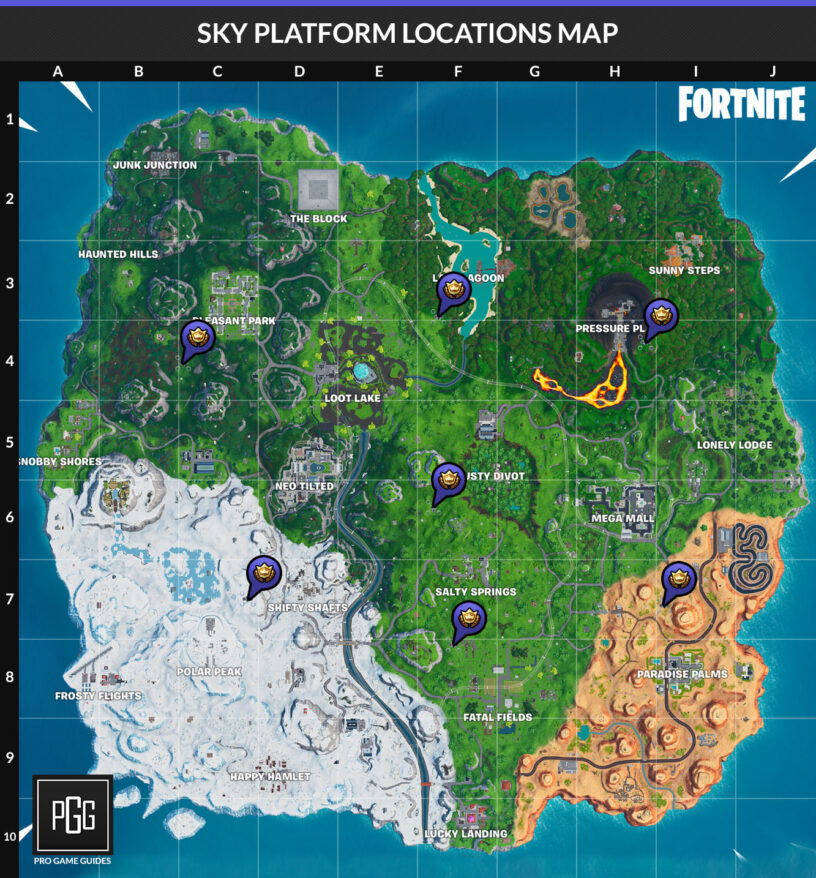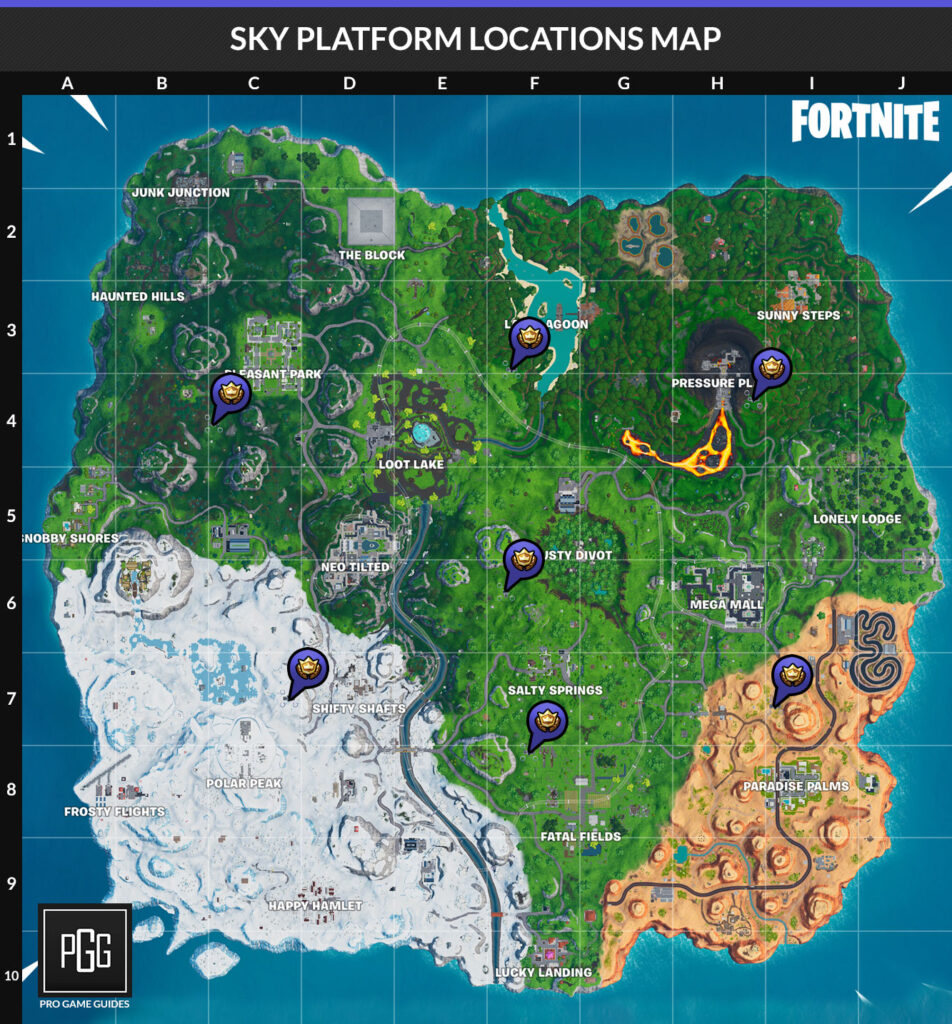 Deal damage to an opponent within 10s after using a Shadow Bomb (200)
This shouldn't be too difficult, but if your opponent is knowledgeable they will know you've used one of these and likely build up and prevent you from getting to them. If you aren't the most skilled player, then this would be a good one for an LTM. You CAN find these in Team Rumble, I have fully confirmed this.
Pickup a Legendary Item in different matches (5)
Very simple one, you just need to find some Legendary items in different matches. LTMs are great for this kind of challenge, because you can take your time and fully loot places without worrying about getting eliminated.
Search chests at Lucky Landing or Loot Lake (7)
Another simple one, head to either location and loot up the chests. Loot Lake is going to be far more popular, so Lucky Landing is the spot if you want a quiet time where you'll likely have access to most of the chests.
Scoped Weapon Eliminations (3)
Well, the Thermal Rifle is gone, but there's still some Snipers in the game and the Scoped Assault Rifle to use!
Stage 1 of 3 - Deal damage to opponents from at least 2 stories above (300)
This is an interesting one, we've had challenges before where we needed to deal damage from above and at a distance but not "stories" above. You can tell you are a story above someone if you are one wall height above them. So, if you were to build three walls on top of each other, and your opponent was at the bottom one, then you'd be two stories above them. I'm guessing you'll get this done pretty passively, especially if you play in the LTMs.
Stage 2 of 3 - Deal damage to opponents from at least 4 stories above (200)
Same idea you just need to be twice as high!
Stage 3 of 3 - Deal damage to opponents from at least 6 stories above (100)
You'll have to be six stories above your enemy when dealing damage to complete the final stage of this challenge.
Hidden Item
Once you complete week 1 of the battle pass, you will receive the following loading screen that features a look at the new Raptor female skin that has been leaked called Velocity! She's using a Minigun to take down her enemies, and if you look closely at it you'll see some coordinates to our first battle star! It says I5, I6, J5, J6 which combine to put you just south of Lonely Lodge.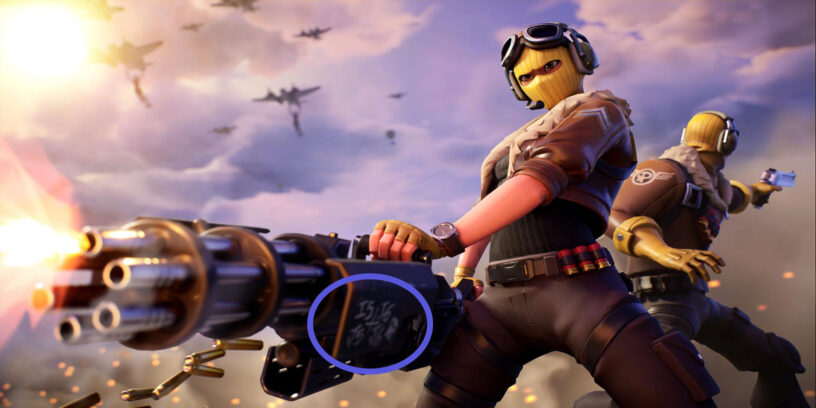 I've marked the exact location on the map below!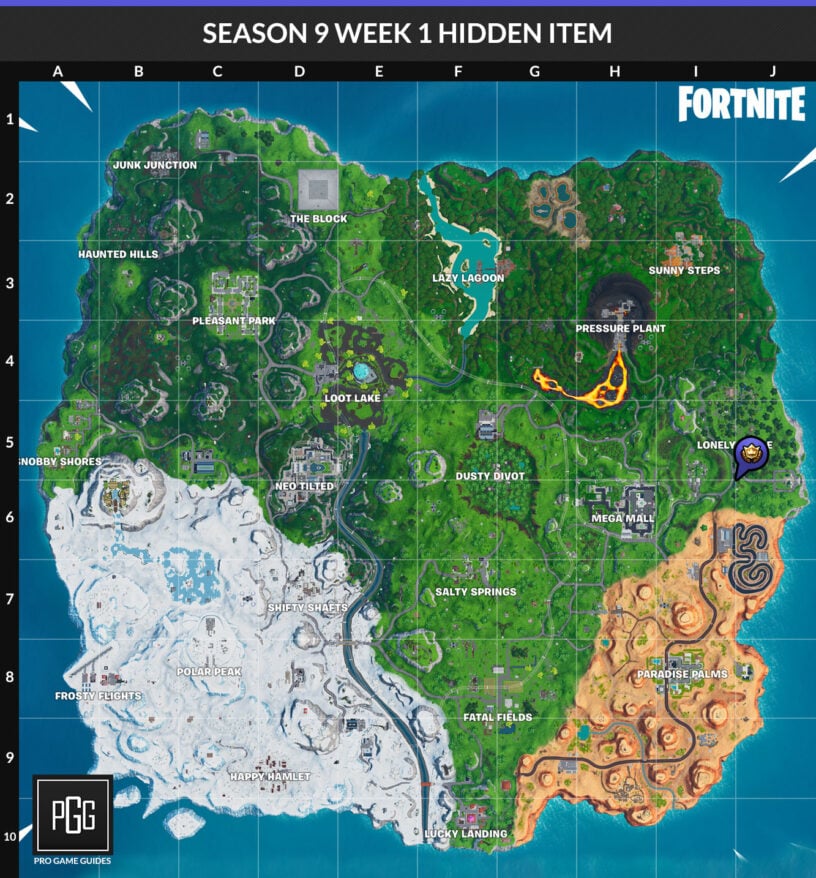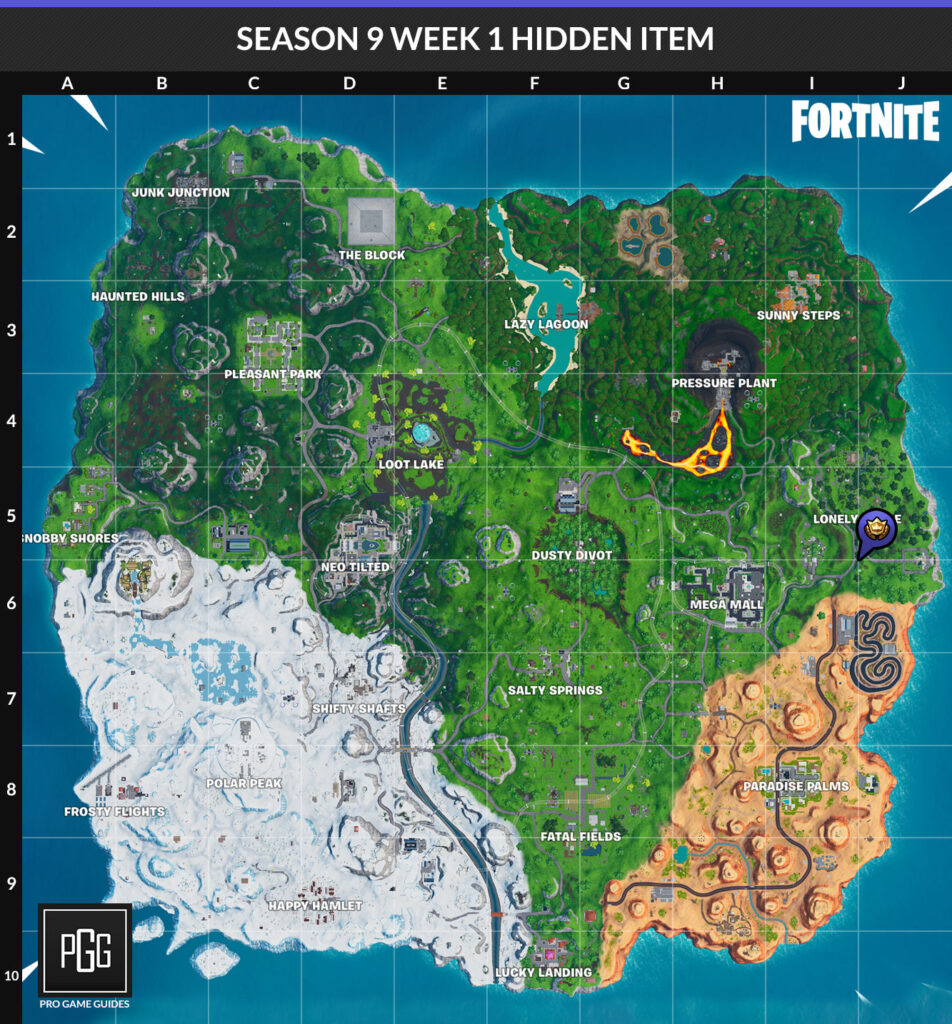 Here's the exact location you'll find it in, always look for a patch of dirt that looks slightly abnormal!