Our Fortnite Season 9 Week 3 Challenges List and Cheat Sheet brings you all of the solutions and answers for the challenges you need to complete for the week. We have maps to treasure and item locations, as well as tips for completing all of them as quickly as possible!
This week we're landing a trick with a Driftboard, getting airtime in a Quadcrasher, destroying opponent structures with a vehicle, searching chests at Lonely Lodge or Polar Peak, dealing damage to an opponent after using a Slipstream, visiting various locations in a single match, throwing the Flying Disc toy and catching it before it lands, getting explosive weapon eliminations, and dealing damage with different weapons in a single match.
Fortnite Season 9: Week 3 Cheat Sheet
Here's a cheat sheet for this week's challenges! Credit to ItsEnergie.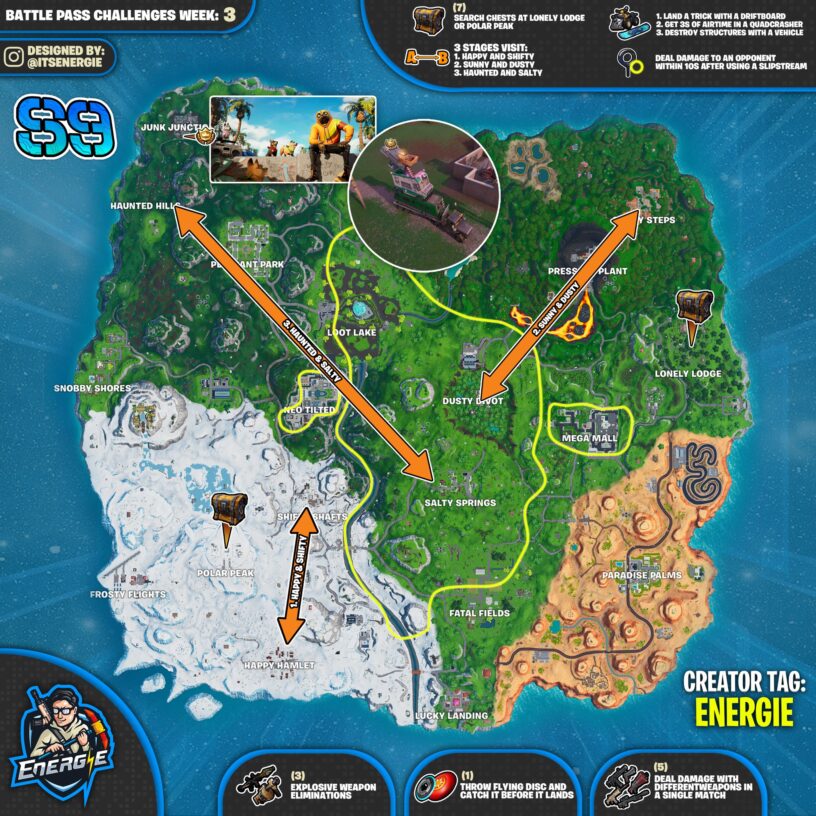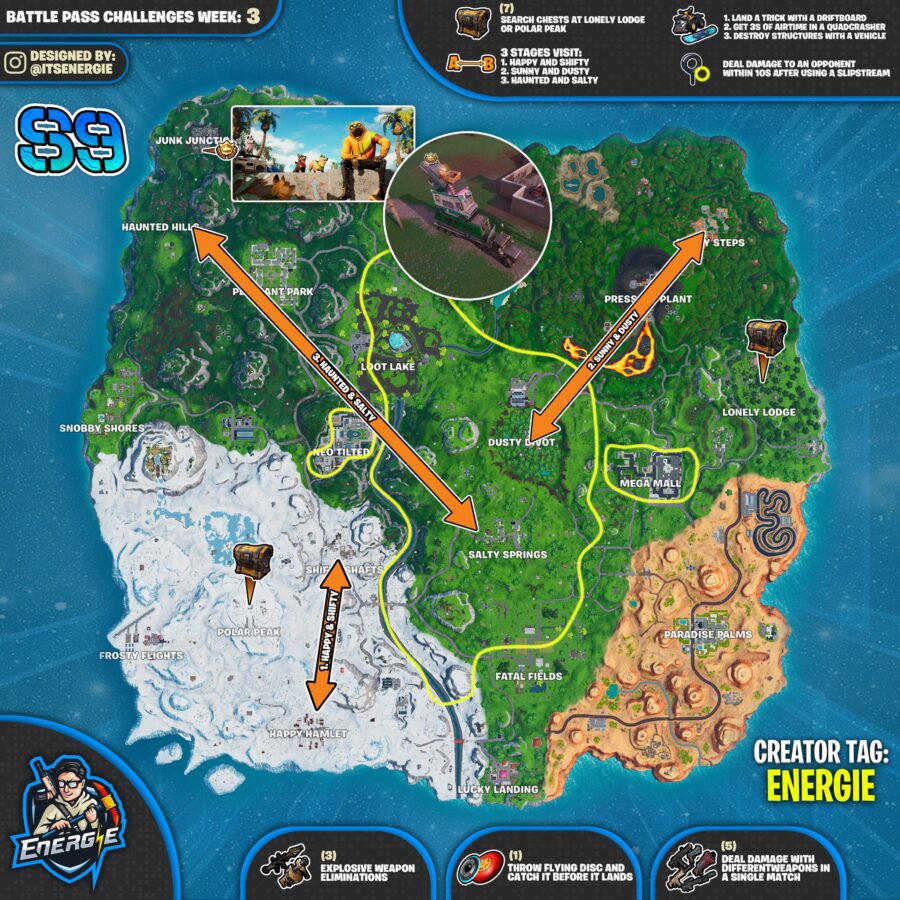 Week 3 Challenges List for Season 9
Free Battle Pass Challenges List
Paid Battle Pass Challenges List
Hidden Item
Check out our Fortnite Season 9 Guide for guides on every week of challenges! We've also got all of the hidden items in our Season 9 Hidden Battle Stars Locations post.
Stage 1 of 3: Land a trick with a Driftboard (1)
Driftboards can be found all over the map, but your best bet is to head to the snow biome and find them there. To do a trick, you just need to get some air by jumping or boosting off a high area and then moving your controls around to pull off a move. Land safely on the ground afterwards, and you will have completed this part of the challenge.
Map credits to LootLake.info.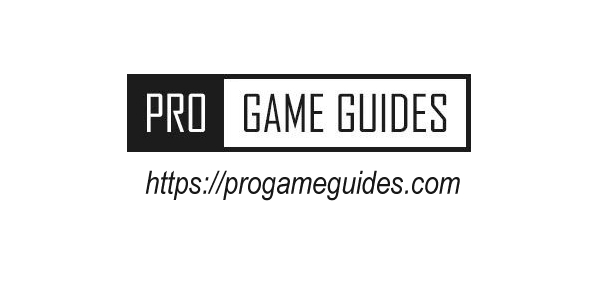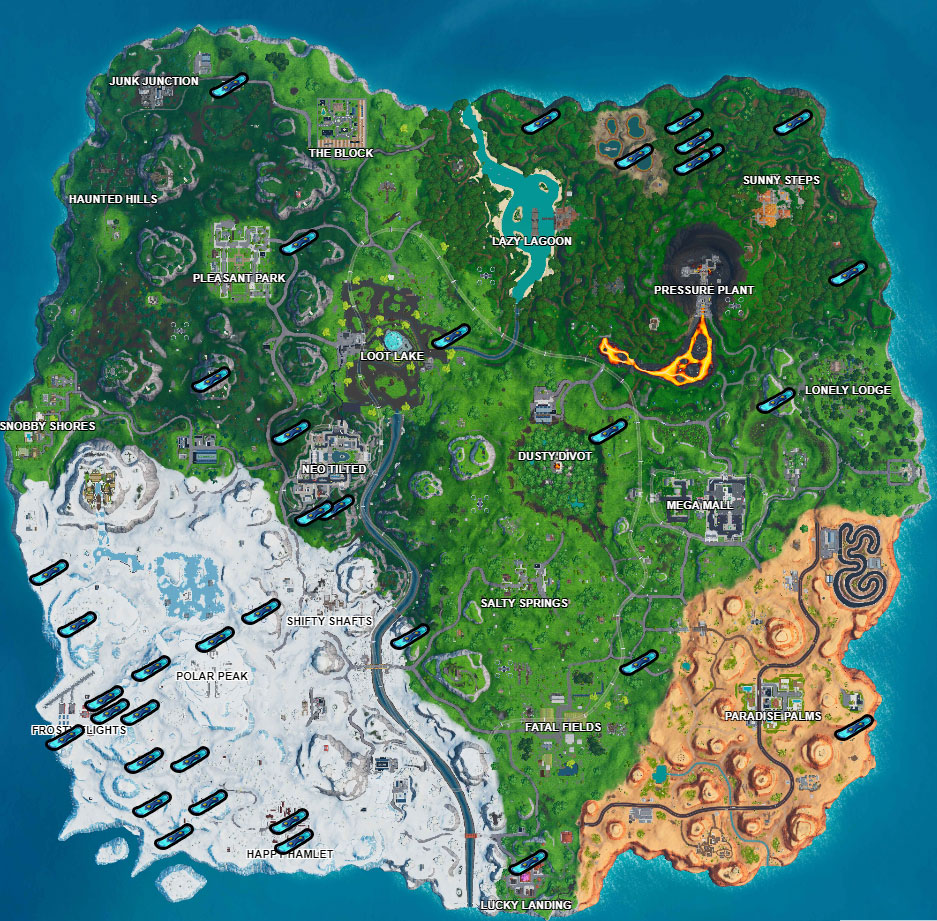 Step 2 of 3: Get 3s of airtime in a Quadcrasher (3)
Quadcrashers are still around, and you'll need to grab some air with them to complete this challenge. Your best bet is either launch yourself off a high area, or build a couple of ramps and boost yourself off of them. If you tilt yourself back, you will catch quite a bit of air. After that, you can boost again to maintain your flight!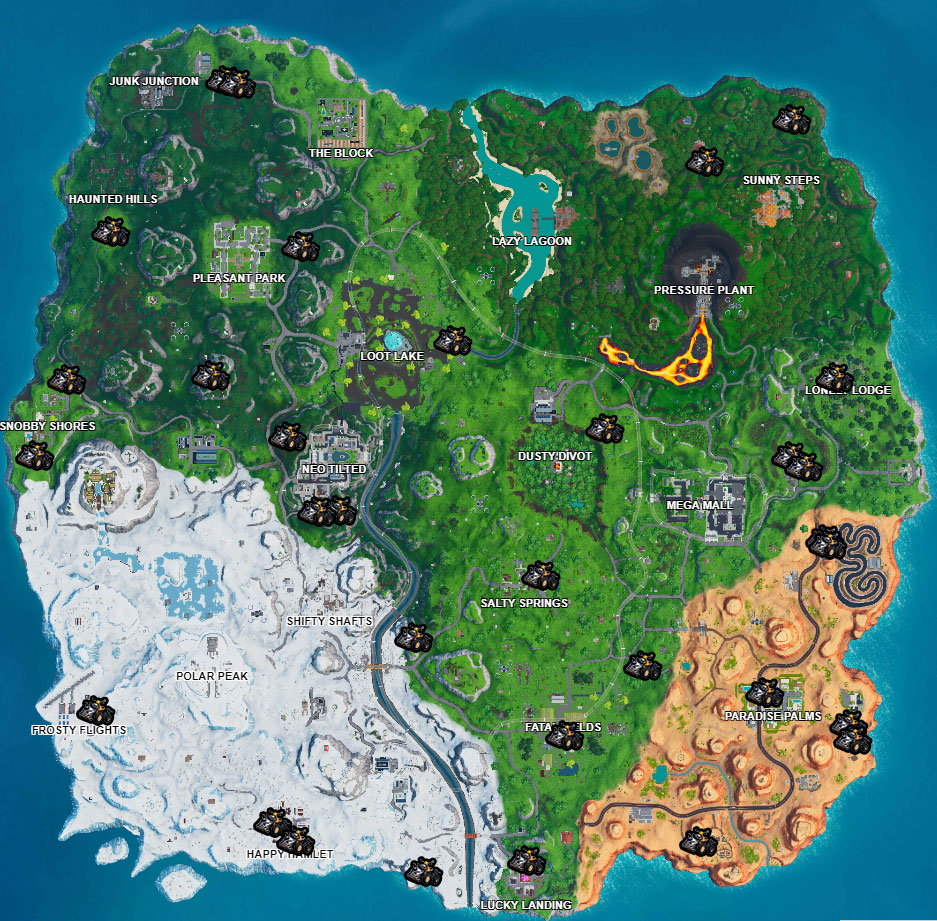 Step 3 of 3: Destroy opponent structures with a vehicle (3)
You can use a Baller for this, but it would be way easier to just barrel through some structures with the Quadcrasher. If you want to be safe about this, wait a bit after a populated area gets looted and take your vehicle through to destroy some structures that were left behind!
Search chests at Lonely Lodge or Polar Peak (7)
Both of these places aren't super populated, but Lonely Lodge is probably the least popular at the moment. Choose one and go to town on looting chests! These chest ones are usually really easy if you do them in Team Rumble.
Deal damage to an opponent within 10s after using a Slipstream (200)
The new Slipstreams have you zooming in and out of the map at a high speed! Jump into one of these and launch out, once you hit the ground you'll have a bit of time to deal some damage to complete this challenge. This is another one that would be a whole lot easier in Team Rumble!
Stage 1 of 3: Visit Happy Hamlet and Shifty Shafts in a single match (2)
These are simple challenges, but they can be a bit annoying to complete. The Slipstreams should make travel a bit more convenient, you can run to the river area from Shifty Shafts, head south, and then launch out towards Happy Hamlet.
Stage 2 of 3: Visit Sunny Steps and Dusty Divot in a single match (2)
This is a bit of a hike, but try heading over to the thermal pools area after hitting up Sunny Step so you can either grab a Baller or use the Volcano Vents to launch towards Dusty Divot.
Stage 3 of 3: Visit Haunted Hills and Salty Springs in a single match (2)
This is the furthest you'll be traveling with these, but you can grab a baller on the mountains nearby Haunted HIlls to make your way to Salty Springs. You can also hit the Slipstream near Loot Lake to get you over to Salty.
Throw the Flying Disc toy and catch it before it lands (1)
Hopefully you've been completing your challenges and playing quite a bit, because the Flying Disc toy is all the way at Tier 35! You'll want to add it to your emote favorites, and then point up towards the sky when you use it. Follow where it is going to land and get there before it hits the ground!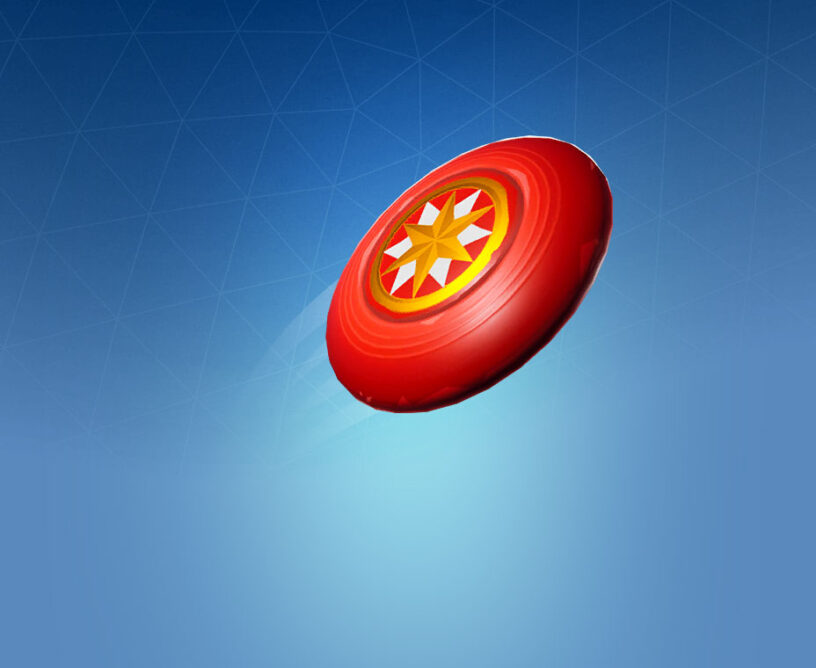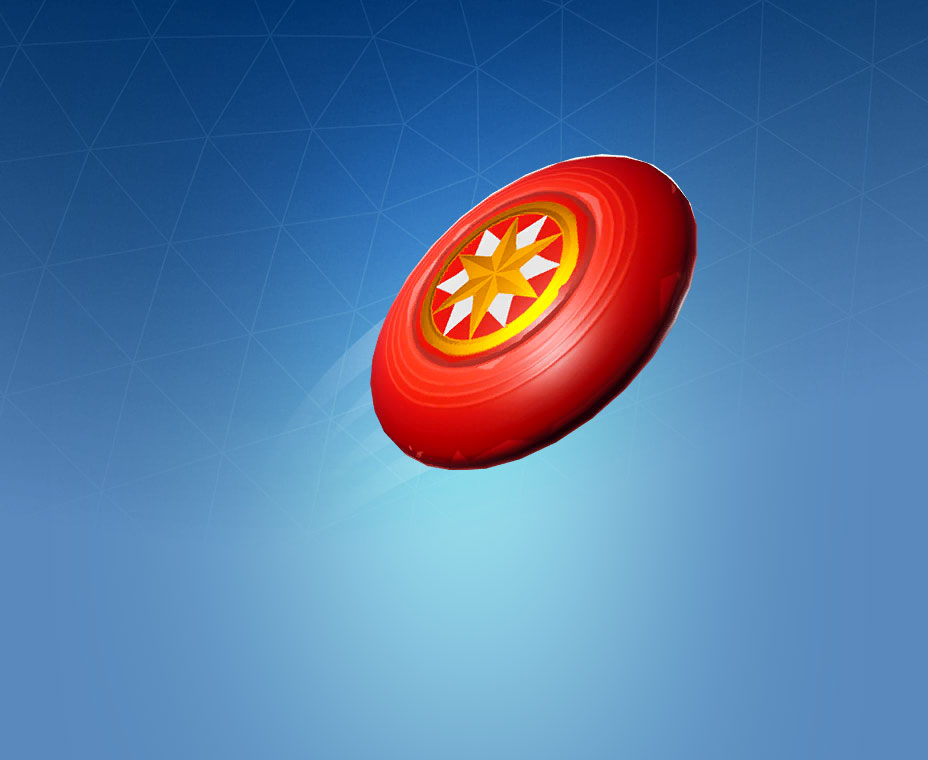 Explosive Weapon Eliminations (3)
Find some explosives and blow some people up! You should be able to also use Grenades for this, but I would recommend heading into Team Rumble and opening up a bunch of chests to find either a Grenade or Rocket Launcher. The Rocket Launcher is pretty insane in Team Rumble, but it's hard to find. The Boom Bow is also a great option for completing this challenge!
Deal damage with different weapons in a single match (5)
Not too difficult, just keep a bunch of different weapons on you as you head into battle. This one would be really easy in Team Rumble if you vary up your weaponry, you can sometimes find different guns in the middle of the game. You should be able to use different weapons of the same class, so you could use the Heavy Assault, Assault Rifle, and the SCAR to get three different weapons.
Hidden Item
Once you've completed all the challenges in week 3 of the Season 9 Battle Pass you will unlock this loading screen! It appears we'll be getting a new DOGGO skin in the item shop, so you can look forward to that. If you take a look at some of the graffiti that's been sprayed on the cement, you'll see the drawing of a Battle Star. The location is over near Junk Junction.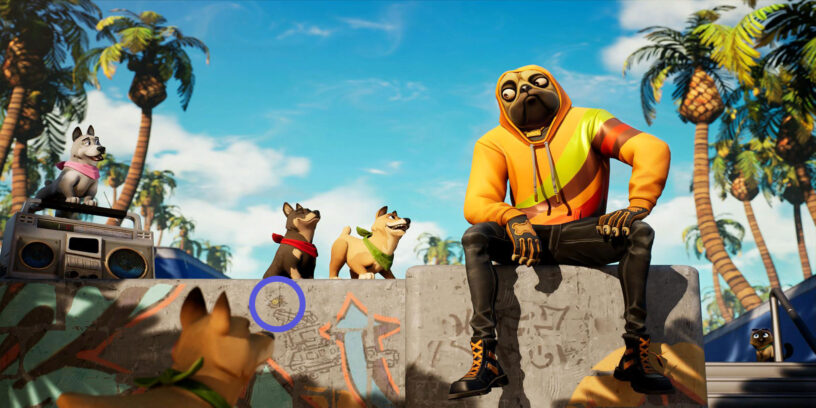 Just south of Junk Junction on the road is a a truck with a stack of different vehicles on it. There's a chest spawn here, and you'll also find the hidden Battle Star for the week!