Our Fortnite Season 9 Week 6 Challenges List and Cheat Sheet brings you all of the solutions and answers for the challenges you need to complete for the week. We have maps to treasure and item locations, as well as tips for completing all of them as quickly as possible!
This week we're landing at various places, dealing damage with SMGs to opponents, searching for particular items at Hot Spots, dealing damage to vehicle driven by opponents, using Storm Flips in different matches, using different vehicles, and eliminating opponents in The Block or Fatal Fields!
Fortnite Season 9: Week 6 Cheat Sheet
Here's a full cheat sheet for the week, credit to ItsEnergie on Twitter!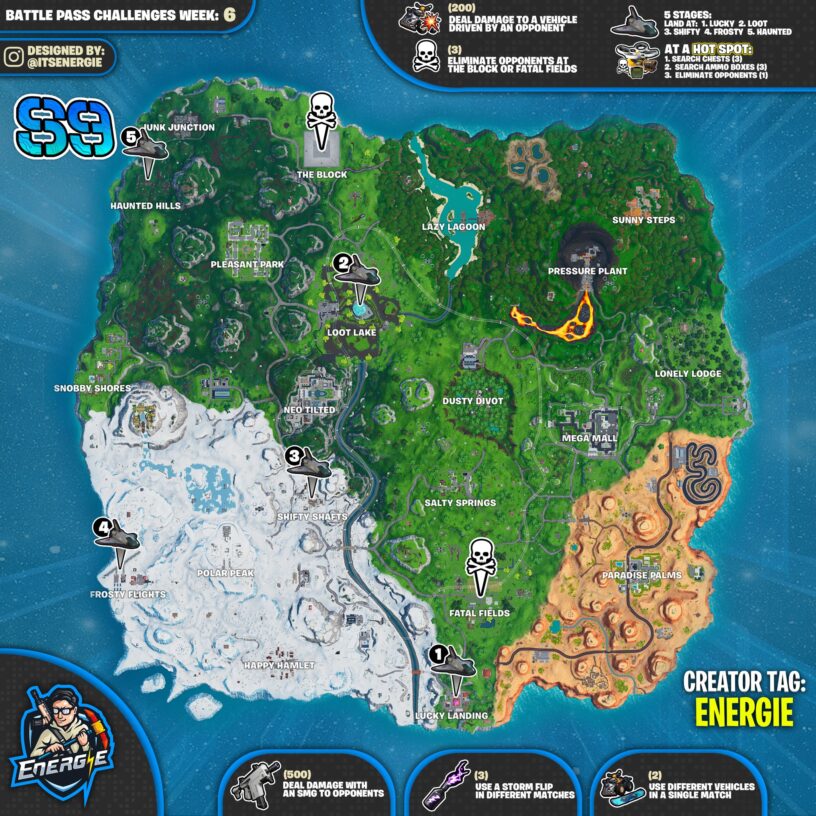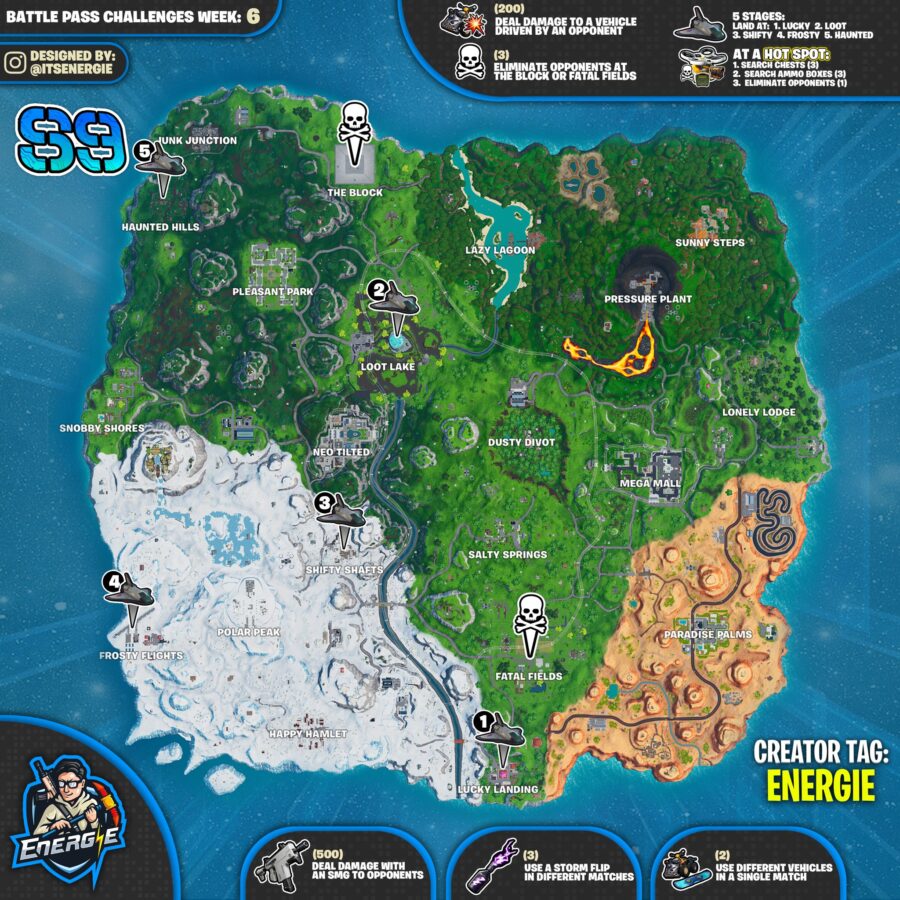 Week 6 Challenges List for Season 9
Free Battle Pass Challenges List
Paid Battle Pass Challenges List
Hidden Item
Check out our Fortnite Season 9 Guide for guides on every week of challenges! We've also got all of the hidden items in our Season 9 Hidden Battle Stars Locations post.
Stage 1 of 5: Land at Lucky Landing (1)
Very simple challenge that you're going to have to do five times. Land at each spot in a different match. If for some reason you can't get to the spot, you can always use a Redeploy Glider to glide over to the area and it will count for the challenge.
Stage 2 of 5: Land at Loot Lake
Stage 3 of 5: Land at Shifty Shafts
Stage 4 of 5: Land at Frosty Flights
Stage 5 of 5: Land at Haunted Hills
Deal damage with SMGs to opponents (500)
There's a couple of options for you in this challenge, you can either run the Drum Gun or the new Burst SMG. Either options isn't too bad at the moment, so just prioritize one of those weapons for dealing damage. You can likely finish this one up pretty quick in Team Rumble.
Stage 1 of 3: Search chests at a Hot Spot (3)
If a named location appears in yellow on the map, that designates it as a Hot Spot in that match. You can head to this location and you'll find quite a few floating boxes with Rare or better items in them if you break them open. Head to these locations and open up chests, search ammo boxes, and then get an elimination!
Stage 2 of 3: Search ammo boxes at a Hot Spot (3)
Stage 3 of 3: Elimination at a Hot Spot (1)
Deal damage to a vehicle driven by an opponent (200)
Lots of people are rolling Ballers around, so this should be a pretty easy one to complete!
Use a Storm Flip in different matches (3)
The new Storm Flip item launches a safe area in the actual storm, or it places a storm spots in the safe areas! You just need to throw one of these in three different matches to complete the challenge, just make sure not to forget to throw it!
Use different vehicles in a single match (2)
This one's not too bad, you can head to different locations that have multiple vehicles at them. Frosty Flights has the possibility of Ballers, Quadcrashers, and Driftboards. There's another good option east of the thermal pools at the north side of the map that has all of the spawns as well. Just hop in each one real quick and you'll complete the challenge.
Eliminate opponents in The Block or Fatal Fields (3)
Both of these spots aren't super popular. If you know Fatal Fields particularly well, then that's a good option. The Block can be hit or miss, but if you like the layout this week, then head on over there!
Hidden Item
This week is going to be a Fortbyte! Now, it might not release exactly when the challenges come out, but it should be within the next couple of days. You'll find the clue in the description of the Loading Screen you earn by completing all the challenges. Here it is: "Only the best snipers can take out a holo-clock tower lamp from the rooftops of Neo Tilted."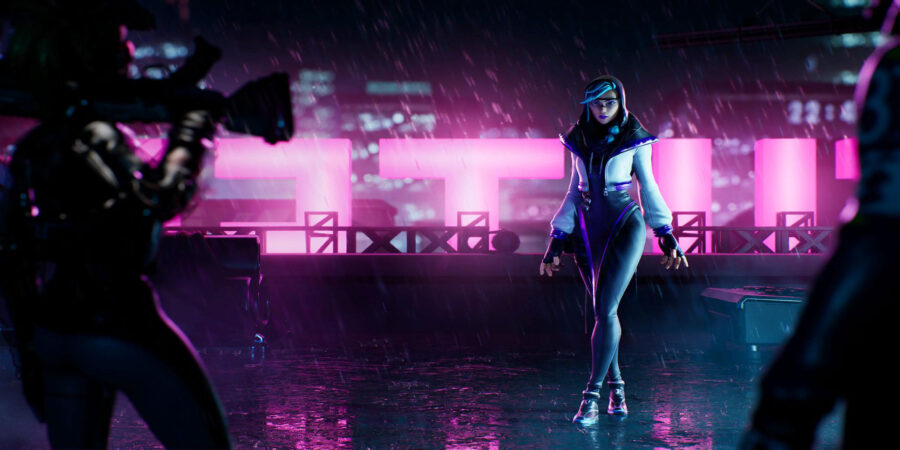 We don't know this one for sure, but the assumption is that you will need to shoot out the lamp that appears on top of the holo-clock at Neo Tilted. The location of that is the following: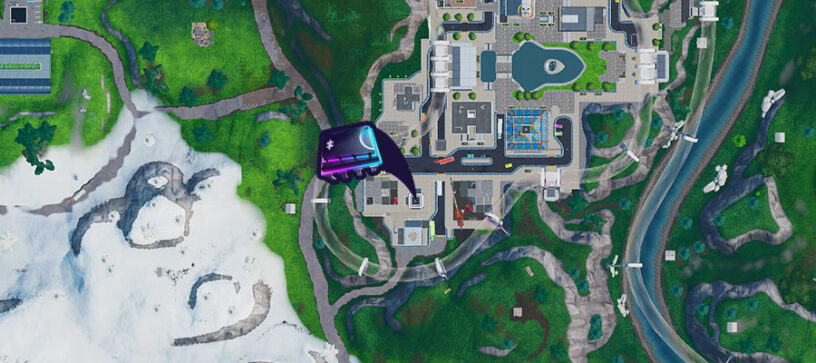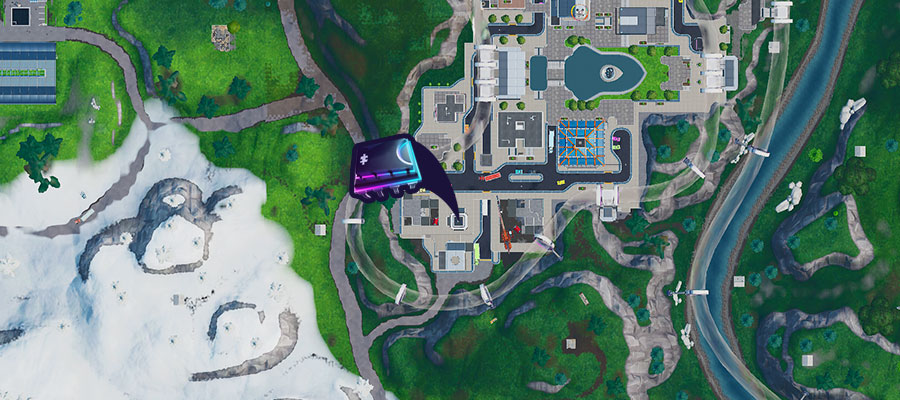 Once you do that, you should be able to collect the Fortbyte. It might not even require you to actually shoot the lamp, and you might just be able to go there and collect it. We'll update this guide once we learn the exact steps for unlocking this one.