In a surprise release for Fortnite Crew Members during the month of November, Epic Games added brand new Shadow Styles for the last three months of the Fortnite Crew outfits. Among the ranks of the First Shadows set, we have Sierra, Chaos Origins, and Burning Wolf.
Players who were subscribed to Fortnite Crew for each of the following months will receive the relative Shadow Styles listed below. If you were not subscribed during the months of Sept. or Oct., you will not receive the styles for them.
September: Shadow Style Burning Wolf
October: Shadow Style Chaos Origins
November: Shadow Style Sierra
Related: Fortnite Crew Pack for November 2021 | Sierra, Serrated Steelblades, Glowing Vengeance, and more!
Here is a preview of how each style looks.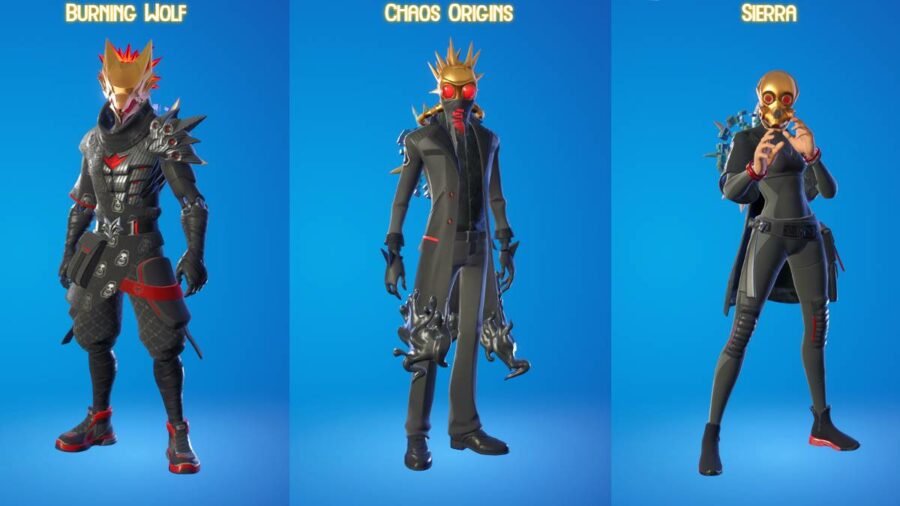 If you'd like to see some additional info about each cosmetic, be sure to check out our item shop page for each cosmetic below!
Unfortunately, the Shadow Styles only apply to the outfits themselves. The gear for each outfit, such as the pickaxes and back blings, do not have Shadow styles—yet!
Be sure to check out our Fortnite Leaked Skins and Cosmetics page to see all the latest outfits and other cosmetics that are rumored to be coming soon!