One of the first quests we've received for the Season forces us to explore the newest Fortnite game mechanic: Crafting! Luckily, it's not complicated and doesn't require a lot of effort. If it did, it would definitely be a lot more frustrating to die in a match. Still, as a new mechanic, some of you might be wondering how exactly to craft weapons and items.
How to Craft Weapons and Items in Fortnite
Much like other games, Fortnite has made formed their crafting around the collection of specific resources. Currently, there are two paths for your weapons, and we'll explain how to get the resources for each different type. Before we explain the actual process of crafting, we'll cover where to find the resources you need for each type of weapon.
Resources

Animal Bones
If you're looking to build Primal Weapons, you're going to need to find Animal Bones. These can be harvested by breaking fossilized bone structures that are sticking out of the ground (shown in the image on the left above), or by hunting wild animals. Generally, each bone structure or animal drops one Animal Bone, when you need a total of four to make a Primal Weapon.
Mechanical Parts
If you're instead looking to craft Mechanical Weapons, you'll need to find Mechanical Parts. These parts are harvested by breaking specific machinery such as forklifts, vehicles, or tractors (shown in the image on the right above). Generally, each of these will drop one Mechanical Part, when you need a total of four to make a Mechanical Weapon.
Weapons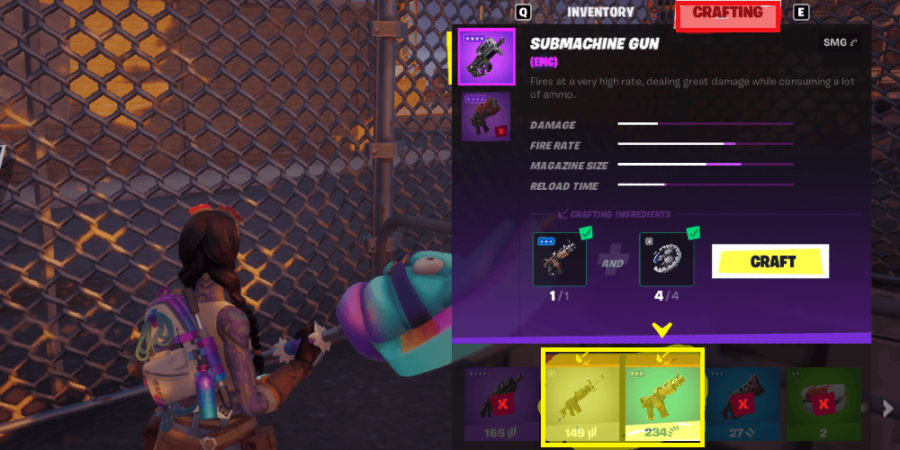 The last resource you'll need to craft a weapon is one of any Makeshift Weapon. Makeshift Weapons are common weapons fround throughout the map that specifically say Makeshift in their name. When you have collected one of these and four of either Animal Bones or Mechanical Parts, you'll have the required resources to make a Primal Weapon or Mechanical Weapon, respectively.
Related: Where to Find the Golden Artifacts at The Spire Fortnite Season 2 Chapter 6 Epic Quests - Pro Game Guides
Crafting
Crafting in Fortnite is mostly intuitive, but it can be frustrating to have to hunt for the option in your inventory. The first thing you'll need to do is, as stated, open your Inventory. Once you have done that, you will notice in your Inventory menu (at the top) is a tab that says Crafting (highlighted red in the image above). Select that tab.
Now that you are on the Crafting Menu, select the item you'd like to craft into something else (highlighted yellow in the image above). If you have the necessary resources, it will give you the option to craft your desired weapon. If you don't have the resources, you'll see a little red X next to the weapon you want to craft.
All you need to do from here is click Craft. Your character will exit the inventory menu and do a short crafting animation. Congrats, you've crafted a weapon!
Note: You are able to craft other things besides Weapons. Different objects can be crafted into different things. Hang tight! We'll have a full crafting recipe guide soon.
Be sure to check our full Fortnite Chapter 2 Season 6 Guide for all the latest info on the new Season!