We have been introduced to a new title menu game mechanic in Fortnite for Chapter 2 Season 7. While we have been able to customize characters and objects before, this is the first time in which we do it by collecting items in matches and purchasing a style that suits your taste.
Step One: Get Alien Artifacts
Alien Artifacts are the objects you're looking for matches, and there are two ways to get them. You can either find them on the map, or by opening Cosmic Chests. Cosmic Chests can be opened in Duos, Trios, or Squads, and drops up to four Alien Artifacts. Up to five Alien Artifacts can be found as ground loot at specific points on the map every week.
Step Two: Customize Kymera
Customizing Kymera is a simple process, and you'll start in the Home Menu. Use the images and instructions below to see what you need to do to change Kymera's appearance.
In the Home Menu, select the Battle Pass tab at the top.
Select the Customize Kymera option, which is next to the Battle Pass Rewards button.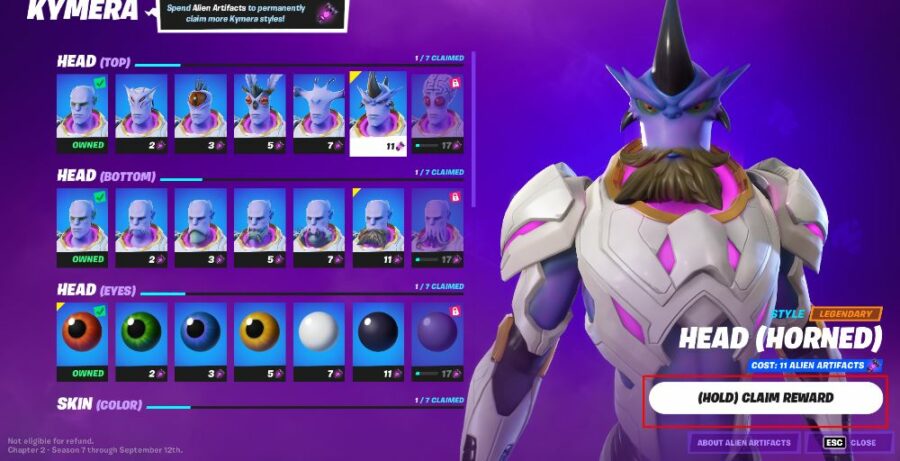 Select the style you want to purchase. Different styles cost different amounts and have different rarities. Once you have selected a style you want, hold down the (Hold) Claim Reward button to claim it. This will only work if you have enough Alien Artifacts in your inventory.
After you've done everything above, you'll be taken to the Claim Rewards page where you can either equip the style you just purchased, or claim it to add it to your inventory and wear it some other time. Congrats, you've customized Kymera!
For all of our guides to the new season, be sure to check out our Complete Guide to Fortnite Chapter 2 Season 7. Or, if you'd like to see our newest news and content, you can head over to our Fortnite Homepage!