Fortnite continues to be one of the best battle royale games, with constant improvements and changes that keep players excited to play every time. From map changes to new challenges, they consistently have fresh content, including unique events like Fortnitemares. Fortnitemares has great rewards for players to claim with themed challenges and tons of fun, spooky surprises all around the Island to discover.
All campfire locations in Fortnite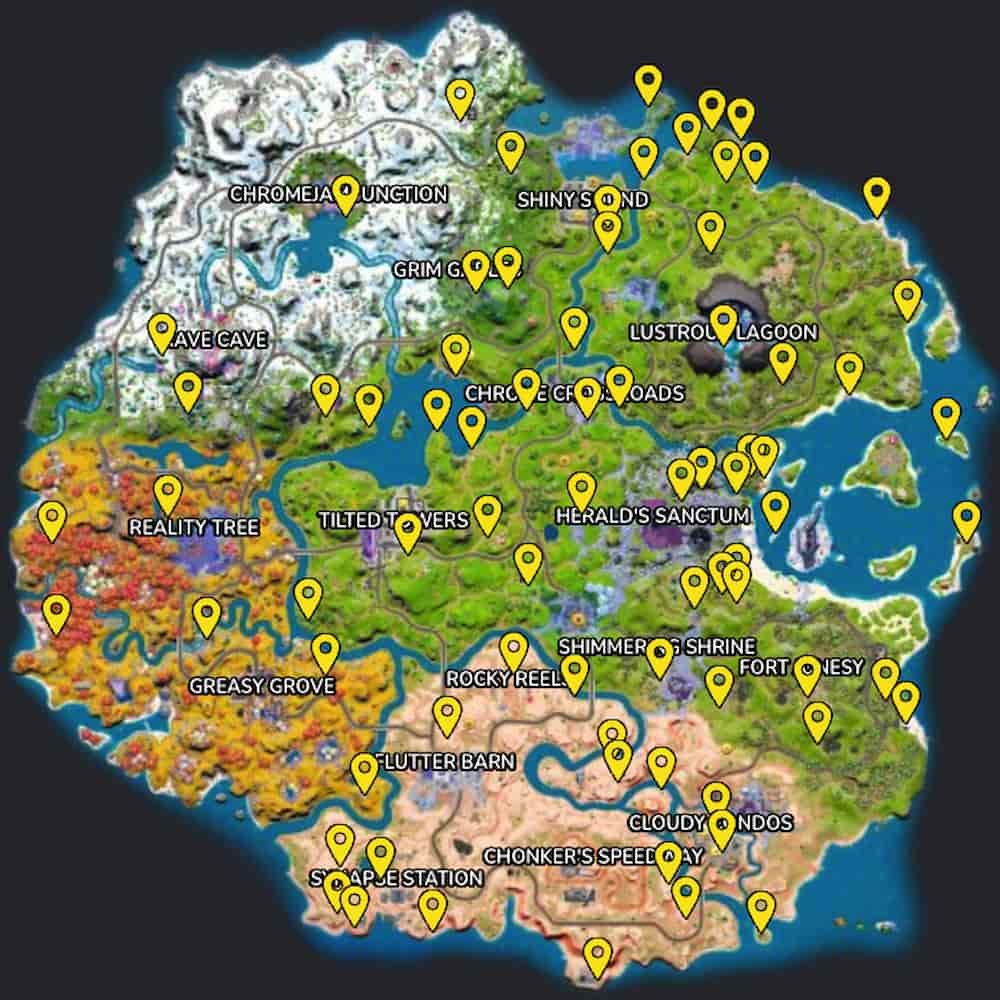 Many campfires are available around the map, and any of them will do for the challenge. However, this challenge requires patience while you wait for nightfall, which can sometimes take a little while. To make it easier, you will want to find a more secluded campfire spot away from enemies to wait and light your fire. We recommend some of these more private spots toward the edges of the Island:
Scratch Pad - west of Reality Tree
Beach Bash - southwest of Reality Tree
Lil' Shaftie - southwest of Flutter Barn
Sandblast Estate - south of Chonker's Speedway
Unnamed Island - southeast of Cloudy Condos
Tow-Away Beach - southeast of Fort Jonesy
Sunburned Shacks - east of Herald's Sanctum
Looper Landing - northeast of Herald's Sanctum
Unnamed Beach - northeast of Lustrous Lagoon
Lonesome Watchpost - northwest of Shiny Sound
Shell or High Water - northeast of Chromejam Junction
How to dance next to a campfire at night in Fortnite
Once you locate a campfire to use, you will have to wait for it to turn night. The time automatically passes in Fortnite as you play your match. This means you will have to wait as the sky turns dark. Having a secure location makes this waiting part much more manageable, or you can stay in cover by hiding in a bush until the right time.
When it turns nighttime, you can now light your campfire by holding the following:
Square on PlayStation
X on Xbox
E on PC
Before going out, the campfire lasts only a short time, so now is your time to dance beside your campfire. Any emote will work for the challenge, and the ones in your quick slot will be the easiest to get the challenge done as efficiently as possible. To start dancing, press:
Down on the D-pad on Console
B on PC
Completing this challenge will bring you closer to redeeming the unique Fortnitemares rewards. There are plenty more challenges to complete, so look for more of our guides for help completing them quickly and easily.
Looking for more Pro Game Guides Fortnite content? Check out our guides on How to destroy haunted household furniture in Fortnite or Where to find Jelly Beans in Fortnite!