Fortnite is one of the most popular battle royale games due to its constantly changing and improving content, keeping fans excited to play monthly. Not only do they consistently add fresh skins and map changes, but they offer unique events that players can participate in, such as Fortnitemares. Fortnitemares offers a ton of exciting rewards and plenty of spooky Halloween content around the map, counting down the days to the holiday and getting everyone in that festive spirit. Enjoy some candy in-game and out!
All Candy Bucket Locations in Fortnite
Like the other Halloween candy in Fortnite, you can find Jelly Beans in Trick-or-Treat Candy Buckets at specific locations. These buckets are primarily outside of homes and businesses around the map near decorated areas and can contain several pieces of candy within each one.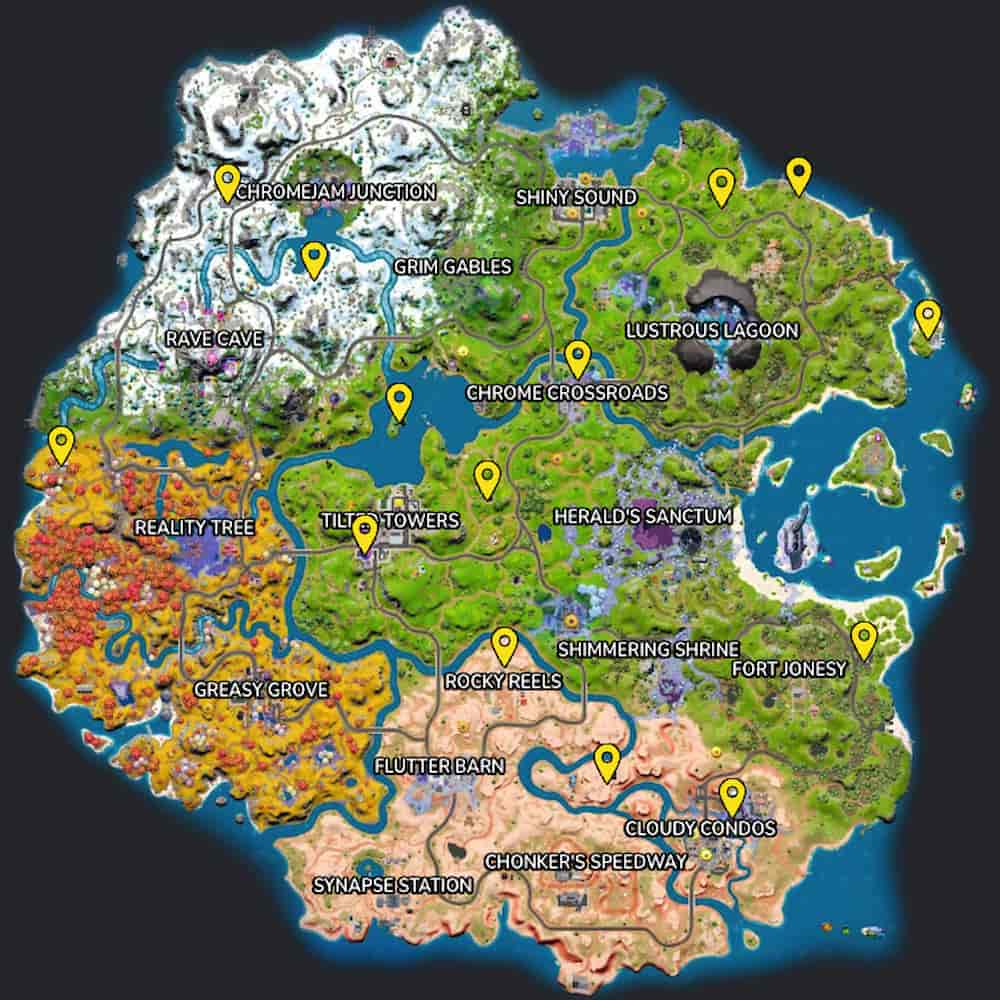 These are all the locations you can find Candy Buckets, although some more prominent locations may carry more than the landmarks. You may not find Jelly Beans in every Candy Bucket, so you may have to search several before finding some. Here is where you can look:
Gas Station - west of Chromejam Junction
Crackshot's Cabin - south of Chromejam Junction
Loot Lodge - the center of Loot Lake
Willow's Haunt - northwest of Reality Tree
Tilted Towers
Research Lab Minotaur - northeast of Tilted Towers
Rocky Reels
Chateau Bob - northwest of Cloudy Condos
Cloudy Condos
Fort Jonesy
Gas Station - east of Fort Jonesy
Chrome Crossroads
Syndicate Shoals - east of Lustrous Lagoon
Unremarkable House - north of Lustrous Lagoon
Rickety Rocks - northeast of Lustrous Lagoon
How to gain shield from Jelly Beans in Fortnite
Once you find some Jelly Beans in the Candy Buckets, you can use them to complete your Fortnitemare challenge or boost your shield during your match. They restore ten shield per piece, so you will need three Jelly Beans total to complete the challenge. All you have to do to gain shield from them is eat them, and you can eat them consecutively to each other, making it a quick process if you have all three on you at once.
Select them from your inventory slot
Press M1 on PC or Right-Trigger (RT) on Xbox or R2 on PlayStation to eat them
Watch your shields increase
Halloween candy in Fortnite has beneficial effects when eaten, allowing you to gain shield and speed, use zero-point powers, and more. Find some to complete the Fortnitemares challenges or get in the spooky Halloween spirit. We have plenty of other Fortnitemares guides if you need more help.
Looking for more Pro Game Guides Fortnite content? Check out our guides on How to destroy haunted household furniture in Fortnite or How to acquire the Zero Point Pretzel effect in Fortnite!