There are plenty of new threats around the map in Fortnite, not only facing other players, but wildlife, tornados, and giant rocks falling from the hills. Fortnite continues to be one of the best battle royale games because of its constant evolution and new ideas that they introduce to the game regularly. Players don't always have to fear these natural phenomena. They can use all the components around the map to their advantage. Players can use Runaway Boulders found on the map in various ways, including dislodging them to send them rolling down toward their unexpecting competitors. Here's how!
All Runaway Boulder Locations in Fortnite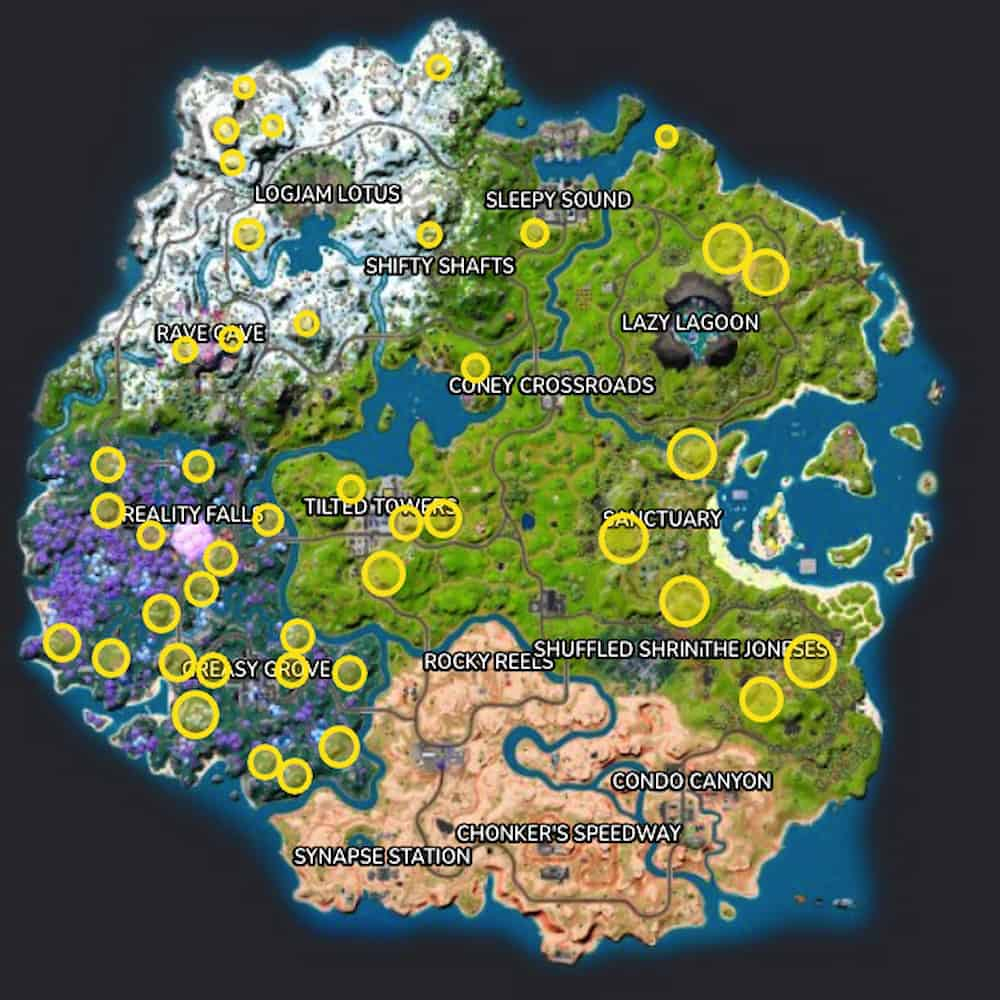 Runaway Boulders are all around the map, except for the desert biome. Usually, they sit on high hills or mountains, making for the perfect trap for players below. Here are all the locations where you can find them.
Seven Outpost II: surrounding mountains, northwest of Logjam Lotus
Logjam Lotus: northeast toward the coast and southwest toward Rave Cave
Shifty Shafts: north hilltop
Rave Cave: hills on both sides and east toward Shifty Shafts
Reality Falls: surrounding hills and south toward Greasy Grove
Greasy Grove: west toward the coast, the surrounding hills, and southeast toward Synapse Station
Tilted Towers: surrounding hills
Coney Crossroads: north hilltop
The Joneses: east hilltop and south toward Condo Canyon
Sanctuary: west hilltop, south toward Shuffled Shrine, and north toward Lazy Lagoon
Lazy Lagoon: hills northeast toward the coast
Sleepy Sound: south hilltop and northeast toward the coast
Related: How to complete Dragon Ball Recovery Quests in Fortnite
How to dislodge boulders in Fortnite
There are various ways to dislodge Runaway Boulders for your advantage. The most straightforward way being—hit it down with your pickaxe. You can switch to your pickaxe by pressing the following buttons, depending on which console you use: Y for Xbox, Triangle for PlayStation, and F for PC. With your harvesting tool equipped, approach the boulder opposite the direction you want it to roll and hit the base rocks underneath it. It will reveal a health bar depicting how many swings it will take to dislodge it, but it usually doesn't take much. Once you've successfully destroyed the base, the boulder will break free and begin rolling.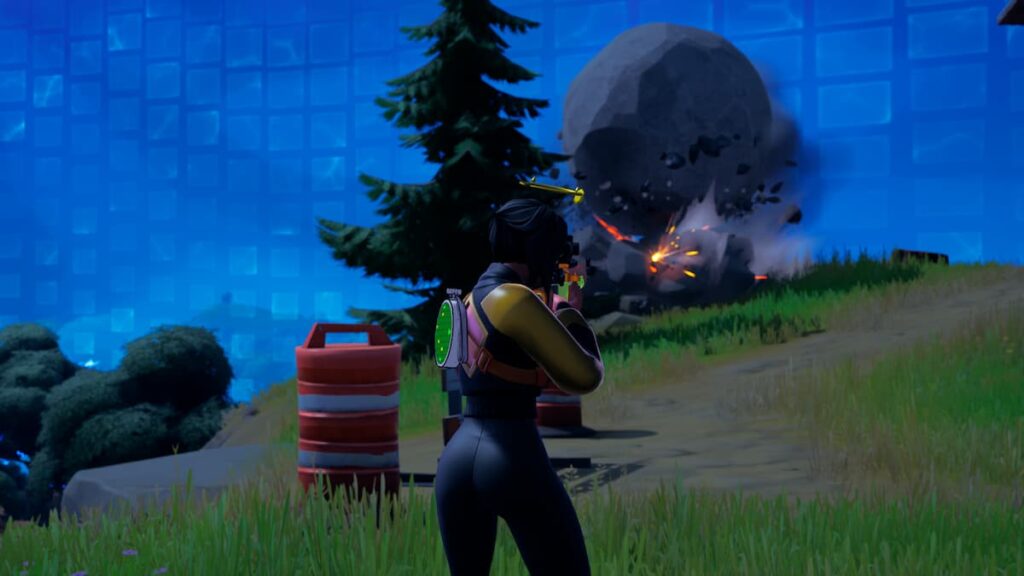 You may not always have time to equip your pickaxe and start swinging, especially if you are approached by enemies while doing so. Don't sweat it, though. You can still dislodge Runaway Boulders with your weapon equipped. All you have to do is shoot at the base rocks instead of breaking them with your pickaxe. It will reveal a health bar just like the other method and eventually break free and begin rolling. This is a great way to distract enemies below you or even take them out completely.
What are Runaway Boulders?
Runaway Boulders are giant sphere-shaped rocks nestled in smaller stones at the base. They are found on various mountains and hills around Fortnite and can be dislodged and rolled around the ground. They can deal significant damage when they hit opposing players, especially if they fall from above and hit them on the head. Whether you need a place to hide, complete a quick challenge, or take out an unexpecting enemy, they can be instrumental during your match.
Runaway Boulders can be dangerous or helpful during your match, depending on which way it rolls. It can roll toward you or away from you. Either way, it's hard to resist dislodging that rocky trap when you spot one. It might even be able to help you win that victory royale. You never know!
Looking for more Pro Game Guides Fortnite content? Check out our guides on Where to find the hidden Dragon Ball on Dragon Ball Adventure Island in Fortnite? or Where are the Geysers in Fortnite? All Geyser Locations (Chapter 3)!