In Fortnite Chapter 2 Season 7, there are still NPCs that provide you the option of putting on a disguise. In the game, this makes it so if you're wearing the disguise and stay perfectly still, other players will likely just thing you're an intimate object instead of a player. However, only specific NPCs will provide you this option. In the guide below, we explain which NPCs you can use to do this and how to get a disguise.
Prop Disguises NPCs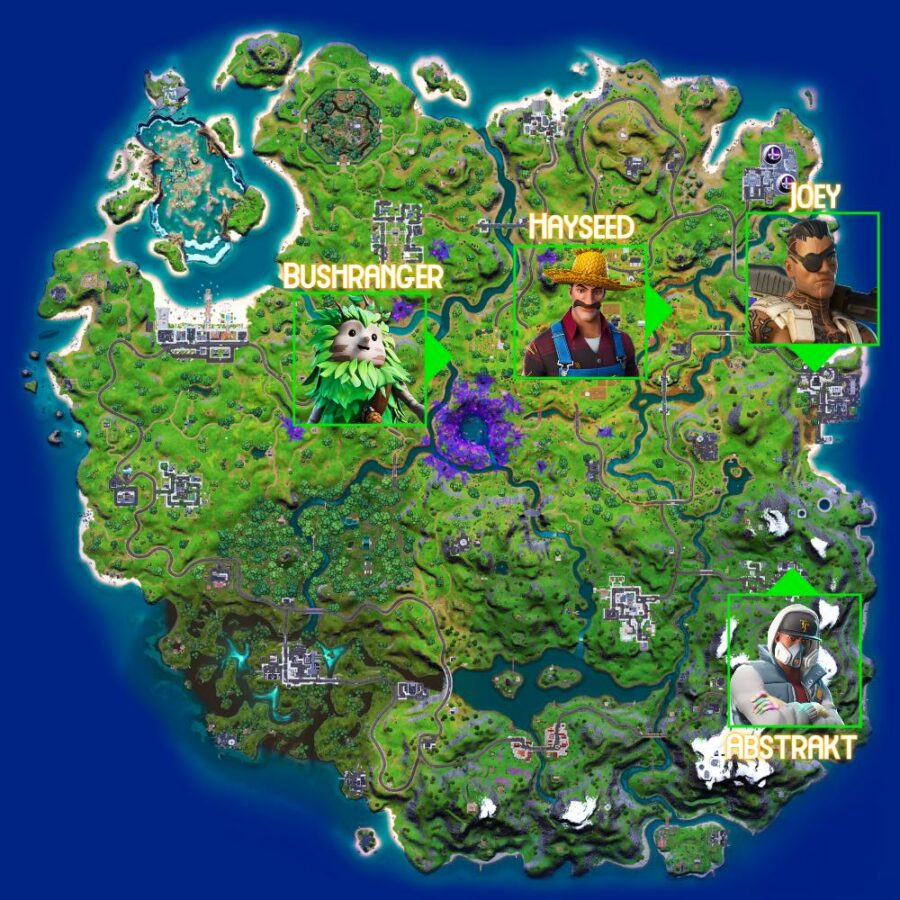 There are currently four NPCs that give you the option to purchase a disguise. You can use the map above to find them, or follow the directions we have listed below.
Related: How to Open a Cosmic Chest in Fortnite - Pro Game Guides
Abstrakt: On the northern edge of Retail Row.
Hayseed: Walking around Steel Farm.
Bushranger: Walking along the river North of The Aftermath (the purple area in the center of the island).
Joey: In the northwestern corner of Dirty Docks.
How to Don a Disguise
Once you have reached one of the NPCs listed above, approach them and interact with them to pull up the conversation radial. From here, you'll be able to choose one of the services they have available. As shown in the image above, you want to select the option to Don a Prop Disguise.
When you select that option, it will take you to the next page of the radial to confirm. Select the Prop Disguise option again to confirm the purchase, and you'll immediately become a random object!
Think you can surprise your opponents?
For all of our guides to the new season, be sure to check out our Complete Guide to Fortnite Chapter 2 Season 7. Or, if you'd like to see our newest news and content, you can head over to our Fortnite Homepage!