A mysterious new feature has been added to Fortnite in Season 6. There are six small spires throughout the map that are each protected by a hostile Guardian. No one knows exactly why these Guardians are protecting the towers or who they are, but that doesn't stop them from seeking them out to defeat them for some good loot!
How to Find and Defeat all Fortnite Guardians
Our theory is that the Guardians are alternate versions of The Seven, but we'll save further speculation for another time. What matters now is how to find these mysterious Guardians and some tips and tricks to defeat them.
Guardian Locations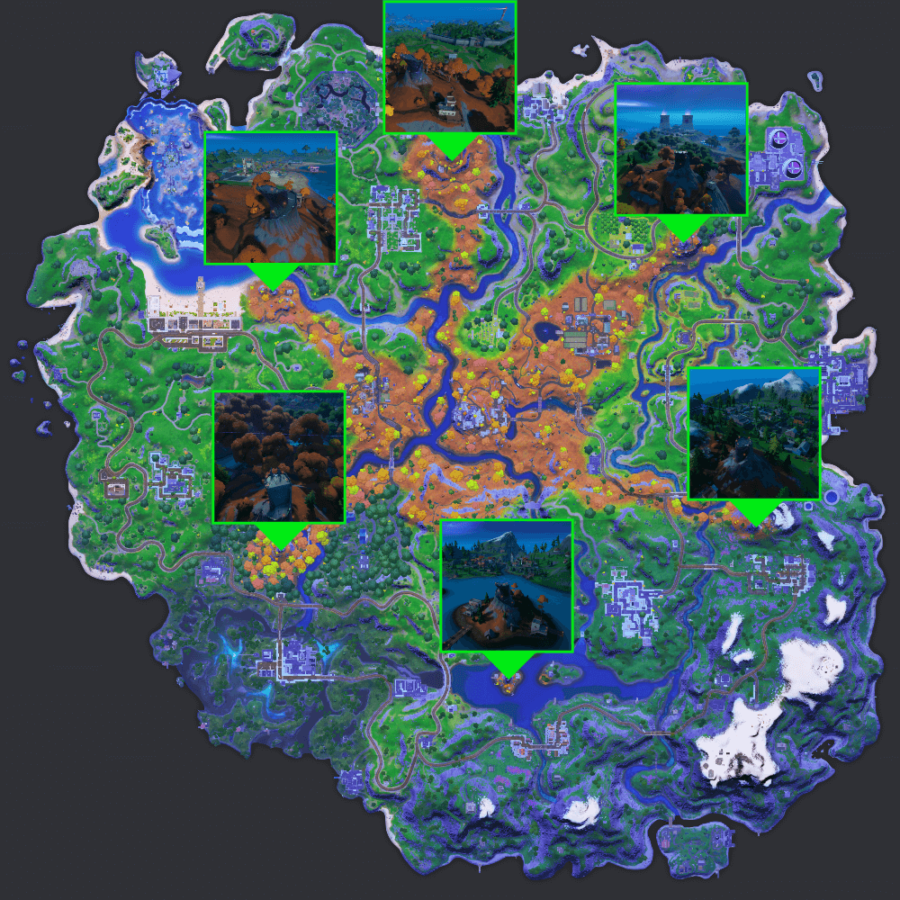 As you can see in the image above, the Guardians' spires are located at the end of each Primal environment branch. To know which one is located at each spire, you can use the list below.
Guardian of the Lake: This Guardian is walking around the spire at Apollo Island, north of Misty Meadows.
Guardian of the Woods: This Guardian is walking around the spire in Weeping Woods, directly north of Slurpy Swamp.
Guardian of the Bay: This Guardian is at the spire directly East of the beach at Sweaty Sands.
Guardian of the Sea: This Guardian is walking around the spire directly Northwest of Pleasant Park, almost halfway between Pleasant Park and Craggy Cliffs.
Guardian of the Fields: You can find this Guardian at the spire almost exactly halfway between Colossal Crops and Steamy Stacks.
Guardian of the Mountain: This Guardian is on the mountain directly North of Retail Row's western side.
Related: All Bunker Chest Locations in Fortnite Chapter 2 Season 6 - Pro Game Guides
How to Defeat the Guardians
Finding the Guardians is likely intuitive and simple. The real difficulty is defeating them. However, we've explored a few strategies and found that the best ones are fairly intuitive as well. Here are our best suggestions when trying to take them down.
Relax: The difficulty in taking down these Guardians is akin to taking down an entire group of IO Guards. If you regularly squared off against the IO Guards in Season 5 and found that you usually won, handling a single Guardian is a breeze. They are also similar in difficulty to fighting Predator from Season 5.
Teleportation: We recommend medium-to-short-range weapons. Long-range weapons aren't ideal since the Guardians have the ability to quickly dash/teleport to other nearby spots. You'll find long-range weapons miss most of the time. Medium-range weapons are best since the accuracy of their shots is greatly diminished when you move farther away.
Be Still: Much like the IO Guards, the Guardians tend to shoot to your left and right. We suspect that the AI is programmed to anticipate you moving left and right and adjusts their shots to accommodate for that. The smoothest battles are generally done with a Revolver or an Assault Rifle with

minimal

movement.
Land Smart: If you want to take one of these down, your best chances are at the beginning of the match. Not only is it less likely that someone will have already gotten to them, but you can also drop on top of the spire they're guarding.

This is because you will almost always find a Chest and a weapon of Uncommon rarity or higher there

. Also, if you fire at them from above, your chances of winning are greatly increased.
Teammates: If you're hunting down these Guardians for a quest, just play it safe and bring teammates. If you are skilled enough, taking down these Guardians is easy with one person. However, even unskilled players can take down the Guardians if they have the numbers.
Overall: Stay crouched, use a Revolver or an Assault Rifle, and don't move too much. Easy breezy.
If you have any other suggestions, feel free to drop a comment! If we test it out and think it works, we'll happily add your strategy to our guide!
The Guardians are holding orbs that you can turn in for a great item! Check out our guide on How to Get the Mythic Spire Jump Boots!