Goku, Vegeta, and other dragon ball characters have arrived in Fortnite Chapter 3, Season 3. Players will get to use several items and abilities inspired by the Dragon Ball series. One of these abilities includes the iconic Kamehameha, which players can find in various locations across the map. So, if you're wondering how to get powers like Son Goku, we have you covered. Here's how to get the Kamehameha Chapter 3 Season 3.
How to destroy objects with a Kamehameha in Fortnite
Players simply have to equip this weapon and aim at the building to destroy objects with the Kamehameha. The Kamehameha charges up for a few seconds before releasing a powerful energy beam that destroys everything in its path. Aim it at enemies, and move your crosshair to track the opponent easily. Since this takes a while to charge up, use the cover effectively while using the Kamehameha to avoid getting shot by enemies.
All Kamehameha locations in Fortnite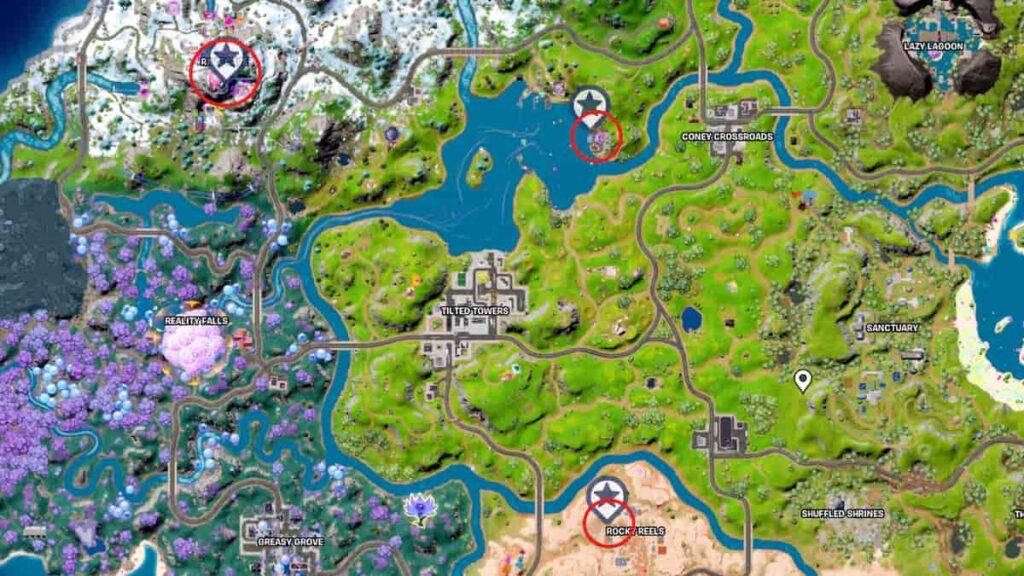 You can find the Kamehameha inside Capsule Corp capsules that fall from the sky. These spawn arbitrarily in every match, and it's best to check your mini-map in-game to see the exact drop locations for these capsules. You can also purchase the Kamehameha from Dragon Ball Vending Machines across the map. Check the red circles on the map image above to see the exact location of these Vending Machines. Similarly, players can also buy the Kamehameha from NPC Bulma for 250 Gold Bars.
Related: Where to find Dragon Ball Vending Machines in Fortnite
Best places to Destroy Objects with a Kamehameha in Fortnite
While no specific location is required to Destroy Objects with a Kamehameha, players can find a few good spots to use this ability. For instance, you can land at the Kame House, east of the Launchpad landmark, to purchase the Kamehameha from NPC Bulma. It costs around 250 Gold Bars, and you can destroy the nearby buildings.
Another ideal spot to destroy objects with the Kamehameha is the Rocky Reels POI. Land at this spot and quickly access the Dragon Ball Vending Machine to purchase a Kamehameha. Be careful, as several other opponents will land at this spot to complete the Dragon Ball Quests. Similarly, players can follow the Capsule Corp capsules drops to acquire the Kamehameha. You can start destroying buildings and structures nearby right after acquiring it.
For more Fortnite goodies, check out Fortnite: Best place to bounce on a Crash Pad, Slurpshroom, & Off-Road tires in a single match on Pro Game Guides.