Fortnite is a great battle royale game that continues to stay popular with its ever-evolving content from maps, characters, items, and quests. Fortnite quests give players a challenge while they play but also grant rewards by giving them XP and sometimes unique player items. The quests can be anywhere from using specific weapons to get eliminations or simply bouncing off different objects around the world––such as bouncing on a crash pad, Slurpshroom, and off-road tires in a single match. These objects can be pretty spread out worldwide, so it can be tricky to get to all of them in one game. Here is the best way to complete this quest!
Where you can find Crash Pads, Slurpshrooms, & Off-Road tires in Fortnite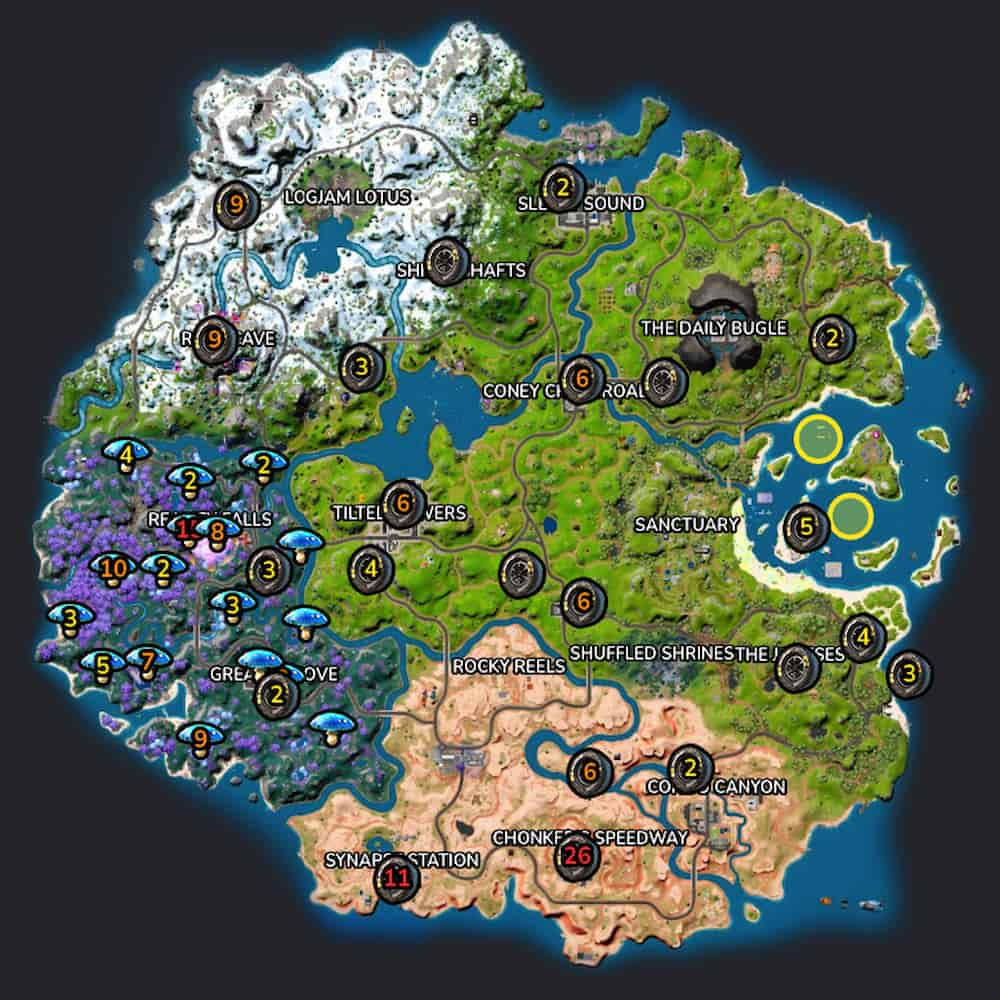 Slurpshrooms: Around Reality Falls and Greasy Grove
Off-Road Tires: At any gas station
Crash Pads: Around the beach of Sanctuary
There are several Slurpshrooms and Off-Road tires available on the map, but very few Crash Pads. Unfortunately, Crash Pads can usually only be found around the beach of Sanctuary, on the opposite side of Reality Falls, where Slurpshrooms grow. This means to complete them all in one match, you'll want to hit the items as close to each other as possible.
Related: Where to find UFOs in Fortnite – All Saucer Locations
How to jump on a Crash Pad, Slurpshrooms, & Off-Road Tires in Fortnite
Since these items can be pretty spread out from each other, you'll want to complete them in an efficient step-by-step manner that will enable you to get them all done as quickly as possible. Since most gas stations have Off-Road tires, you can more easily complete that step on the way. Here are the steps you can go about completing them all in one match:
1. Hit a crash pad in the water around Sanctuary
2. Take a rift on the Outpost island near Sanctuary
3. Stop at a gas station on the way to Reality Falls to hit Off-Road tires
4. Jump on the Slurpshroom outside Reality Falls
This is only one way you can efficiently complete this quest in Fortnite. However, you may find other ways to complete it in different steps or locations. Let us know if this worked for you in the comments below or if you switched it up!
Looking for more Pro Game Guides Fortnite content? Check out our guides on All Fortnite Week 10 challenges and how to complete them, or When is Dragon Ball Z coming to Fortnite?