In Fortnite Chapter 3 Season 3, players are introduced to a new mechanic which allows for wild animals like wolves and bears to be of more use than just meat and mushrooms. Players can hop onto a boar or wolf to ride on them. As a part of Week 3 challenges, players headbutt into an opponent while riding a boar and gain a good chunk of XP in return.
The good news: Boars are found plentiful all across the map. However, they are wild animals, and will only spawn in forests, grasslands, and mountainous areas of the map. In order to complete the challenge, we need to ride a Boar and ram into an opponent while using the boost function. Completing the task will grant you 15,000 XP.
How to perform a headbutt while riding a Boar in Fortnite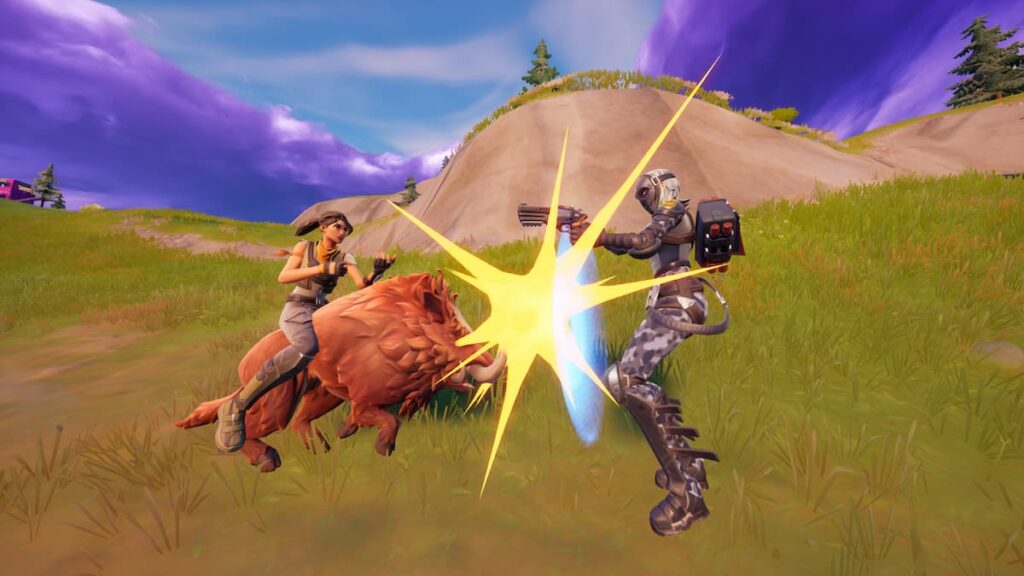 While you can certainly go full-mayhem on your opponents, blasting your guns, riding your steed—there is another way you can deal damage to opponents while on your Boar, and that is by headbutting them. In order to perform a headbutt, you need to press the boost button as you're charging towards your opponent. To activate the boost, press shift button on PC, or press Left Analogue Stick on controllers.
That's all you need to know on how to headbutt into opponents while riding a boar in Fortnite. These animals make for a great battle companion, but you do need to learn how to jump on their back precisely to take control. Completing the challenge will grant you a massive 15,000 XP, which is always great for progressing your Battle Pass to earn rewards.
Where to find Boars in Fortnite
In order to finish the challenge, we first need to find a Boar. As mentioned prior, boars are evenly spread out across the map in Fortnite. Since they are wild animals, they will not spawn in the named locations and populated POIs. However, they can be easily found in open spaces like forests, grasslands, and mountains. Refer to the map above for an accurate idea of Boar spawn locations.
Related: How to complete the Island Hopper Quests in Fortnite
How to ride a Boar in Fortnite
Riding a Boar is pretty easy, in fact. All you have to do is approach the animal and press the Jump button on your device. For PC, press space bar, and for controllers, press X/A. Use the directional keys to move.
While they may not be as fast as other vehicles, the advantage while riding a boar is that you can freely use your weapons and throwables while riding it. The increased movement speed will make it harder for your enemies to hit you, giving you a good advantage. However, these animals are vulnerable to damage and can be easily defeated by enemies.
Looking for the best spots to get early loot in Fortnite? Check out the Best Landing Spots in Fortnite Chapter 3 Season 3, here on Pro Game Guides.