There are many more places to hide than a bush nowadays in Fortnite, and Epic is asking players to test out three of them to complete a weekly challenge. Hiding in a hay stack, a leaf pile, and a giant snowball in a single match will reward players with 16,000 XP.
Where to hide in a hay stack, leaf pile, and snowball in Fortnite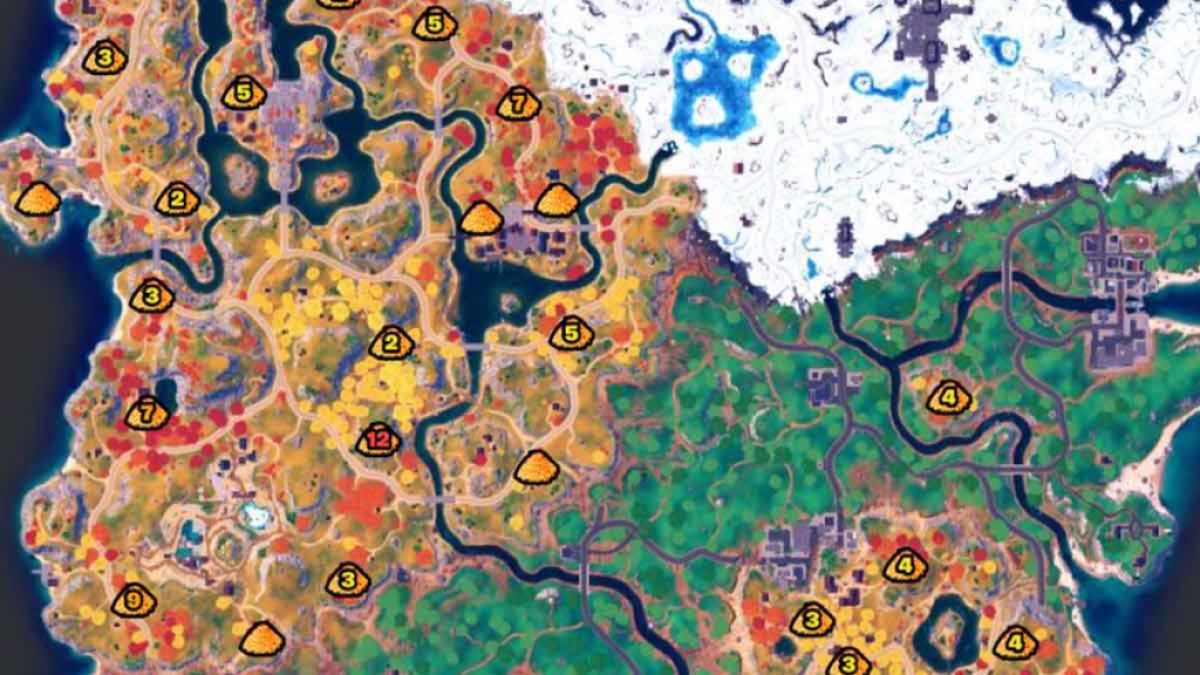 Hay stacks can be found in the farmlands of Frenzy Fields and leaf piles are located under trees surrounding the Shattered Slabs, Anvil Square, Faulty Splits, The Citadel, and Breakwater Bay, but the snowball is different. Players will have to head to a snowy part of the map to make the snowball themselves, which can be done by hitting the ground with the pickaxe until the ball is made.
Related: How to collect a Vault Keycard to open Cold Blooded Vaults in Fortnite
The difficult part of the challenges is doing all of this in a single match, but it can certainly be done with enough persistence. The easiest method of doing it would be landing on the edge of the snowy and autumn areas to knock out two parts of the challenges at once before rotating down to Frenzy Fields. Avoiding hot spots like the Cold Blooded Vaults will certainly go a long way into ensuring survival as well.
How to easily hide in a hay stack, leafpile, and snowball
In terms of making this challenge a breeze to complete, it's probably best to go in with a squad of players as it'll be easier to defend from attacks that way. There's a lot of pressure on a solo player to get this challenge done as it's just one life and they're out, but with Reboot Vans and revives available in the Squads playlist, there are more chances to get it done.
On top of playing with friends, just pay attention to where the circle is closing as being on the edges of it can make things a lot easier. Most of the action in Fortnite tends to take place more towards the center of the storm, so crouching around on the edge could prove to the best option.
For more Fortnite guides, check out What does Team Heat mean in Fortnite? here on Pro Game Guides!