Every now and again, you might stumble across a code you can use to redeem some fantastic Fortnite swag like skins and wraps. You might have even paid money for the code and are not desperately searching for where to enter it, so you don't worry that you might have gotten ripped off. Look no further!
How to Redeem Codes in Fortnite
So there you are, with a code right in front of you. Well were here to tell you there is a simple way to do this, and you don't even need to open your client. By following this link, you can redeem the code on the website. All you need to do is log in! For those of you that are suspicious of links like that, here is the full link description to make you feel more comfortable:
epicgames.com/fortnite/en-US/redeem
Redeeming via the Website

Once you log in, you will see a page similar to the image above. This is a prompt for you to enter your code. Pay close attention to the characters you enter, then click the bright yellow REDEEM button on the bottom. Your rewards will be placed into your account!
Redeeming via the Epic Games Launcher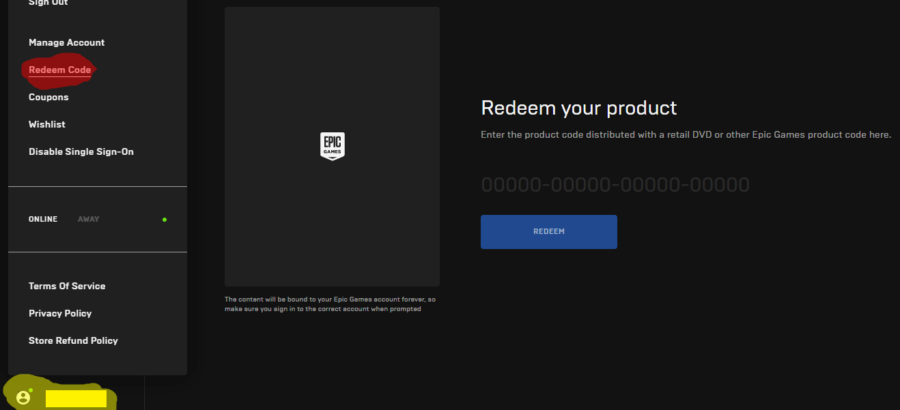 The image above is what most Epic Games Launchers look like when you open them. Highlighted in yellow on the bottom left will be your username. Click there, and it will open the account menu. Highlighted in red in the image are the words Redeem Code. Click here, and it will take you to the code redemption page!
Redeeming a V-Bucks Code
If you were looking redeem a V-Bucks code specifically, there is a different link to follow:
Fortnite V-Bucks | Redeem V-Bucks Gift Card - Fortnite (epicgames.com)
While you're on the Epic Games website, why not Enable 2FA for your account?