The fourth quest we must complete for the newly added Ariana Grande Monster Hunter questline reveals the Command Symbol. When we see this quest on our challenge list, we can see that there are markers for each Command Symbol location, but it can still be difficult to find them and figure out what you need to do when you approach them. This guide provides more detailed instructions on where to find the Command Symbol and what to do.
The map below outlines all the Command Symbol locations. You can use the yellow markers to determine the general area where you need to go, and you can use the directions below the map to see specifically where the Command Symbol is in that area.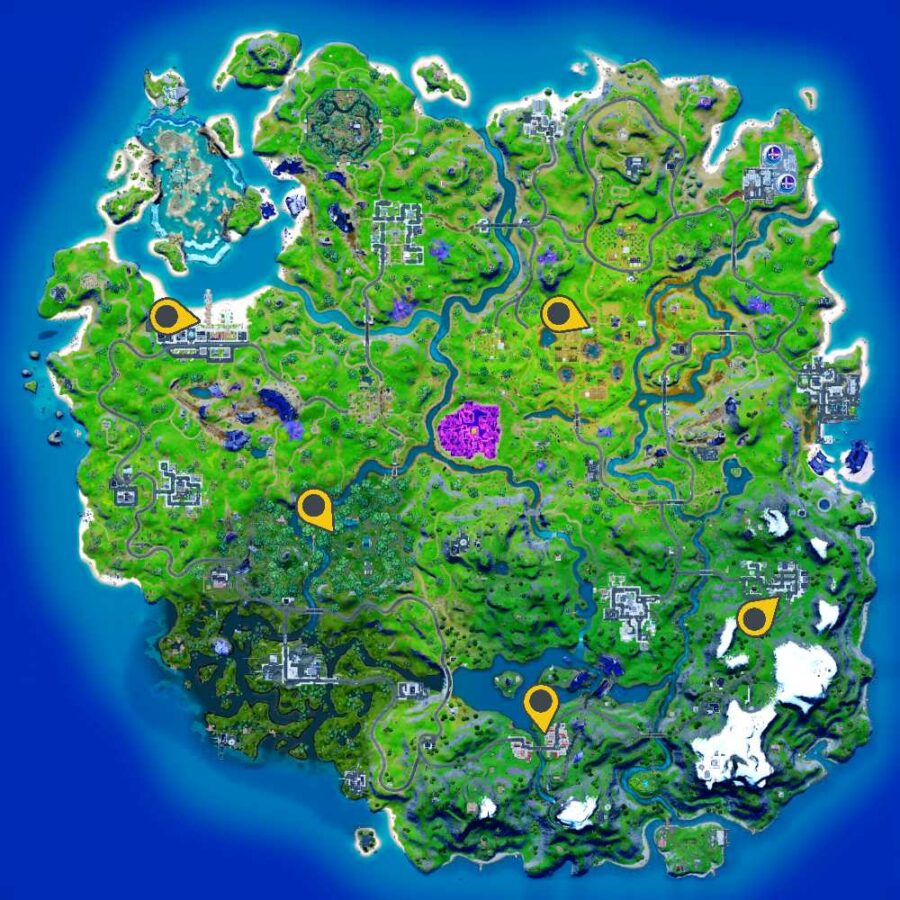 Misty Meadows: On the eastern half of town, behind the shops next to the river.
Retail Row: In the playground, directly north of the Bus Stop in the northeastern section of town.
Corny Complex: North of the white barn to the west of the large blue house.
Weeping Woods: In front of the southern entrance of the large cabin on the area's northern edge.
Believer Beach: Next to a palm tree on the southwestern corner of the boardwalk.
Once you have found one of the Command Symbols above, you must then reveal it by mimicking the holograms around it. Walk into each hologram and perform one of the following actions based on what you see in the hologram.
Crouch
Jump
Emote (any emote will do, it doesn't have to be the one in the hologram)
Swing your pickaxe (make sure you swing it at the hologram)
When you have gone to each hologram (there are three, regardless of the Command Symbol location) and performed the actions depicted, the quest will be marked as complete. You're now ready to move on to the final quest.
Want to see the rest of the quests for this questline, or even get some guides? Check out our list of All Ariana Grande Monster Hunter Punchcard Quests.