One of the Epic Quests for Week 2 of Season 6 has us Ride 5 different Zip Lines. In Season 5, this likely had to be done in multiple matches since Zip Lines were spread much further apart. However, perhaps to intentionally draw people into The Spire, Fortnite has several Zip Lines in the center of the map. We can now finish this task in less than a minute from landing!
How to Ride 5 Different Zip Lines in Less than a Minute
It's no monumental challenge to ride five different Zip Lines in Fortnite, but some people simply want to get these quests out of the way as soon as possible. Or, perhaps, challenge themselves to do it in record time. We've found the best way to complete this mission is to land at The Spire when the match begins. From there, you can follow a path of Zip Lines that all lead to each other.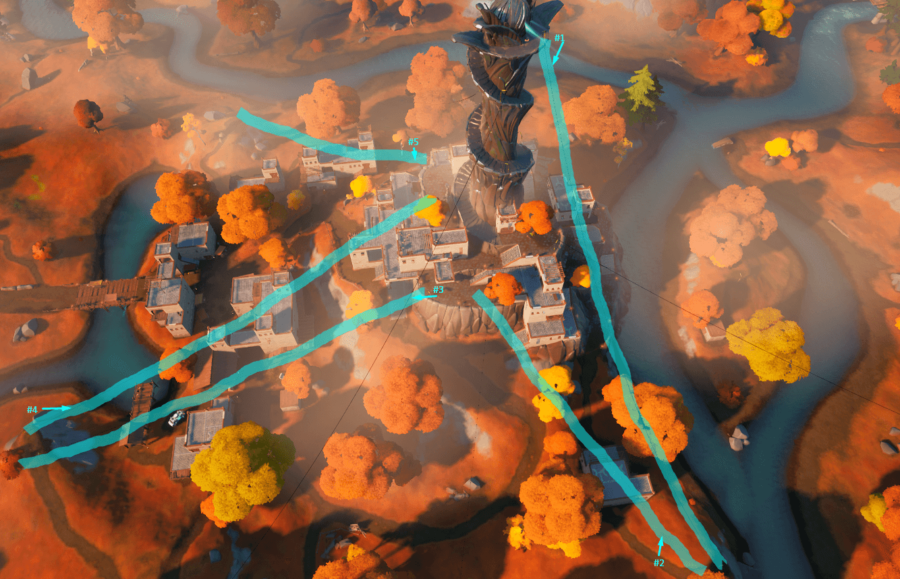 You'll notice in the image above that this guide starts you off at the top of the Spire. You may start here or at the other end of the line (Zip Line #5). The only important thing is that you start at one of these two Zip Lines so you can ride all of them one after the other. In fact, it might be better to start at #5, since the top of the Spire is a very popular drop point when the match starts.
Regardless of whichever one you start with, you'll notice that at the end of each Zip Line is the start of another Zip Line just a few feet away. This makes it so you can do these all in order with hardly any breaks. Once you ride all five of them, the quest will be marked as complete!
Check out our Complete Chapter 2 Season 6 Guide for complete coverage of this Season of Fortnite! If you only need help with the Epic Quests this week, be sure to check our Week 2 Epic Quests Guide!