One of the most quite possibly adorable skins released for Chapter 2 Season 6 is none other than Cluck (or as most people know it: The Chicken Skin). We're thinking he is going to play a big part when Easter is celebrated in the US, but for now, we'll explain how to unlock the Egg-splosives Expert!
How to Unlock the Chicken Skin (Cluck)
The first thing to note about the Cluck outfit is that you must have the Season 6 Battle Pass to access the questline to unlock it. The Battle Pass can be purchased on Fortnite's main menu or your Epic Account.
Related: How to Unlock the Agent Jones Skin in Fortnite Chapter 2 Season 6 - Pro Game Guides
Once you have unlocked the Battle Pass, you'll have access to all kinds of exclusive rewards, and one of them is the Cluck outfit! However, you don't get to use it right away.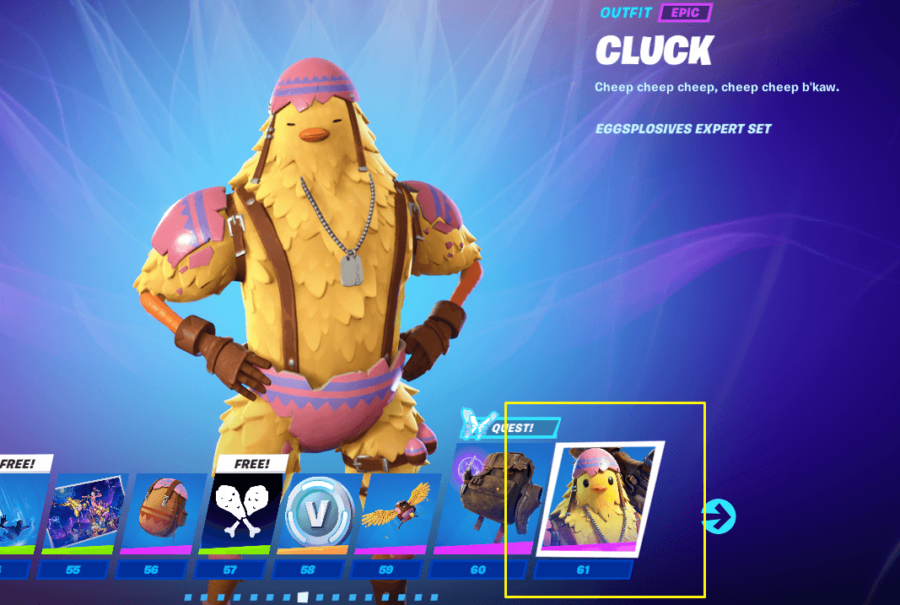 In the image above, you'll see what you need to do to access the outfit. Simply reach level 61 of the Fortnite Battle Pass. Leveling up is fairly easy at first, but you'll find that reaching higher levels like this one gets more and more taxing as you gain higher and higher levels!
With Season 6 having just been released, we're currently in the process of putting out all the best Fortnite guides for you. Once they're ready, be sure to check them out to farm some XP and reach level 61 ASAP!
Want to see some of the other new outfits in Season 6? Check out our Full List of all the Battle Pass skins!