During the most recent update for Fortnite Chapter 2 Season 8, we received several quests for the Fortnitmares Event to collect 15 pieces of candy. However, Fortnite left us with little information on where to collect the candy.
Those of us who played Fortnite last Halloween will remember that players could collect candy in a couple of ways. Still, the easiest way was to collect it from buckets placed outside of houses with Halloween decorations. The location known to have the most Halloween decorations is Pleasant Park, seen on the map below.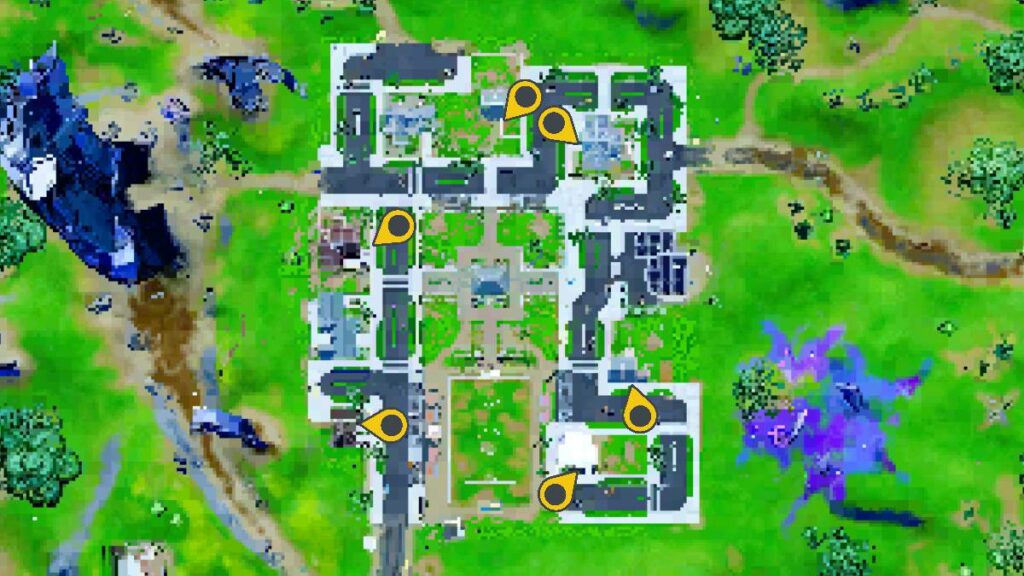 Related: All Containment Specialist's Ghostbusters Punchcard Quests in Fortnite Chapter 2 Season 8
The markers on the map above show you where you will find Halloween buckets that you can break, so they drop the candy inside. Here are a few tips that might help you while you complete this quest:
You can do this at any house on the map with Halloween decorations or a bucket of candy outside. It doesn't have to be in Pleasant Park.
The buckets do not glow, so don't look for one. Simply walk up to the front doors of each house with decorations to find the bucket of candy.
It might be easiest to collect all the candy in one run. Walk up to each front door, break the bucket, and collect the candy. Don't stop consuming the candy unless you are running low on health.
That's everything you need to know about where to collect candy in Fortnite for the Fortnitemares Halloween quests!
Don't forget, we are offering complete coverage for Fortnite Chapter 2 Season 8! You can find all the information you need on our Comprehensive Guide to Fortnite Chapter 2 Season 8!