The third quest we must complete for the newly added Ariana Grande Monster Hunter questline is to collect Symbols from eliminated Cube Monsters in The Sideways. There is no set location for this quest, so many players are confused about completing it. In this guide, we explain where you can do this.
If you don't know what to look for, this can be the most frustrating part of the challenge. When you first start a match, you can look at your map to see where you will find the encounters throughout the match. They seem to be randomly placed, and the placement changes with every match.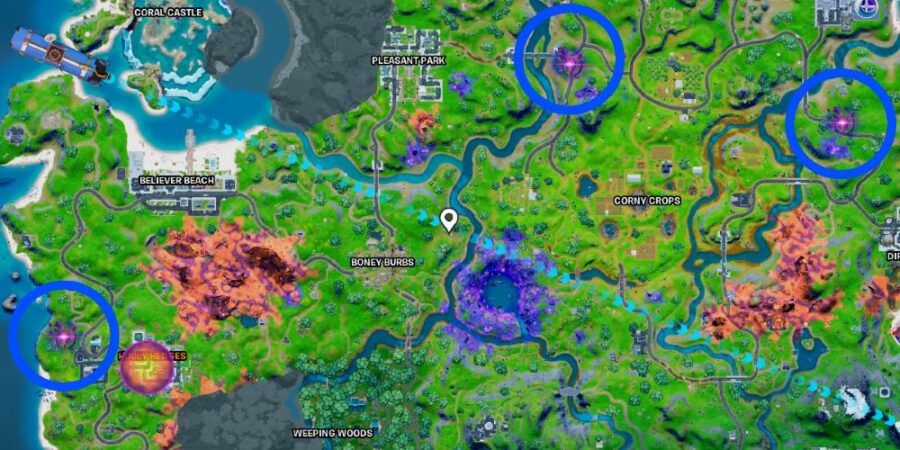 In the image above, you will see the locations of the Sideways encounters outlined in blue. The encounter icon looks like a purple version of a Rift. You can also see the permanent anomaly in Holly Hedges, which is another way to enter The Sideways.
When you go to any of these locations, you will enter an alternate universe where Cube Monsters spawn and attack you. These are the Cube Monsters you need to defeat to get the Symbols. You will see crystals drop off their bodies when you destroy them, as shown in the image below.
Simply collect five of these crystals/symbols to complete the quest. You can collect them by walking close enough to them and pressing the primary interaction button when you see the prompt on the screen. After you collect five of them, you are ready to move on to the next quest.
Want to see the rest of the quests for this questline, or even get some guides? Check out our list of All Ariana Grande Monster Hunter Punchcard Quests!