We are now in Week 12 of Fortnite Chapter 2 Season 7, which means we are facing a new set of legendary challenges. One of the Legendary Challenges this week is to collect three alien devices, then activate the countermeasure devices underneath Corny Complex. In the guide below, we explain how to do this.
This might be the most confusing challenge in the season so far, but luckily there is an easy way to complete it. You don't have to do everything in a single match! Over the course of a couple of matches, follow the map and instructions below to finish up this final quest for the week.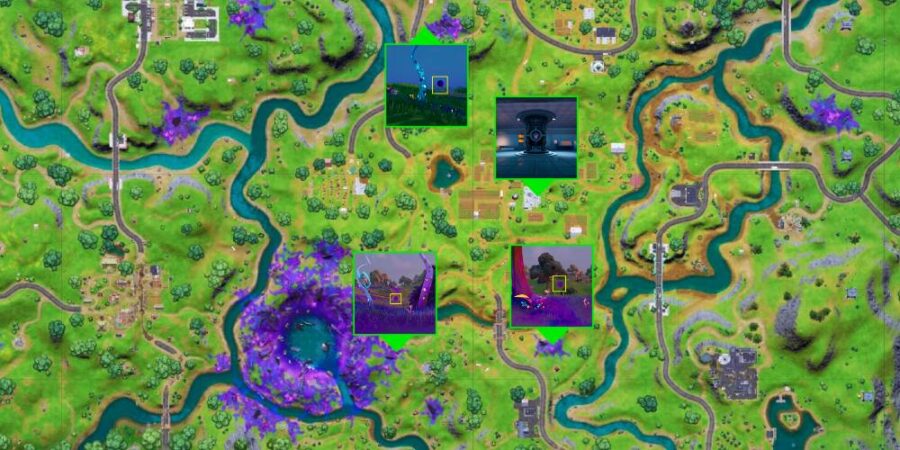 The map above shows an overhead view of the center of the map. All the Alien Devices that you need to collect are in this area, which simplifies the quest a great deal. The Alien Devices are the first things you need to collect. If you are struggling to use them with the map above, you can use the instructions below for more detail.
Related: Fortnite Chapter 2 Season 7 Week 12 Legendary Quest Cheat Sheet and Guide
The first Alien Device is in the purple Alien Biome area directly north of Scenic Spot. It is at the base of the hill, right next to the road.
The second Alien Device is on the eastern edge of The Aftermath, the large purple area in the center of the map. It is right next to a purple bush.
The last Alien Device is in the small section of Alien Biome north of Gas 'N Grub, the gas station east of The Aftermath. It is right next to a tree.
Once you find all three alien devices listed above, you need to head to the underground base at Corny Complex, and approach the countermeasure device (also pictured above). The easiest way to find this device is to enter the base through the silo, then take the first door on the right.
After you finish the steps above, you have completed the quest! You are now done with this week's challenges.
Head on over to our Leaked Skins page and see what cosmetics might drop in the future. The complete guide for the newest season is here at our hub for Fortnite Chapter 2: Season 7 Guide – Challenges & Information!