Our second Legendary Quest for Chapter 2 Season 7 Week 3 of Fortnite is to converse with Sunny, Joey, or Beach Brutus. The locations for two of these NPCs have changed because of the Cosmic Summer Event, so many players are wondering where they can find them. In the guide below, we show you where you can find each one and interact with them.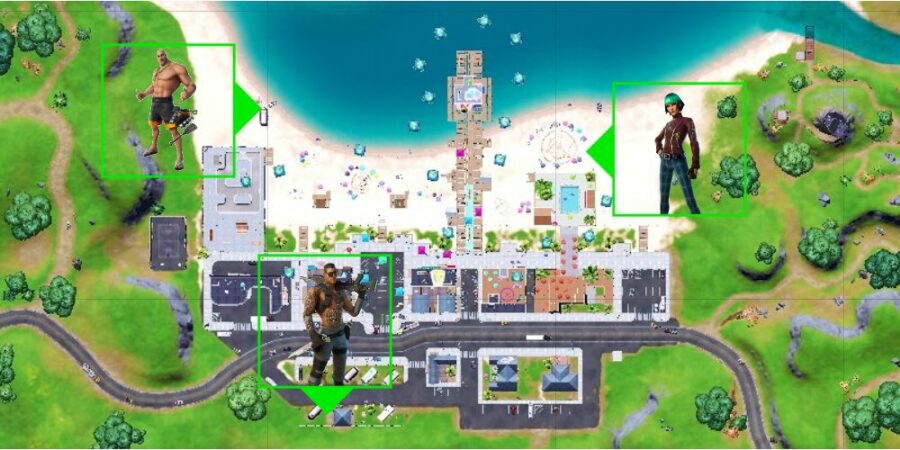 As you can see, the best part about this quest is that all three characters are at Believer Beach! For more detailed instructions as to their exact locations, refer to the directions below.
Related: Fortnite Chapter 2: Season 7 Guide - Challenges & Information - Pro Game Guides
Beach Brutus: Beach Brutus was not available as an NPC until the Cosmic Summer Event. He is celebrating the welcome party by grilling out on the northwestern corner of the beach.
Joey: Until the Cosmic Summer Event, Joey was at Dirty Docks. We are not sure if he is going back once the event is over, but for now he is in the southwestern corner of the Trailer Park in town.
Sunny: Before the Cosmic Summer Event, Sunny was patrolling the boardwalk in town. For now, she is opposite of Beach Brutus, and walking around the beach in the northeastern corner of town.
That's all there is to know to complete this quest! Once you find them, simply interact with them to mark it as complete in your log.
Video Guide
If you'd like to use a video guide to help you with the quest above, use the embedded video below!
Did you know we have a cheat sheet for every week of Legendary Quests this season? You can check out the one for this week on our Fortnite Chapter 2 Season 7 Week 3 Legendary Quests Cheat Sheet!