With the start of Fortnite Chapter 2 Season 8, we were immediately introduced to the customizable character: Toona Fish! To customize him, you are required to collect ingredients such as Rainbow Ink and various jars of colors spread across the map. Some of these jars are at well-known named locations, but others are at not-so-well-known landmarks. In this guide, we explain where to find the bottles of Cuddly Pink at Steamy Stacks.
Note: We have the full list of all colors and the guides to find them! Follow this link to see where you find all the colors to completely customize your Toona Fish!
The first thing you'll need to do is go to the right location. Steamy Stacks is the named location in the northeastern corner of the island.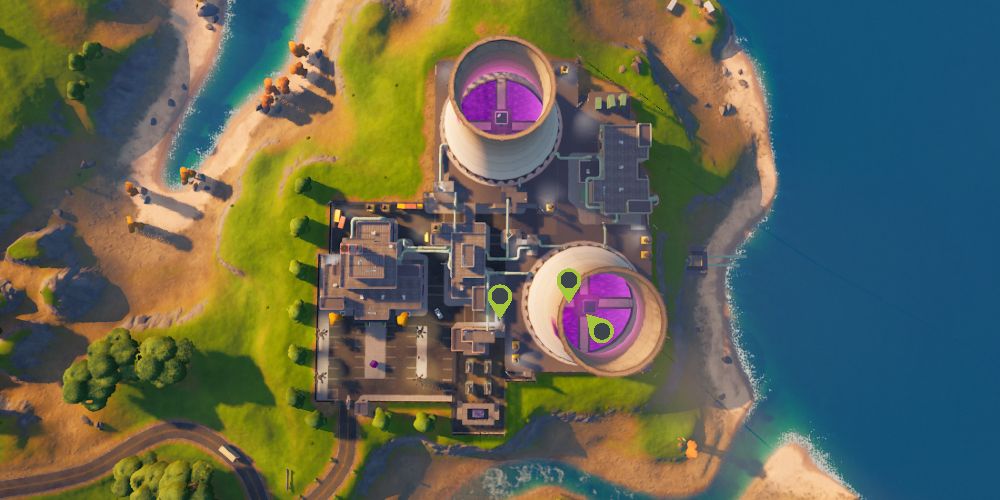 In the image above, you will see the individual ink bottle locations in an overhead view of Steamy Stacks. For detailed instructions on where to find them, follow the directions below.
Bottle #1: On the staircase of the structure inside the stack on the southeast corner of the complex.
Bottle #2: On the platform that leads to the structure inside the stack on the southeast corner of the complex.
Bottle #3: At the top of the staircase that leads down to the ground from the western foundation of the stack on the southeast corner of the complex.
Styling Toona Fish
When you have obtained all bottles of a particular color, you unlock that color scheme on the page where you edit Toona Fish's style in your locker. You also unlock character styles with each full color set, which allows you to style Toona Fish to look like other popular characters such as Red Knight or Cuddle Team Leader! These character styles can be purchased with Rainbow Ink, which is the ink you pick up from chests when you play a match.
For instructions on how to edit Toona Fish, check out our guide on How to Change the Character Style and Give Toona Fish Custom Colors in Fortnite.
Once you've found the bottles, they're checked off your Toona Fish ink color list in the Main Menu! Now you can style Toona Fish with this color!
Don't forget to check out our full Fortnite Chapter 2 Season 8 Guide, which covers all updates, mechanics, and features of Season 8!