We are now in Week 9 of Fortnite Chapter 2 Season 7, which means we are facing a new set of legendary challenges for the week. One of the Legendary Challenges this week is to place a Bioscanner in an Alien Biome. These biomes are small sections of biomes sanctioned off by pinkish-purple walls. This quest can be completed easily in Holly Hatchery, so we're going to show you every Bioscanner location there.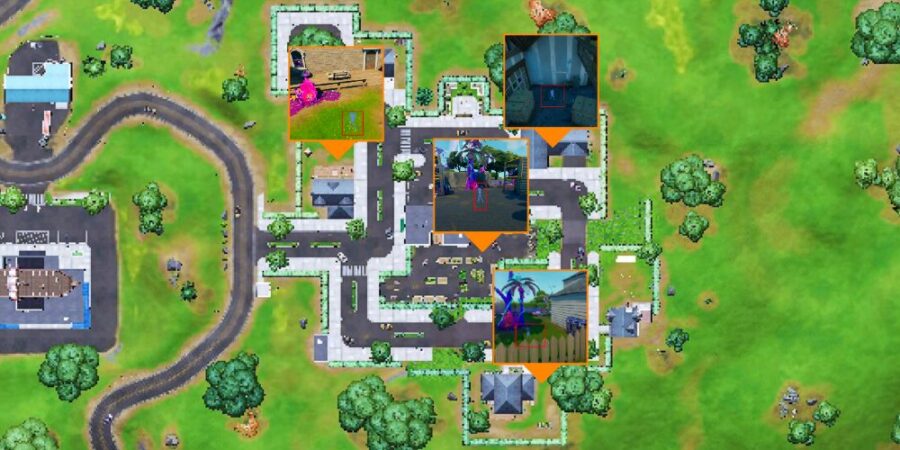 In the image above, you'll see that there are four Bioscanner locations in Holly Hatchery, one for each Alien Biome. You only need to place one of them.
The first Bioscanner can be found in the garden area of the shop in the center of town. It is near the southeast corner.
The second Bioscanner can be found in the yard for the house on the western edge of town.
The third Bioscanner can be found inside the house in the northeast corner of town. This is the only scanner that is actually inside a building.
The last Bioscanner can be found in the yard east of the house on the southern edge of town.
Once you have placed just one of the Bioscanners shown above, the quest is marked as complete. You are now ready to move on the to the last Legendary Quest for the Week.
Video Guide
Head on over to our Leaked Skins page and see what cosmetics might drop in the future. The complete guide for the newest season is here at our hub for Fortnite Chapter 2: Season 7 Guide – Challenges & Information!