The fifth Legendary Quest for Chapter 2 Season 7 Week 3 of Fortnite gives us the task of placing Alien Light Communication Devices on mountain tops. These are temporary objects to fit the theme of the Season, so most players aren't sure where to look on the mountains to place them. In the map and guide below, we explain where to find these devices.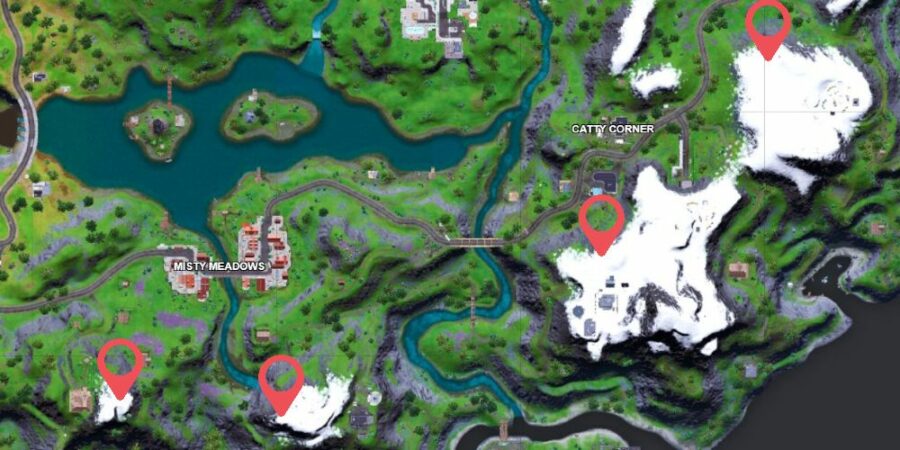 As shown in the image above, there are four locations where you can place these devices. You only need to place two of them to complete the quest.
The easiest way to complete this quest is to place the devices on the mountains south of Misty Meadows. There is a zip line between the two of them, which makes travel between each placement point a breeze. However, loot is scarce on these mountains. If you need to pick up some gear or weapons, it might be best to use the locations shown on Mount Kay or near Base Camp Hotel (the two locations in the map above on the eastern side).
Related: Fortnite Chapter 2: Season 7 Guide - Challenges & Information - Pro Game Guides
That's all there is to know to complete this quest! Once you've found two of the locations above and placed devices, you're ready to move on to the sixth and final Legendary Quest.
Video Guide
If you'd like to use a video guide for this quest, use the embedded video below!
Did you know we have a cheat sheet for every week of Legendary Quests this season? You can check out the one for this week on our Fortnite Chapter 2 Season 7 Week 3 Legendary Quests Cheat Sheet!