In our last week of quests in Fortnite Chapter 2 Season 6, we're tasked with raiding artifacts in Stealthy Stronghold and Coral Castle. This is a simple quest that can be done in a single match. Use the guide below to get this mission out of the way quick and easy!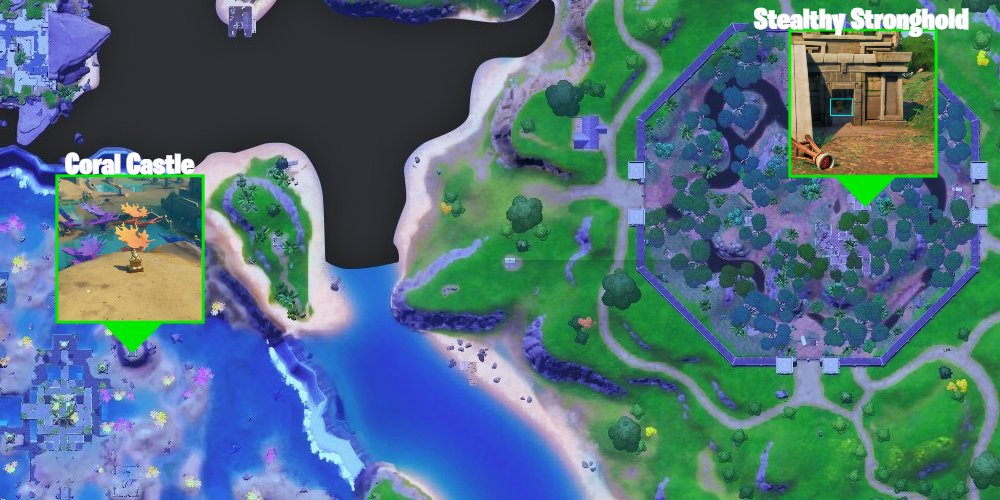 As you can see in the image above, the two artifacts are close enough that you can get both of them in a single match. The first artifact is at on top of the plateau in the northeastern section of Coral Castle. It has replaced the building that was there throughout most of the season.
Related: Crop Circles and Alien Markings Have Been Revealed in Fortnite - Pro Game Guides
The second artifact is in the ruins barely east of center in Stealthy Stronghold. You'll find it on the lower floor. Instead of being gold like the other artifact, this one has more green.
If you are looking to complete this without confrontation from other players, it's best to drop immediately to Stealthy Stronghold, grab the artifact, then dash out of there. Coral Castle is less populated and easier to enter later, especially as the match moves on. Stealthy Stronghold can be a hassle to infiltrate if another group is already there.
That's all there is to this quest!
If you have need help with the rest of the Epic Quests before the season ends, be sure to check out our Fortnite Chapter 2 Season 6 Challenges & Information Guide!