Genshin Impact : Gilded Scale
To obtain a Gilded Scale, you need to kill the Boss Azhdaha in a Trounce Domain 'Beneath the Dragon-Queller' in Liyue. Azhdaha is located in the Nantianmen area.
Teleport to the Waypoint at Mt. Hulao then proceed southeast until you hit the Trounce Domain.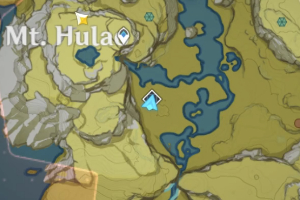 Gilded Scale is rewarded for completing Memories: Earthshaking Dragon II. To enter Memories: Earthshaking Dragon II, you need to be Adventure Rank 40, and it is recommended to have your party about Level 70.
Upon Azhdaha's defeat, a Trounce Blossom will appear. To claim the rewards, you must either:
Spend 30 Original Resin (only if this is the first of three bosses defeated this week)
Spend 60 Original Resin (If killed after the first three)
You do not need to claim the rewards if you choose not to do so.
Due to Azhdaha being a Weekly Boss, you can only get the rewards once every week. You can defeat the boss as many times as you want; however, you will not get a Trounce Blossom more than once.
The Boss Reward will respawn every Monday at 4 am (Server Time.)
Details
Rarity:
Type: Talent Level-Up Material
Users:
Gilded Scale is used for the following Character Ascensions.
More Details:
Each Weekly Boss has three Talent Level Up Materials they drop. These are the other two for Azhdaha.
Recent Genshin Impact Guides