The Genshin Impact Herbal Remedies web event runs from April 27, 2023, to May 3, 2023, and is open to all players Adventure Rank 10 and above. It features Baizhu, who will be coming to the game on May 2. I'm really excited to pull for this elusive doctor!
During the event, you need to help Baizhu brew the correct medicines for patients. The event is not time-gated, so you can complete everything in one sitting.
How to brew medicine in Herbal Remedies web event – Genshin Impact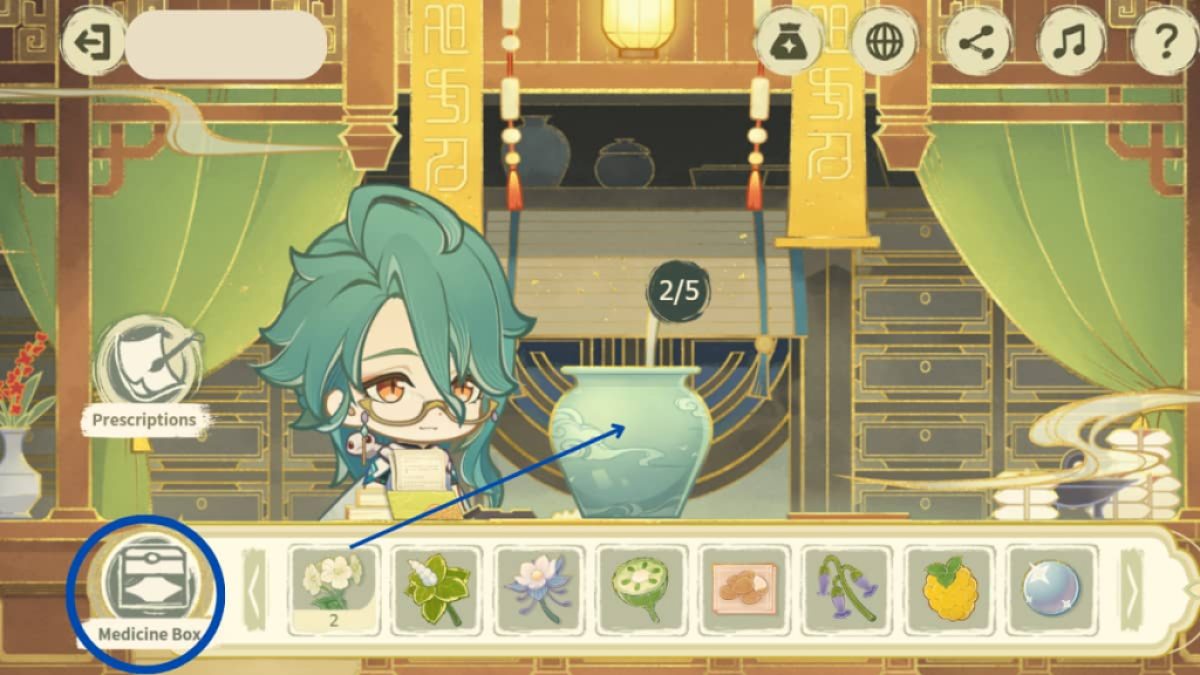 To brew remedies, click on the Medicine Box to view all the available ingredients. Drag and drop an ingredient into Baizhu's pot. You need to place five ingredients before you can start making the medicine, and you can track how many of each ingredient you've placed via the number under their icons.
Once all five ingredients are inside, click on the pot to mix them and create medicine. You can view the Prescriptions tab to track which remedies you've created.
Related: All Gathering of Stars Astrolabe puzzle solutions in Genshin Impact – A Parade of Providence
Uncle Tian, Master Lu, & Hongdou recipes in the Herbal Remedies web event – Genshin Impact
Uncle Tian, Master Lu, and Hongdou's original recipes are incorrect, so you need to change them based on Baizhu's prescription notes. These are the only three required recipes to get all the rewards in the web event. The ingredients can be mixed in any order.
Patient
Correct Recipe
Uncle Tian
x1 Qingxin
x2 Lotus Head
x2 Lizard Tail
Master Lu
x1 Glaze Lily
x1 Violetgrass
x2 Luminescent Spine
x1 Flaming Flower Stamen
Hongdou
x2 Glaze Lily
x1 Almond
x1 Lizard Tail
x1 Berry
Once you've completed all three, click on the money bag icon at the top of the screen to claim rewards. You can also get the download link for the exclusive web event wallpaper by sharing Qiqi's flier on social media.
All Mysterious Prescription recipes in the Herbal Remedies web event – Genshin Impact
You can unlock new recipes from Mysterious Prescriptions by playing around with various ingredient combinations. This is optional and will not grant you additional rewards. See below for the full list of Mysterious Prescription recipes.
Patient & Prescription
Mysterious Prescription Recipe
Shenhe
"Iced Herbal Soup"
x2 Qingxin
x1 Glaze Lily
x1 Violetgrass
x1 Mist Flower Corolla
Xiangling
"Stomach Soothing Brew"
x1 Berry
x1 Almond
x1 Qingxin
x1 Violetgrass
Yun Jin
"Beautifying Cream"
x4 Almond
x1 Loach Pearl
Keqing
"Invigorating Balm"
x2 Mint
x2 Qingxin
x1 Mist Flower Corolla
Xinyan
"Lozenges Essential for Performances"
x2 Lotus Head
x2 Mint
x1 Berry
Xiao
"Soothing Pellets"
x1 Violetgrass
x1 Almond
x1 Horsetail
x2 Mint
Yelan
"Would Salve"
x3 Lizard Tail
x2 Glaze Lily
Ningguang
"Nourishing Floral Nectar"
x2 Glaze Lily
x2 Violetgrass
x1 Qingxin
Yanfei
"Outdoor Insect Repellant"
x2 Mint
x1 Lizard Tail
x1 Luminescent Spine
x1 Frog
For more Genshin event guides, check out All In Truth's Steps answers in Genshin Impact – A Parade of Providence here on Pro Game Guides.