Genshin Impact has taken the world by storm, and with the release of the first major update 1.1, and the second major update 1.2, next on the horizon is 1.3! MiHoYo is getting ready to keep the content flowing and the hype increasing. Update 1.2 comes with new characters are entering the fray and a new event, but what else we're not entirely sure!
Everyone is eagerly waiting for 1.3, the next major update coming to Genshin Impact. For the most part, these are unofficial Genshin Impact 1.3 patch notes! We've compiled all of the known and leaked information from a variety of sources. As of right now, we're pretty confident that the majority of this is true, but somethings may change by the time the update is released. But as always, take everything with a pinch of salt.
A thank you to Zeniet, AE Entropy, Nep Nep, also a big thank you to the Genshin Community and Honey Impact!
Genshin Impact 1.3 Release Date
The Genshin Impact version 1.3 update is scheduled for Feb. 3, 2021. This is subject to change, but from miHoYo's own official post from the production team, they are trying to organize a consistent update schedule every 6 weeks.
This is our road map of when the updates should be released. However, anything after 1.3 is purely guesswork based on the 6 week update period. MiHoYo should release a new roadmap after 1.3 is released, but whether they will or not is hearsay.
Version Update 1.3 - Scheduled for Feb. 3, 2021. This update will kick off the Lantern Rite Festival set of quests.
Version Update 1.4 - Scheduled for March. 17, 2021. Inazuma was meant to be here; however, leakers and users are speculating that a new area called the Chasm will be released here. This is a rumor.
Version Update 1.5 - Scheduled for April. 28, 2021
Version Update 1.6 - Schedule for June. 9, 2021. This update is rumored to be when Electro region Inazuma is coming.
MiHoYo has already started the Version 1.3 recruitment process for pioneer testing in China. We know the focus on 1.3 is Xiao and the Lantern Rite Festival.
According to leaks new region, Inazuma was meant to be releasing in update 1.4; of course, it was first rumored to be coming in 1.1, but that truly was a pipe dream. However, Inazuma is now rumored to be coming in 1.6.
Up until we have official confirmation from miHoYo, keep all updates of new regions with a pinch of salt.
1.3 Pre-Install
Pre-install for v1.3 for both PC & Mobile begins on Feb. 1, 9 pm CT. This is the first time Mobile users have been able to pre-install a Genshin Update patch.
Mobile (iOS & Android) Travelers can pre-install the update by going to the Paimon Menu > Settings > Other > Pre-Install Resource Package.
Maintenence
When Genshin Impact 1.2 goes live, maintenance will occur for roughly 5 hours. This begins on Feb. 2, 4pm CT. As compensation for the downtime, everyone will be given 300 Primogems if they are above Adventure Rank 5 or higher. Even if the update takes less than 5 hours, you will still earn the 300 Primogems.
Compensation will be given within 5 hours after the update has been completed. Everyone who wants the 300 Priomogems must be logged in before 1.3 ends.
1.3 All That Glitters Trailer
Here is the first 1.3 Trailer for Genshin Impact!
Banner
The Banner is called Invitation to a Mundane Life and will have the following characters which increased drop rates— Xiao, Dionna, Beidou, and Xinyan.
For more information go here: Genshin Impact: When is the Next Banner Coming?
New Characters
Xiao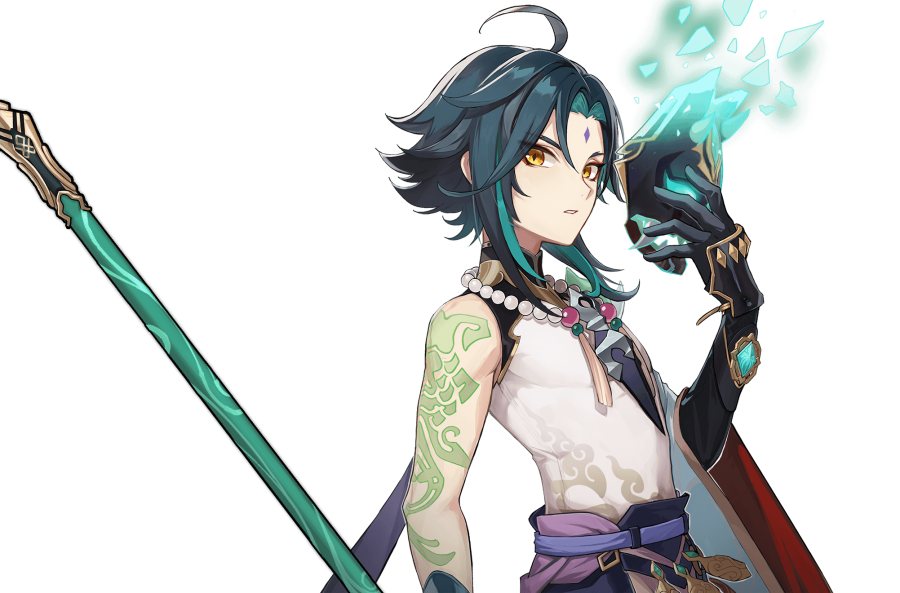 Xiao is a 5 Star Anemo user who wields a polearm.
Xiao is shown to be quite polite, reserved, and logical; demonstrated when he keeps calm and rethinks his actions after hearing about the death of Rex Lapis. While other adepti were inclined to abandon their duty to protect the people of Liyue upon hearing about Rex Lapis' assassination, Xiao prioritizes his duty and tries to find more information about Rex Lapis' death.
For more information on Xiao's skills, we've got you covered.
For more information on what materials you need for Xiao's Ascension, we've got you covered!
Events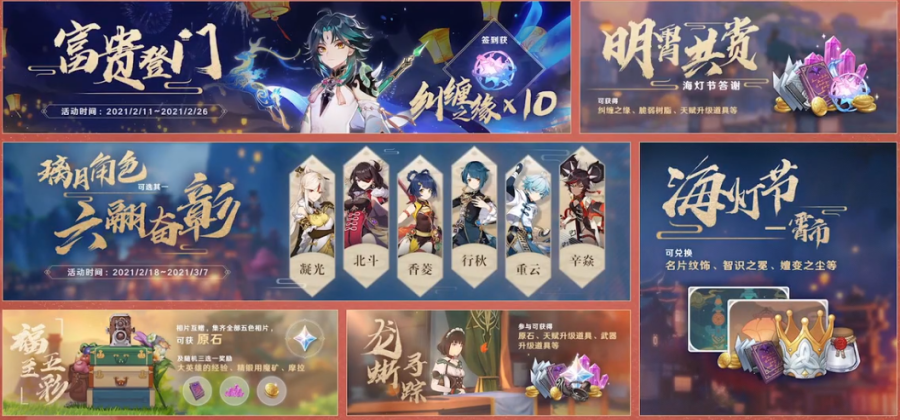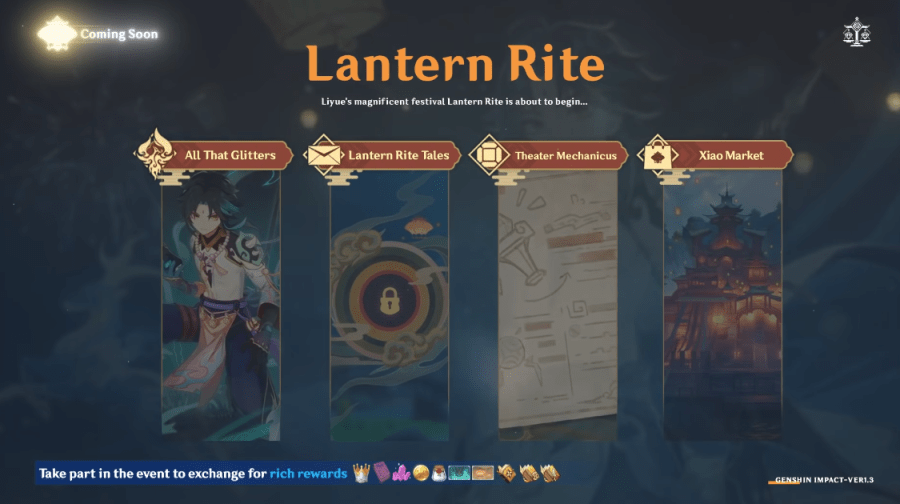 The main event for 1.3 Lantern Rite, begins on Feb. 10 and ends on Feb. 28. During this event, players can earn a free 4 Star Liyue character.
To progress through the Festival,  Increase Festive Fever to progress through the Lantern Rite.
All That Glitters
This is the main event that showcases the new character Xiao, it can be classed as going on a date with Xiao!  There are five parts to the Lantern Rite Festival. The first part is the Legendary Mission of the Sword which is Xiao's story quest, after this has been completed, you can go back to Liyue Harbor and carry on the Lantern Rite Festival.
Next is Lantern Rite Story, followed by Lantern Rite Tales, Theater Mechnanicus, and Xiao Market.
By participating in the various events of the Lantern Rite Festival, players can get more than 1600 Primogems!
The biggest part is the Tower Defense or its proper name Theatre Mechanicus. This is Co-op, but only two players.
Then, of course, Xiao Market is the event shop!
Lantern Rite Tales
The second event of All that Glitters— Lantern Rite Tales, has several unlock criteria to progress through it. You must complete the following:
Lantern Rite Tales I

Complete The Origin of the Lanterns to unlock.

Lantern Rite Tales II

Reach the Festive Fever stage Guests Flock From Afar
Complete the questline Currents Deep Beneath the Lanterns
Complete all requests in Lantern Rite Tales I to unlock.

Lantern Rite Tales III

Reach the Festive Fever stage Glow of a Thousand Lanterns
Complete the questline Light Upon the Sea
Complete all requests in Lantern Rite Tales II to unlock.
Complete requests in "Lantern Rite Tales" to win Primogems and increase Festive Fever. Increase Festive Fever to progress through the Lantern Rite.
Theater Mechanicus
This is the Tower Defense portion of the event. To take part in this event, players must craft Xiao Lanterns. Each attempt at this event will cost one Xiao Lantern regardless if you succeed or fail.
Remember you can play this entirely by yourself or in two-player Co-op.
The goal is to prevent the boss from escaping, and enemies from freeing the boss. You place down elemental towers with elemental/buffs properties. As well as you attacking enemies yourself.
To unlock Theater Mechanicus you must have completed the quests, The Origin of the Lanterns, and Liyue: Theater Mechanicus.
● Progressing through the stages of Festive Fever unlocks new maps, new mechanici, higher upgrade levels, and increased difficulty levels.

● Progressing through the stages of Festive Fever unlocks new Theater Mechanicus challenges. Complete them to win Peace Talismans.
This is very much like Hypostatic Symphony, you can handicap yourself to get more points, to get more Jades currency for the event shop. Once again there are three different types of currencies for use in the event shop.
Xiao Market
Xiao Market is the events Event Shop, here you'll be able to purchase an assortment of items from Level-Up Materials,. Talen Level-Up Materials, and the Crown of Insight, plus many more.
There are three stages to this event, that are on set time periods. Here at the dates, the stages will appear.
Stand By Me
To unlock the Stand by Me event, players must have reached the Festive Fever Stage: Glow of a Thousand Lanterns, and have spent 1000 Peace Talismans earned from Theatre Mechanicus.
Once those conditions are met, you can choose one out of six Liyue Four Star Characters.
This event starts on Feb. 18 to March. 7.
You can get:
Xiangling
Xinyan
Beidou
Ningguang
Xingqui
Chongyun
You can only claim one character.
May Fortune Find You
This is the log in event for All That Glitters. This begins on Feb. 10 and ends March. 7.
There are seven rewards you can achieve, and you have three weeks to do so. Log in seven days in total and nab all the rewards.
Intertwined Fate x1
Mora x80,000
Intertwined Fate x2
Mystic Enhancement Ore x18
Intertwined Fate x2
Hero's Wit x8
Intertwined Fate x5
Five Flushes of Fortune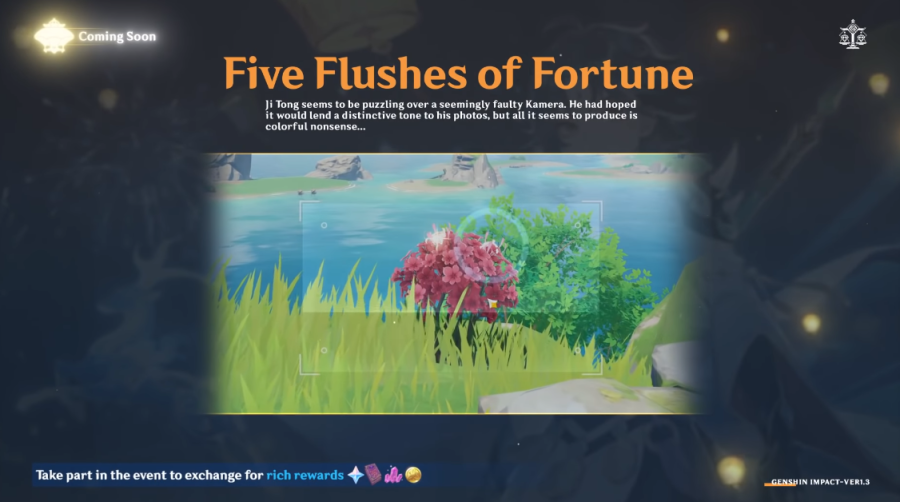 The Five Flushes of Fortune event stats on Feb. 3 at 4am CT and ends on Feb. 10. This is a 10-day event.
In this event, you get access to a new type of Kamera but it's actually an Analyser - you can scan monsters, and materials and get namecards. This very much resembles the Treasure Hunting Seelie event in 1.2.
Players need to speak to Ji Tong, for the Kurious Kamera. Each day JI Tong will have a different photo subject for each day, and travelers need to take pictures of the designated subject, to complete the quest, and receive a random photo as a reward. Players can take up to ten pictures a day.
Each photo is represented by a color, and if you get five of the same colors out of the ten photos, you can exchange the set for a Fortune Trove from Ji Tong. Inside each Trove, players will find Primogems, alongside other random material awards. You can get a maximum of eight Fortune Troves.
The colors of the picture are given randomly, but you can exchange pictures with your friends, and help each other get the sets you need!
Vishaps and Where to Find Them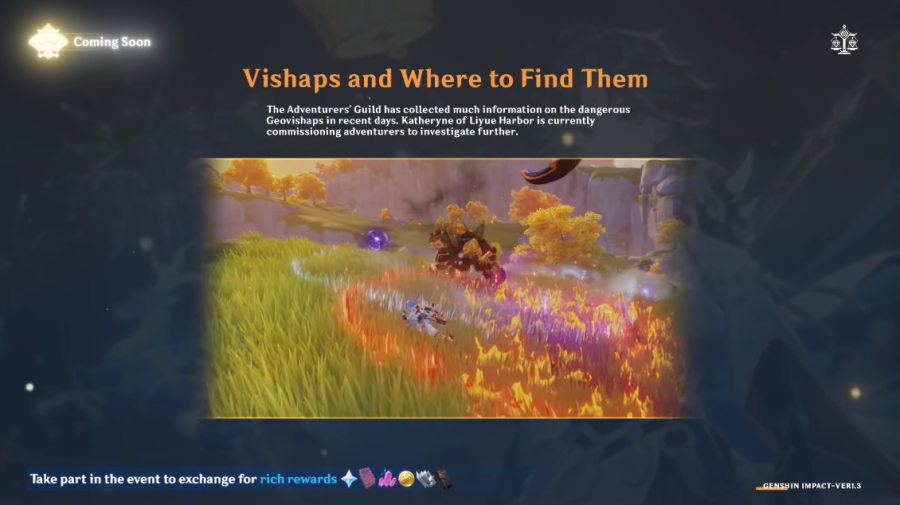 This is a new enemy/boss in 1.3, however, to eventually fight this, you have to send characters on missions/expeditions, and you can complete it for Primogems and get closer to Primal Vishap. The better the characters the higher percentage that you can complete it. Use your friends as well, for an added bonus on the hunt. Once you've found a location for the Geo Vishap, you can then get your team and take them down directly!
Do this enough, and you'll get the Primal Vishap directly, but there are several different elements of this boss, so you have plan accordingly!
Ley Line Overflow
This begins on Feb. 26 to March. 5.
It seems the Ley Lines are getting revamped for this event. All rewards are multiplied by two, allowing you to get double the rewards from Blossoms of Wealth or Blossoms of Revelation three times per day.
During the event, Travelers who successfully challenge a Blossom of Wealth or Blossom of Revelation and who consume Original Resin to obtain rewards will receive double the output. A total of 3 such bonuses will be available each day!
Questlines
New story quests
After the Version 1.3 update, Xiao's story quest "Alatus Chapter" will be available.

More story quests are on the way, so please stay tuned!
New world quests
A total of 26 festive World Quests will become available over the course of the Lantern Rite event, accessible from "Lantern Rite Tales" on the Events menu.

A further world quest "Bough Keeper: Dainsleif" will also be added
Material Conversion
From the footage shown, you can only convert Elemental Shards needed for Ascension. If you have many Vayuda Turquoise Fragment used for Anemo characters, but don't use any Anemo characters. You can convert these to a different element using something called Dust of Azoth.
However, the amount of Dust needed depends on the rank of the Elemental Shard! No doubt till will be more heavily involved, but the shard conversion is all that was shown.
Parametric Transformer
Anyone over Adventure Rank 31 and over, can receive a quest from Lan in Liyue Harbor, called Tianqiu Treasure Trail. After completing, players will receive a new Gadget called the Parametric Transformer.
This is ultimately for material conversion or transmuting materials. This is a new mechanic coming to 1.3 where if you have a random surplus of additional items, you might need about 150 excess items, and you can transmute them into different items, however, what you get is more or is less random.
In the footage shown, they put in 150 flowers, gave it a whack with elemental attacks, and got quite a bit of low-grade EXP books and materials. The rarer the item you want to exchange the better materials you will get.
Beastiary
A beastiary is coming to 1.3, where you can see 3D models and information on enemies and bosses you have defeated. This counts for animals as well!
Battle Pass Changes | Fragile Resin
Fans have been wanting more Original Resin ever since the game began, and even though Fragile Resin has been introduced in 1.2, which does help players who cannot play every day. It doesn't help players who can.
However, miHoyo have listened to your cries and wanted to semi help you. They dodged the initial question about wanting more Origin Resin, and instead went for Battle Pass changes. Though, all upcoming events will not use Original Resin from now on.
Both of the Battle Passes will now have Fragile Resin as a reward, every 10 levels from level 5, you will get Fragile Resin x1.
Q8: We would like to have more Original Resin.

A8:

1) All events in Version 1.3 that do not require challenging Ley Line Outcrops or Domains will not consume Original Resin. The vast majority of large-scale events in future versions will also not consume Original Resin.

2) Our BPs will be adjusted from Version 1.3 onward to have additional Fragile Resin rewards:

Sojourner's Battle Pass and Gnostic Hymn will obtain Fragile Resin ×1 per 10 levels, starting from Level 5, replacing the Mystic Enhancement Ores that was originally there. This will not change the total amount of Mystic Enhancement Ore gained through the BP. These Mystic Enhancement Ores will instead be distributed amongst other levels.
New Weapons
Primordial Jade Winged-Spear
Passive: On hit, increases Attack by 3.2% for 6 seconds. Max stack is 7. This effect can only occur once every 0.3 seconds. While in possession of the maximum number of stacks, Damage dealt is increased by 12%.
Staff of Homa

This polearm is for Hu Tao.
Passive: HP increased by 20%. Additionally, provides an Attack Bonus based on 0.8% of the wielder's Max HP. When the wielder's HP is less than 50% this Attack Bonus is increased by an additional 1% of Max Hp.
Primordial Jade Weapons
A new Jade set is also leaked that is coming to 1.3, and it will have 5 weapons. Thanks to Genshin Honey for the following information.
Primordial Jade Vista (Bow) - 5 Star

Passive

HP increased by 20%. Additionally, provides an Attack Bonus based on 1.2% of the wielder's Max HP.

Primordial Jade Greatsword - 5 Star

Passive

HP increased by 20%. Additionally, provides an Attack Bonus based on 1.2% of the wielder's Max HP.

Primordial Jade Cutter (Sword) - 5 Star

Passive

HP increased by 20%. Additionally, provides an Attack Bonus based on 1.2% of the wielder's Max HP.

Primordial Jade Regalia - 5 Star

Passive

HP increased by 20%. Additionally, provides an Attack Bonus based on 1.2% of the wielder's Max HP.
Zhongli Buff
MiHoYo has been listening to player feedback about Zhongli, and they have taken the 5 Star character brought up back to 1.3 beta testing, so they can ultimately buff the character. Zhongli was a truly sought after character when he was first revealed for 1.1, so fans truly want him to be the best 5 Star character that he can be.
We understand the love that everyone has given Zhongli, and the rapt attention being paid to any future changes to him. As such, we apologize for the tardiness of this announcement concerning said adjustments.

We have organized and summarized player feedback numbering in the tens of thousands during this time, in-game and out of it. Through this, we have discovered that your feedback has focused on Zhongli's strength in practical combat, the finer points of his ability usage, the Geo construct system, and so on.
Below are all the changes that are coming to Zhongli. For more information, miHoYo has released two blog pages, the first being the first adjustments to Zhongli, and the second regarding further adjustments to Zhongli.
Adjustments to Passive Talent Dominance of Earth

The Damage dealt by the following of Zhongli's attacks will be increased based on his Max HP:

Normal, Charged, and Plunging Attack Damage will be increased by 1.39% of Max HP.
The Stone Stele, Resonance, and Holding Mode Damage of Dominus Lapidis will be increased by 1.9% of Max HP.
Planet Befall's Damage will be increased by 33% of Zhongli's Max HP.

Adjustment to Dominus Lapidis' Holding Mode

Elemental Skill: Dominus Lapidis (Hold)

Causes nearby Geo energy to explode, causing the following effects:
If the maximum number of Stone Steles has not yet been reached, it will create a Stone Stele.
Creates a shield of jade. The shield's Damage Absorption scales based on Zhongli's Max HP, and has 150% Physical DMG and Elemental Damage Absorption.
When a character is protected by the Jade Shield, opponents within a set radius have all Elemental Resistance and Physical Resistance decreased by 20%. Effect cannot be stacked.
Deals AoE Geo Damage.
If there are nearby targets with the Geo element, it will drain a large amount of the Geo element from a maximum of 2 such targets. This effect does not cause Damage.
Geo Buff
With the feedback they received about Zhongli miHoYo also decided that Geo users, in general, needed a little boost. For below are the adjustments coming to Geo characters.
Adjustment to Geo Resonance "Enduring Rock"

Increases shield strength by 15%. Additionally, characters protected by a shield will have the following special characteristics: Damage dealt increased by 15%, dealing Damage to enemies will decrease their Geo Resistance by 20% for 15s.

Geo Shield Balance Adjustments

Geo Shields are adjusted from "having 250% Geo Damage Absorption" to "having 150% Physical DMG and Elemental DMG Absorption".

Affected effects include:

The Geo Shield created by Zhongli's Elemental Skill.
The Geo Shield created by Noelle's Elemental Skill.
The Geo Shield created when picking up Geo Crystals dropped by Geovishap Hatchlings.
System
This information comes directly from miHoYo in their Developer Discussions, so this is 100% confirmed.
Pre-installation is coming to mobile devices before the 1.3 update.
You can now increase/decrease the amount of materials consumed at a time.
iOS devices with operating systems iOS 14 or higher will have controller support.
Material conversion is coming to 1.3
All events in 1.3 will not require Original Resin.
The Battle Pass will be adjusted from 1.3 onwards to have Fragile Resin as rewards.
Bug Fixes
Adjustments and Optimizations
Optimizes Mona's Talent "Illusory Torrent": When Mona is hit, she can use Illusory Torrent more quickly, as is the case with sprinting for other characters.

Adds a new idle animation for Kaeya.
Optimizes Zhongli's animation under "Weapons" on the Character Screen.
Resolves issues with Aiming Mode for Bow-wielding characters when obstacles are present nearby, such as character shaking and off-center shots.
Optimizes precision when firing shots at moving targets.
Resolves issues of shaky clothing/movements when some characters perform actions such as walking, attacking, skill casting, and sitting.
Spiral Abyss
Updates the monster lineup on Floor 12 of the Spiral Abyss.

The Ley Line Disorders on Floor 12 are adjusted to:

• For this floor only, the ley line flow will be normal

• No Ley Line Disorder

Starting from the first time that the Lunar Phase refreshes after updating to Version 1.3, the three Lunar Phases will be as follows:

Phase I:

When active character's HP is less than 70%, ATK is increased by 20% and ATK SPD is increased by 15%.

When active character's HP is less than 35% and they are under the protection of a shield, CRIT Rate is increased by 20% and CRIT DMG is increased by 40%.

Phase II:

A Charge will accumulate every 10s, with a maximum of three existing at any one time. If the active character's HP is less than 50%, they will consume a Charge when they hit an opponent to create an unstable energy orb at the opponent's position. This orb will explode after 1s, and only one of them can be created every 2s.

Phase III:

When the active character's HP is less than 50%, they gain a 2% DMG Bonus for 10s after hitting an opponent. This effect can stack up to 10 times, and each character in the party will have their own independent stacks and durations. Each time the stack count or duration of this effect resets, there is a 50% chance to release an Energy Blast. An Energy Blast can be triggered once every 10s.
Stay up to date with the upcoming banners, and keep an eye on our Genshin Impact codes to get some free goodies!