Genshin Impact has taken the world by storm, and now with four significant updates under their belt, fans are already eagerly awaiting update 1.5. MiHoYo is getting ready to keep the content flowing and the hype increasing. Update 1.5 comes with new characters entering the fray, along with new events, and maybe uncover a section of the map!
These are unofficial Genshin Impact 1.5 patch notes! We've compiled all of the known and leaked information from a variety of sources. Right now, we're pretty confident that the majority of this is right, but somethings may change by the time the update is released. But as always, take everything with a pinch of salt.
A thank you to certain members of the Genshin Impact community. We will not drop your names here, but we most warmly thank you for this information.
Genshin Impact 1.5 Release Date
Genshin Impact version 1.5 update is scheduled for April 28, 2021. This is subject to change, but from miHoYo's own official post from the production team, they are trying to organize a consistent update schedule every six weeks.
This is our road map of when the updates should be released. However, anything after 1.3 is purely guesswork based on the six week update period. MiHoYo should release a new roadmap after 1.3 is released, but whether they will or not is hearsay.
Version Update 1.5— Scheduled for April 28, 2021.
Version Update 1.6— Scheduled for June 9, 2021.
Version Update 1.7— Scheduled for July 21, 2021
MiHoYo has already started the Version 1.5 bet. You can sign up for it yourself, follow our guide on how to do so: How to Sign Up for Genshin Impact's 1.5 Beta Test Server
They are rumors of a new section of the map is being unveiled with 1.5, but this isn't the Chasm or Inazuma, but it's meant to be roughly the same size as Dragonspine.
Leaks
Remember to take everything with a pinch of salt, even though this may be in the 1.5 beta, doesn't mean it will be released for the official 1.5 version.
New Characters
Eula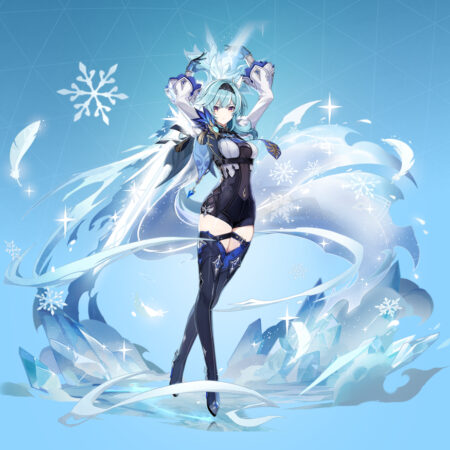 Five-Star Cryo Claymore User
The Spindrift Knight, a scion of old aristocracy, and the Captain of the Knights of Favonius Reconnaissance Company. The reason for which a descendant of the ancient nobles might join the Knights remains a great mystery in Mondstadt to this very day.
For all character information such as Skills, Constellations, and Ascension Materials,. we've got you covered: Eula
Yanfei
Four-Star Pyro Catalyst User
Originally named "Feiyan" in her character files, Yanfei is an eccentrically dressed character who is set to release around the same time as Eula. As a four-star character, Yanfei will be much easier to obtain than her Cryo counterpart.
For all character information such as Skills, Constellations, and Ascension Materials, we've got you covered: Yanfei
Building/Housing
Housing will be a massive part of 1.5 if the beta remains true. Your home is not part of the map, instead, you'll be in your own instance, like a Domain. This also may be connected to the new gadget the Serenitea Pot. A bird companion is part of the housing system and may appear from this pot to transport you to your home, and back to Teyvat.
Of course, there will be a housing shop where you can buy furniture using another special time of currency. There will also be three background settings for your home.
A tropical island background
A floating island background
A mountain background.
More will undoubtedly come available in the future but you'll have three to choose from in 1.5.
Transient Resin
A new type of Resin is coming to 1.5. This Transient Resin is exclusive to the Homeworld shop, which is the shop where you can buy furniture and the like for your home/bass.
How to get Transient Resin and what does it do in Genshin Impact?
New Boss
Cryo Hypostasis
Cryo Hypostasis is a new boss, very much like the other Hypostasis bosses. Cryo and Pyro are the only ones, excluding Dendro, that do have not have a cube boss you can fight against. Now in 1.5, you might be able to, and if you are after using the new Five-Star character Eula, you might have to farm this boss, as it may drop a new Ascension Material called Crystalline Boom.
New Weekly/World Boss
We are unsure if Azhadha is a new World Boss or Weekly Boss, so for the time being we will merge the two. This new boss is meant to be part of Zhongli's second character quest, meaning that one of the upcoming Banners for 1.5 may be a Zhongli rerun with Yanfei as a Four-Star.
Azhadha potentially will drop two new materials, a Dragon Lord's Crown and Bloodjade Branch. These are needed to Ascend both Eula and Yanfei.
New Conversion Item
A new gadget called the Conversion gadget called Dream Solvent may appear in 1.5. This can convert boss materials to another of the same boss materials. For more information check here.
What is Dream Solvent, and what does it do in Genshin Impact?
How to Get Dream Solvent in Genshin Impact
New Hangout Events
Hangout Events were a new addition to 1.4, where select characters you could go on more or less go on dates with, to get to know them better, due to them not having a major spotlight in the game so far.
Though the characters you'll be able to spend time with have not been revealed, miHoYo have said that Hangout Events will not be a one-time thing, and will appear again in new updates.
It is rumored that Diona and Noelle will be the main focus this time.
Fractured Fruit
These are buffs of some sort, but we have no idea if these are attached to a character in some way so they can also get the buff. Or if you can use them as an item like food, or pick them up off the ground.
An example of one is called Galespring
Galespring

When a character's plunging attack hits an opponent, it will generate Elemental Particles that regenerate six energy and an Anemo Amber that will generate a wind current. This effect can be triggered once per eight seconds, and this Cooldown is shared between all characters in the party.
Stay up to date with the upcoming banners, and keep an eye on our Genshin Impact codes to get some free goodies! And why not check out our new All Genshin Impact Characters and All Genshin Impact Materials lists.