Another update is incoming! Genshin Impact's development team continues to expand Teyvat with new areas, characters, and exciting events and stories, one update at a time.
Check out this compilation of leaked content that's expected to drop in the game's Version 2.5. But remember: take leaks with a grain of salt and know that changes between the beta server and actual release aren't uncommon.
A huge thank you to UBatcha, Genshin_Intel, WFP, Honey Impact, and the Genshin Impact community.
Genshin Impact 2.5 Release Date
Genshin Impact's Version 2.5 update is scheduled for Feb. 16, 2022. This is subject to change but falls in line with the game's attempt to roll out a consistent six-week update period.
This is our tentative road map of when the updates should be released. Anything after update 2.5 is purely guesswork based on the game's six-week update schedule so far, as miHoYo has not released another roadmap.
Version Update 2.5—Scheduled for Feb. 16, 2022, and will run until Mar. 30, 2022.
Version Update 2.6—Sceduled for Mar. 30, 2022, and will run until May 11, 2022.
Version Update 2.7—Sceduled for May 11, 2022, and will run until June 22, 2022.
Leaks
New Characters
Genshin Impact has confirmed via Twitter a new character who will make an appearance in Version 2.5.
Yae Miko—Five-Star Electro Catalyst
The Grand Narukami Shrine's head shrine maiden and a descendant of Kitsune lineage, Eternity's servant and friend... and the intimidating editor-in-chief of Yae Publishing House, a publisher of light novels.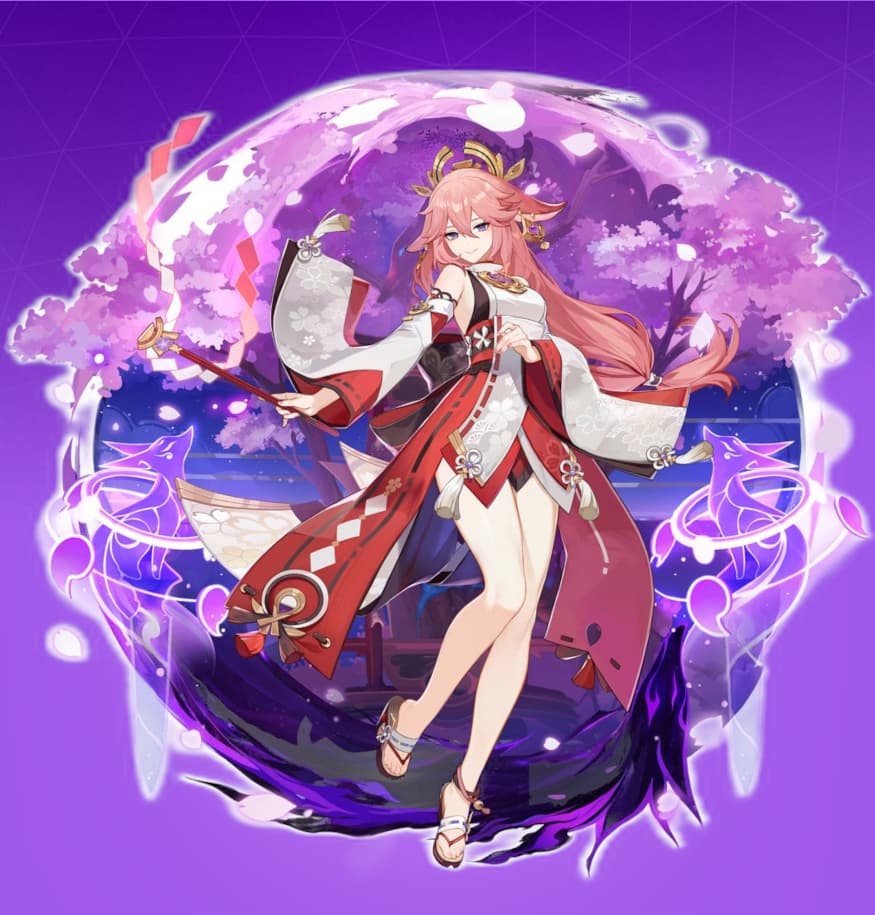 Learn more about this coy priestess by checking out our guide on Everything we know about Yae Miko in Genshin Impact – Abilities, voice actor, and more! and our wiki page on Yae Miko's Skills, Constellations, Ascension materials, and more.
While Yae's banner placement is unconfirmed, it's highly likely that she'll occupy the first banner without a second five-star. Meanwhile, some leakers have revealed the possibility of Raiden Shogun and Sangonomiya Kokomi's appearances in the second banner of Version 2.5.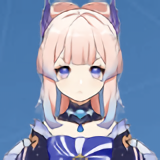 New Weapons
Based on current leaks, two new catalysts are expected to drop in Version 2.5.
Oathsworn Eye
Four-star catalyst; visually matches Sangonomiya Kokomi
Attack: 44-565
Substat: Attack (6 to 27.6 percent)
Passive: People of the Faltering Light—Increases Energy Recharge by 24/30/36/42/48 percent for 10 seconds after using an Elemental Skill.
Kagura's Verity
Five-star catalyst; visually matches Yae Miko and is her best-in-slot weapon
Attack: 46-608
Substat: Crit Damage (14.4-66.2 percent)
Passive: Kagura Dance of the Sacred Sakura—Gains the Kagura Dance effect when using an Elemental Skill, causing the Elemental Skill Damage of the character wielding this weapon to increase by 12/15/18/21/24 percent for 16 seconds. Max three stacks. This character will gain 12/15/18/21/24 percent All Elemental Damage Bonus when they possess three stacks.
New Enemies
The new enemies leaked for Version 2.5 amp up the game's difficulty level with mechanics that will keep you on your toes—or drive you crazy.
Weekly Boss: Raiden Shogun
Raiden Shogun is expected to appear as a new Weekly Boss in Version 2.5. She will be located under the Grand Narukami Shrine.
She has been leaked to come in six Phases, but keep in mind that the information is still subject to change.
Phase 1: normal battle
Phase 2: Destroy Electro Constructs and find the correct Raiden from three Illusions within 10 seconds (two separate challenges). Failure to complete this Phase will bring players back to Phase 1, followed by a weakened Phase 2.
Phase 3: a Fury meter will appear under Raiden's HP, enhancing her abilities and giving her an Electro shield. A time-stopping Attack similar to the Musou no Hitotachi will prevent your ability to move.
Phase 4: Raiden will be enclosed by her giant arms, and an Electro Construct will spawn. Shielded characters will take no Damage from the slash Attacks, but will injure Raiden's shield.
Phase 5: Raiden will return to her enhanced form, and will summon totems and throw explosive spears.
Phase 6: Breaking Raiden's shield will bring her to Phase 6, which is a weakened state that lasts for 20 seconds. Failure to defeat her within this period will bring her back to Phase 1.
Related: Will Raiden Shogun be a weekly boss in Genshin Impact 2.5?
Common Enemies: Shadowy Husks
Based on their leaked abilities, these pesky new enemies are unapologetically anti-shield. Get your healers ready when exploring Enkanomiya and delving into the Spiral Abyss.
Shadowy Husk: Standard Bearer (Pyro)—An enigmatic, pitch-black standard-bearer. When its attacks hits a character who is protected by a shield, it sacrifices a portion of its HP and creates a shield for itself and nearby Husks.
Shadowy Husk: Line Breaker (Hydro)— After its attacks land on a character protected by a shield, it will sacrifice a portion of its own HP to generate healing ripples that continuously regenerate HP for itself and nearby Husks. This healing effect can stack multiple times.
Shadowy Husk: Defender (Cryo)—An enigmatic, pitch-black archer. After its attacks land on a character protected by a shield, it will sacrifice a portion of its HP to change its weapon stance for a given period of time, expanding a firm shield that defends against Damage and buffs its Attack. The Attack buff received by the Cryo Husk via this method can be stacked multiple times.
New Abyss Lineup
Floor 11
Ley Line Disorder: All characters in the party gain a 60 percent Electro Damage Bonus. All party members gain a 30 percent Healing Bonus.
Chamber
First Half
Second Half
Chamber 1
x1 Abyss Herald: Wicked Torrents
x1 Cryo Abyss Mage
x2 Geovishap
x2 Electro Whopperflower
x2 Pyro Whopperflower
Chamber 2
x1 Hydro Abyss Mage
x5 Cryo Specter
x3 Hydro Specter
x2 Large Cryo Slime
x2 Large Hydro Slimes
x1 Pyro Abyss Mage
x1 Large Pyro Slime
x2 Mutant Electro Slime
x2 Large Electro Slime
x1 Dendro Samachurl
x4 Electro Specter
x2 Pyro Specter
Chamber 3
x2 Thundercraven Rifthound
x4 Thundercraven Rifthound Whelp
x1 Abyss Lector: Violet Lightning
x1 Abyss Lector: Fathomless Flames
Floor 12
There will be no Ley Line Disorder on this floor.
Chamber
First Half
Second Half
Chamber 1
x2 Thundercraven Rifthound
x2 Thundercraven Rifthound Whelp
x2 Primordial Bathysmal Vishap Hatchling
x2 Rimebiter Bathysmal Vishap Hatchling
x2 Primordial Bathysmal Vishap
Chamber 2
x2 Ruin Guard
x1 Golden Wolflord
Chamber 3
x1 Shadowy Husk: Standard Bearer
x1 Shadow Husk: Line Breaker
x1 Shadow Husk: Defender
x1 Rimebiter Bathysmal Vishap
x1 Bolteater Bathysmal Vishap
New Food
Some new dishes could possibly make their way to Teyvat—and Paimon's tummy! Check out what we've been able to scrounge so far:
Fukuuchi Udon (Yae Miko's Specialty Dish)—Revives character and restores 250 HP.
Udon Noodles—Revives the selected character and restores 250–550 HP.
Sangayaki—Decreases Stamina depleted by sprinting for all party members by 15–25 percent for 900s seconds. In Co-Op Mode, this effect only applies to your own character(s).
New Name Cards
Name Card collectors will be excited to hear that, per leaks, there should be at least three new Name Cards coming in the update.
Battle Pass namecard
Of Drink-A-Dreaming (bartender event) namecard
Yae Miko namecard
New Furniture
Enkanomiya-themed Furnishings are expected to drop in Version 2.5. These include plant life and houses. There's also going to be a new mini-game Furnishing called the Leisure Device: Archery Game, which will allow you to play a scored archery game in your Realm, whether alone or in Co-op. Its design visually appeals more to Monstadt-themed Realms.
A Special Furnishing item may also be obtained from Inagi Hotomi at Grand Narukami Shrine after completing Sacred Sakura Cleansing Ritual.
Related: How to change the background music in the Serenitea Pot in Genshin Impact
New UI
Quality-of-life has been on miHoYo's list of priorities, and there's no better way to execute that than by fixing the in-game UI to be as convenient as possible.
Artifacts can now be filtered by set and stat order. For instance, choosing Crit Damage as #1 and HP as #2 in the Sort Order will filter the Crit Rate Circlet with the highest HP substat.
One additional column may be added to the Inventory UI, allowing more items to appear on each row.
One, two, and three-star weapons can be auto-added and destroyed without having to click the individual items.
Surround sound may be added to the Audio Output Settings.
New Alternate Outfits
Due to censorship issues in China, miHoYo announced alternate outfits for Amber, Mona, Jean, and Rosaria. Leakers believe that these will come out in Version 2.5.
New Story Quests
Get excited for more Inazuma lore, which has been leaked to come in the form of two Story Quests. Make sure to stock up on Story Keys before the update drops!
Yae Miko's Story Quest: Divina Vulpes Chapter: Act I
Raiden Shogun's Story Quest: Imperatrix Umbrosa Chapter: Act II - Transient Dreams
New Events
Three Realms Gateway Offering
This is an exploration event where players must solve puzzles in the darkened Enkanomiya. The exploration progress in this event is separate from your progress in Version 2.4.
It's a large event with plenty of new Chests and puzzle mechanics, but keep in mind that the leaks below may still change between the beta and Version 2.5 release.
Bokuso Box—new gadget that can disperse darkness surrounding enemies and challenge Trials. It can build up corrosion and lose energy, but these effects can be countered with other event mechanics.
Light Sigils—can be obtained through various exploration objectives. It can be offered to the Statue of the Vassals in Enkanomiya to upgrade the Bokuso Box (up to level 15) and strengthen its corrosion effects.
The Rite of Diffusal—Teleport Waypoints around Enkanomiya have been blocked and can only be unblocked using Aphotium Ore and Tokoyo Legumes. These can be obtained by gathering using the Bokuso Box.
Light Realm Cores—can be obtained from Luxurious Chests in Enkanomiya. Offering them to the Statue will grant you Bokuso Arts (battle buffs).
Mirrors—these are new puzzle mechanisms. Light is refracted by Water Mirrors and reflected by Ice Mirrors, and these can be moved using Pyro and Cryo Skills.
Illusory Stairways—these are stairways that can change direction by activating the Bokuso Box.
Of Drink-A-Dreaming
This bartender event is expected to take players back to the Angel's Share in Monstadt. Play the role of bartender and mix juices, tea, and coffee, and unlock 21 recipes. It's unclear whether or not the recipes can be used post-event.
These are four-stage timed challenges serving NPC customers with various preferences. The following characters may also make an appearance (including voicelines!):
Eula
Kaeya
Rosaria
Diluc
Lisa
Jean
Zhongli
Beidou
Ningguang
Shenhe
Hyakunin Ikki Rerun
The Hyakunin Ikki event was first released in Version 2.1, and leakers revealed that it may make a comeback in Version 2.5. The event involves completing six timed stages in pairs of two, aided by various buffs that you can assign to each team.
The new enemies, Shadowy Husks, are expected to appear in this event. The following trial characters have also been leaked to appear: Ayaka, Yoimiya, Kazuha, Itto, Xiangling, and Razor.
Divine Ingenuity
The Divine Ingenuity has been leaked to be a new event type, where players can design Domains and publish them for others to challenge. These are mob-free Domains that will test your puzzle-building capabilities with traps, wind fields, trampolines, and Element-applying platforms.
Stay tuned for more updates, leaks, and guides here on Pro Game Guides. Don't forget to start exploring Enkanomiya by following our guide on How to complete The Subterranean Trials of Drake and Serpent World Quest in Enkanomiya Genshin Impact.