As the Khvarena's Light Shows is the fourth quest in the Khvarena of Good and Evil quest chain. It's automatically unlocked after completing the following prerequisites:
During the quest, Sorush will obtain the Twin-Horned Chaplet, allowing her to collect the Great Songs of Khvarena. The quest will then split into three subquests, one being As the Khvarena's Light Shows: Samudaya.
How to Find the Great Song of Khvarena in the cave in Genshin Impact – As the Khvarena's Light Shows: Samudaya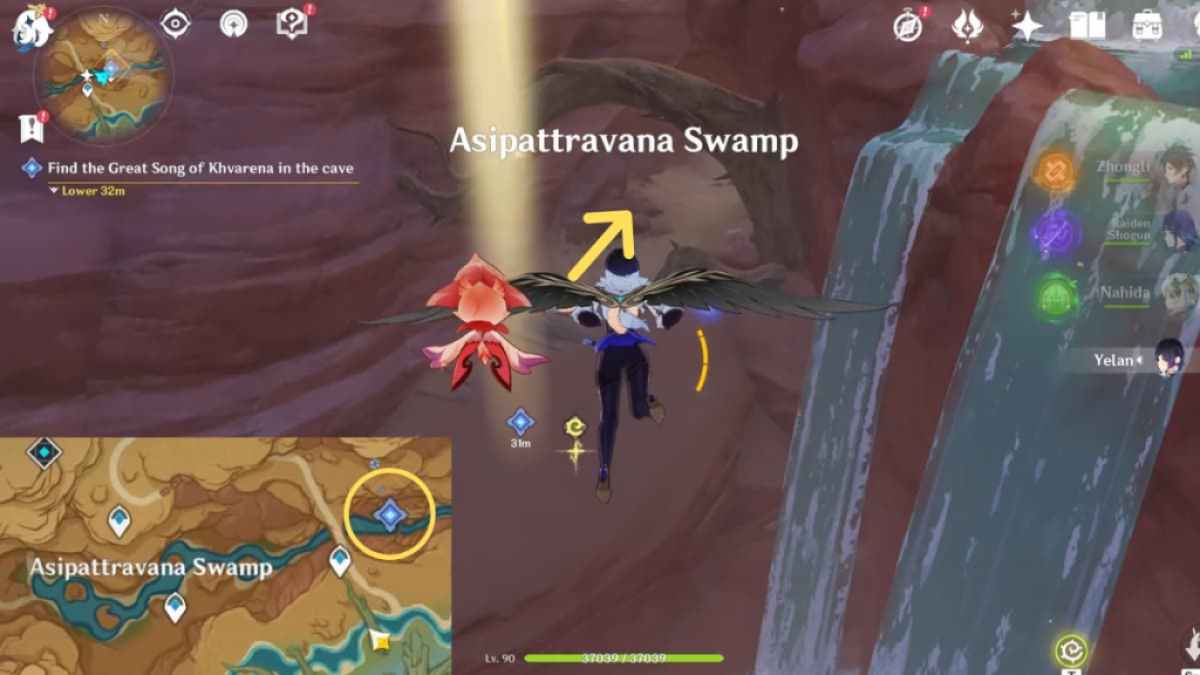 Start by heading to the quest area in the Asipattravana Swamp. Step onto the glowing spot by the waterfall first to trigger the quest navigator. Once that's done, you must enter the cave via the entrance above.
Related: Kaveh's Special Dish and how to cook it in Genshin Impact – The Endeavor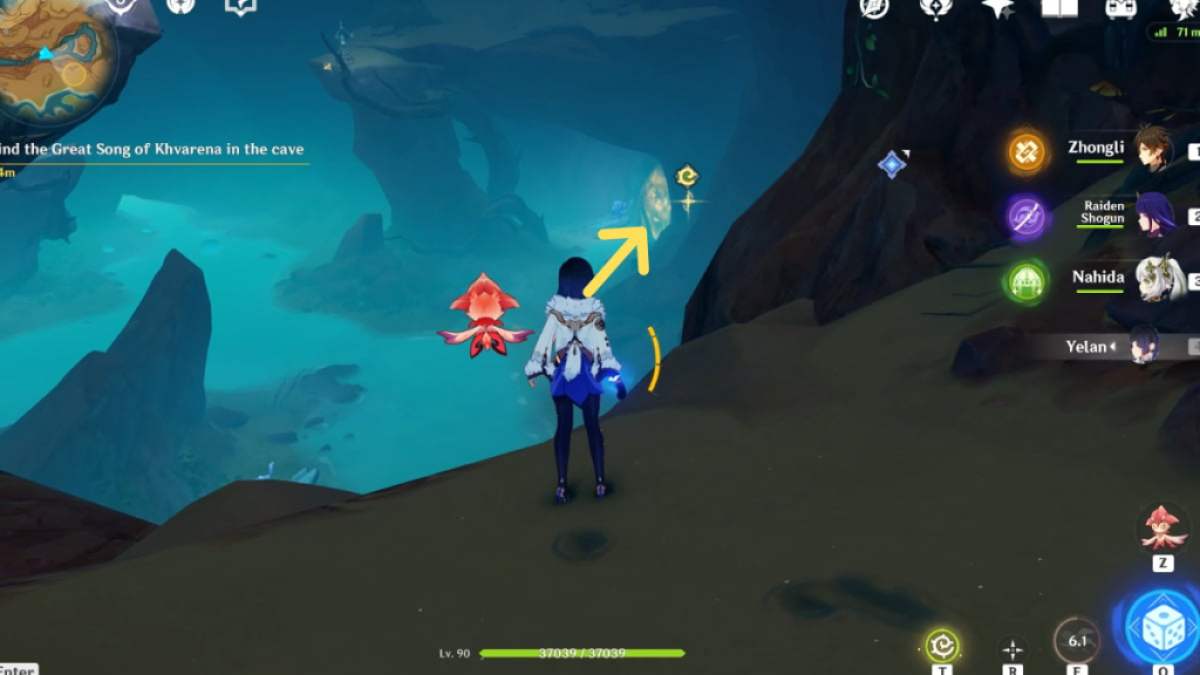 Once inside the cave, keep following the path forward until you reach the edge of the cliff, revealing a massive area. Glide toward the orange Amrita Seal, where the arrow is pointing above.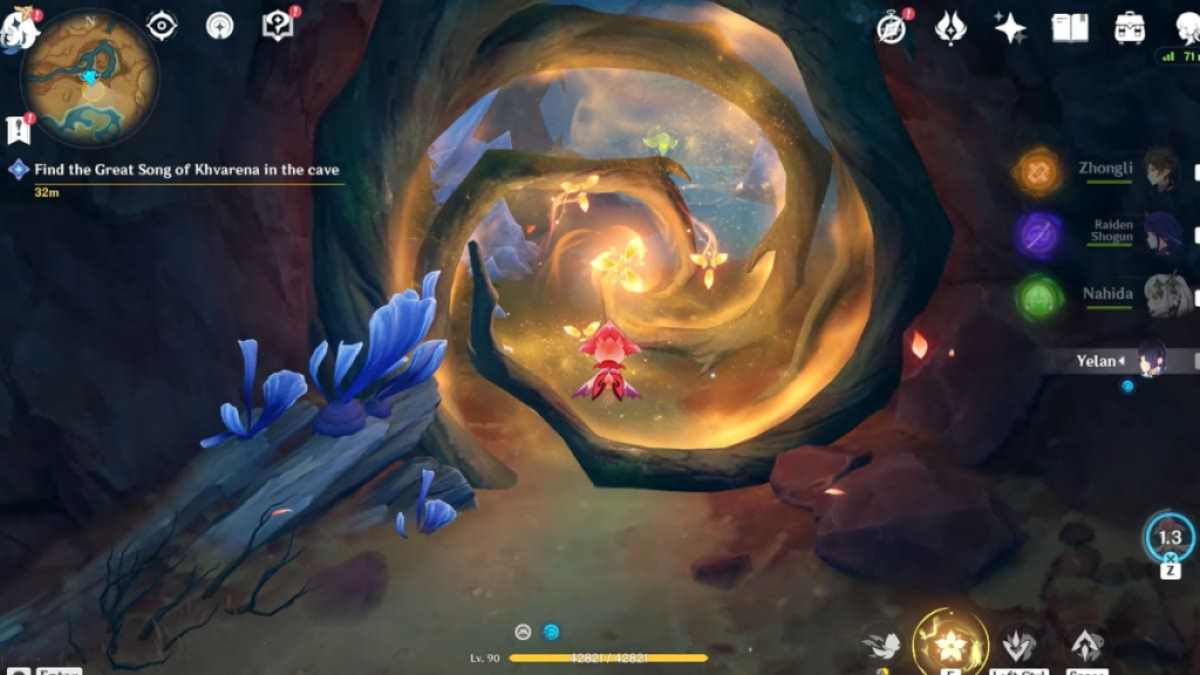 You must equip Sorush from the Gadget inventory. Sorush can be activated using the Gadget button (Z for PC), and her controls can be seen on the bottom right of the screen (differs per device). The PC controls are below, but check your screen for your controls:
Right mouse button - fly faster

Space - fly higher
Left CTRL - fly lower
E - use Sorush's power
Hold E - activate Sorush's Twin-Horned Chaplet power
Since Sorush has evolved, she can now use a special skill that can disperse the Amrita Barrier. Get close to the barrier, then hold the Elemental Skill button. The barrier will disappear, while Sorush will stay in place.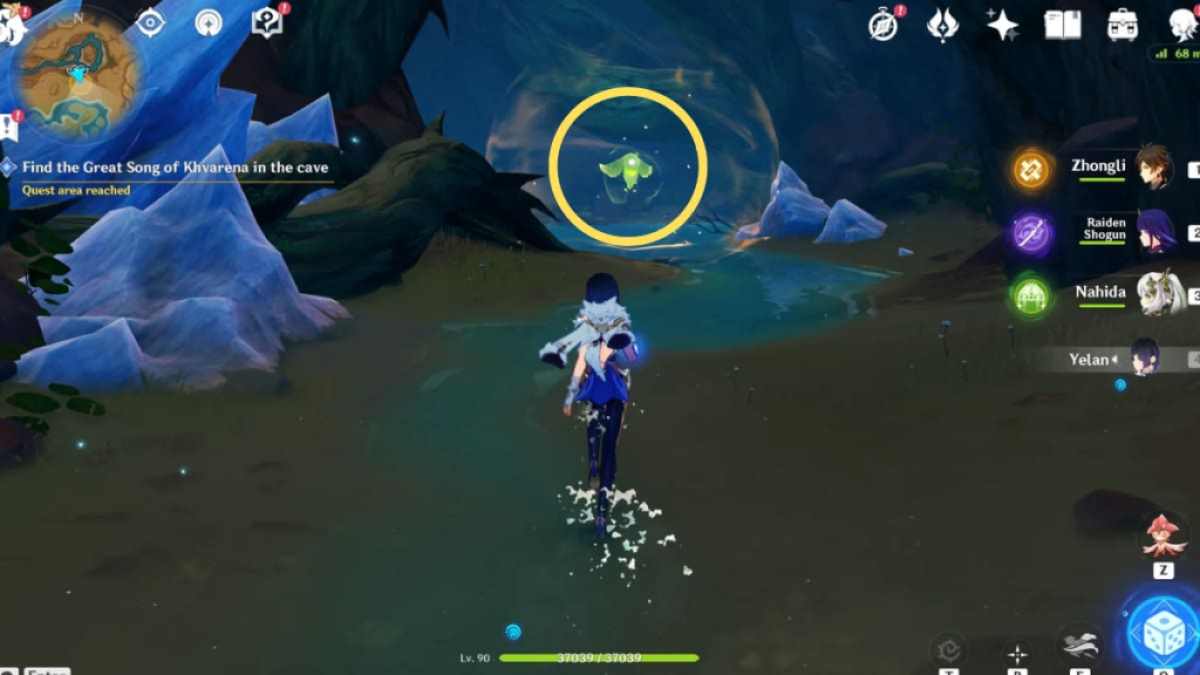 Enter the cave and activate Sorush again. This time, use her Elemental Skill to obtain the Great Song of Khvarena circled above, completing this segment in the World Quest.
For more World Quests in the Girdle of the Sands, check out our Genshin Impact An Artist Adrift World Quest (Day 3) guide here on Pro Game Guides.