The Genshin Impact Fulminating Sandstorm event runs from April 21, 2023, to May 1, 2023, introducing players to the legendary Wenutslayer Cannon, which will be used to control the increasing population of Wenuts. The event involves multiple quests tied to challenges, each with a different set of objectives.
After completing Proposal & Gathering and Introduction & Testing, you'll unlock the third quest in the series, The Culling of the Worms: Body. It involves completing the third Fulminating Sandstorm challenge, Body & Demonstration.
Genshin Impact The Culling of the Worms: Body guide – Fulminating Sandstorm event
After completing the previous quest, fast-forward the in-game time to 8:00 to 12:00 the next day. Then, head to the quest area west of the Sumeru desert, where you'll encounter Vinayak and Shriya once again. This time, they need your help operating the Wenutslayer Cannon.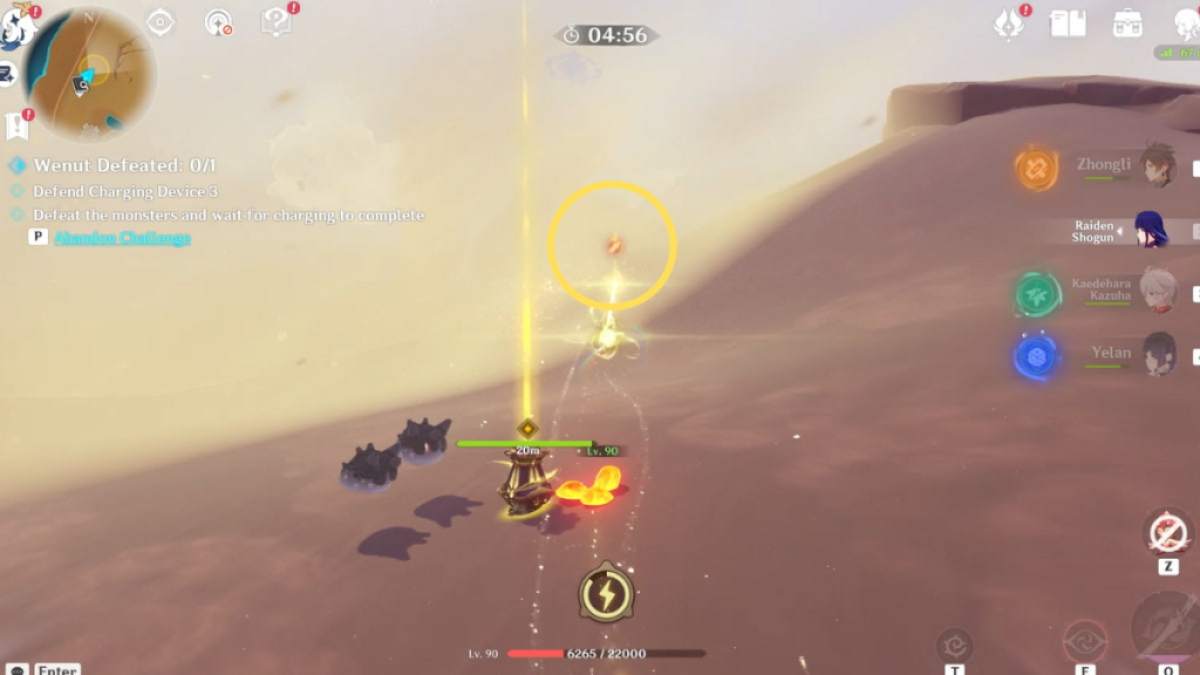 This challenge is similar to the first in that it involves picking up the Divine Benediction buff and defeating two waves of opponents across three rounds. Like before, Wenuts will occasionally pop up from the ground, which can knock you back and drain your HP.
Additionally, this challenge also requires you to protect the Charging Device (similar to Ley Line Monolith protection Commissions). Watch the HP bar over the Charging Device and make sure it doesn't drain!
Related: Genshin Impact As the Khvarena's Light Shows Nirodha World Quest guide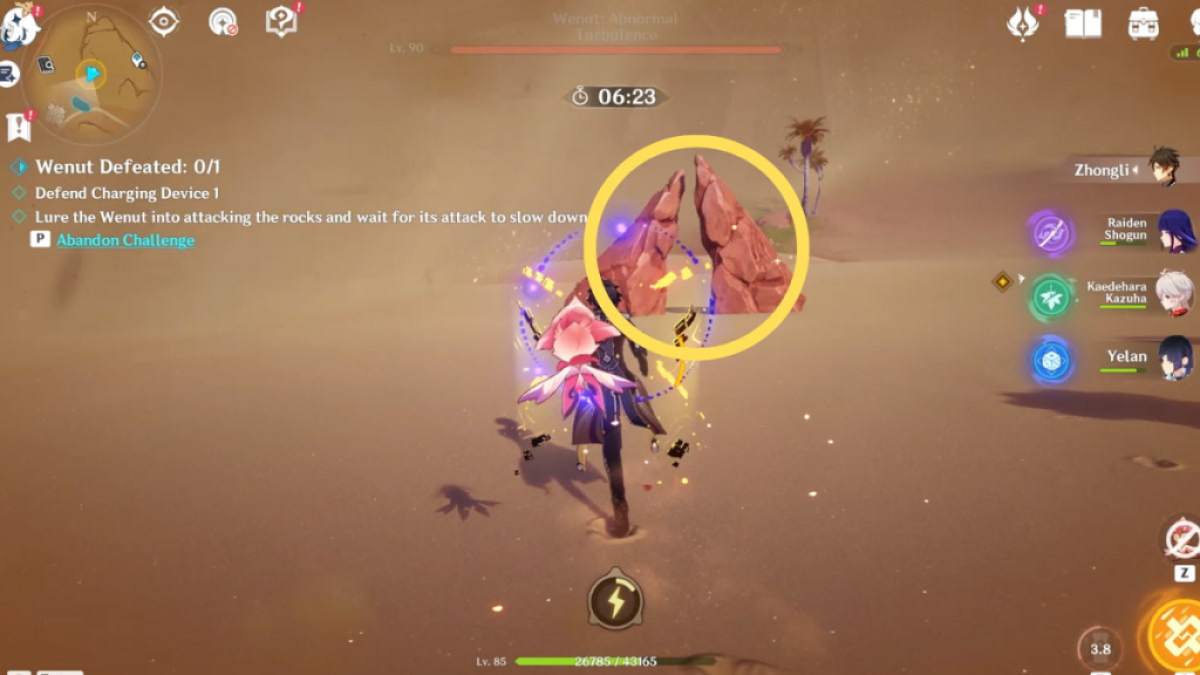 Once the enemies have all been destroyed, you'll be asked to lure the Wenut into attacking the rocks. Pay attention to the sparkling rocks in the area—such as the one above. These are the only rocks that can be destroyed.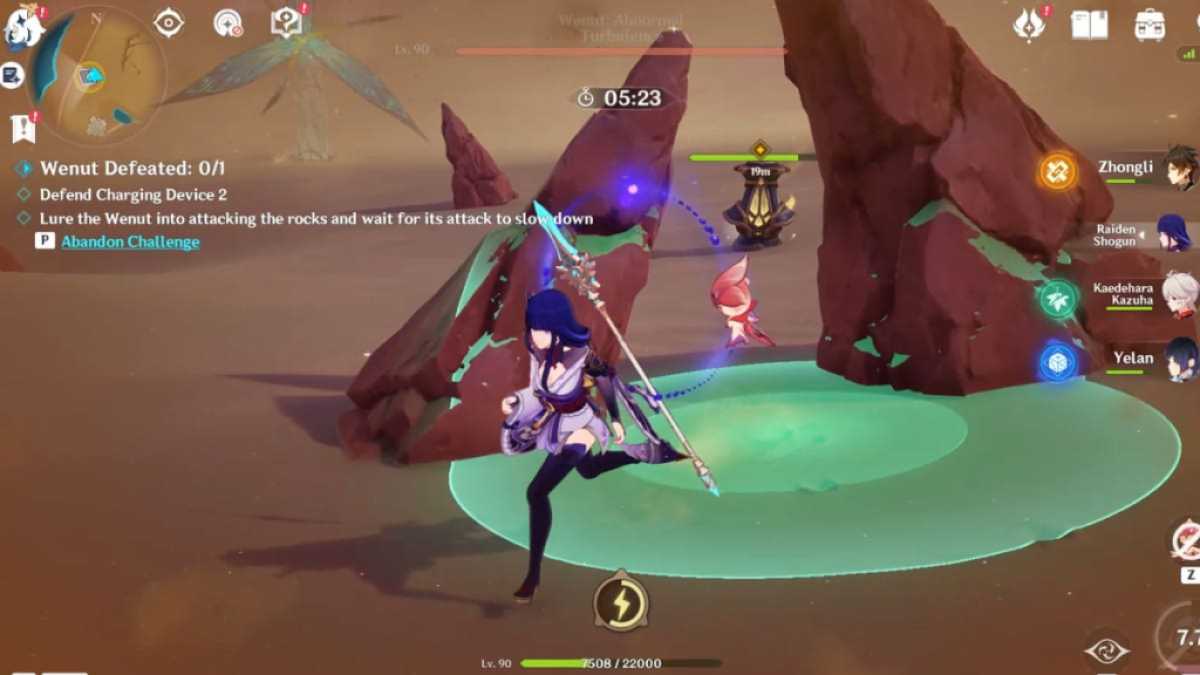 You need to stand close to the sparkling rocks and wait for the green indicator to appear on the ground. The Wenut will strike where the green indicator falls. It will keep following you, so make sure to get out of the way before getting hit.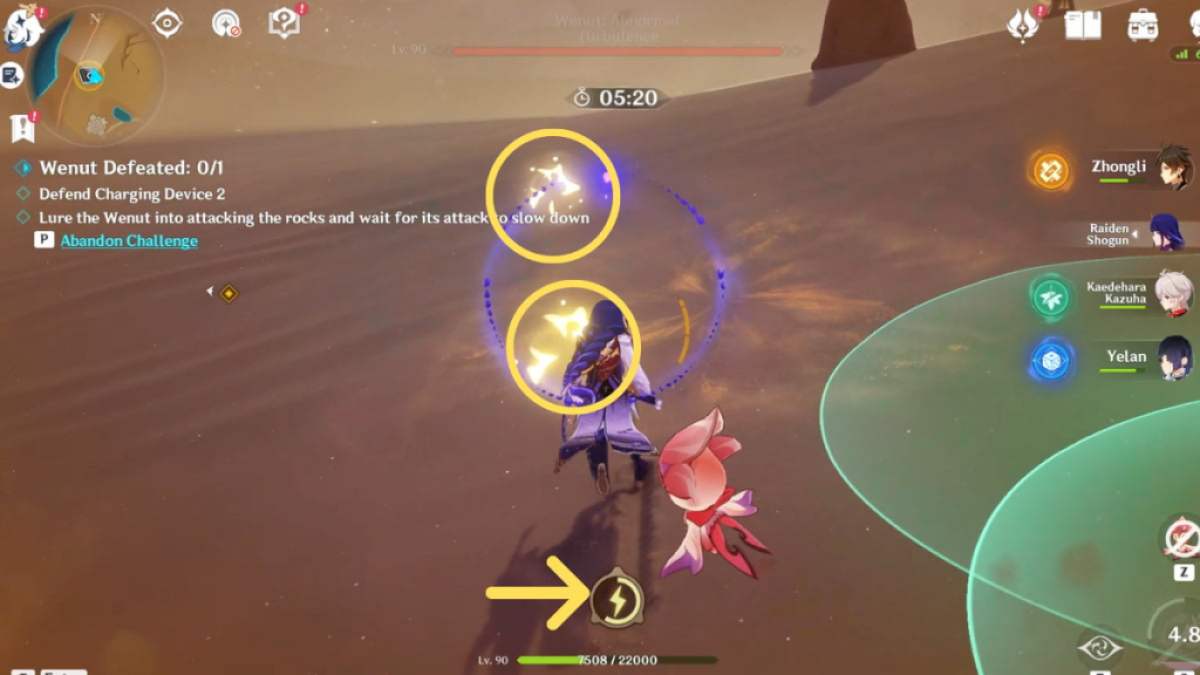 Destroying the sparkling rocks will reveal Elemental Energy. Pick them up to charge the Charging Device. Your goal is to keep repeating this pattern (defeating enemies while protecting the Charging Device, destroying sparkling rocks, and picking up Elemental Energy) until the gauge at the bottom is full.
Once the gauge is full, interact with the Wenutslayer Cannon to fire it against the Wenut, completing the challenge. After talking to the researchers, don't forget to claim your rewards in the Event Details. You'll also unlock the next quest and challenge in the event.
For more desert guides, check out How to Return the Kory Drums to their place in Genshin Impact – Awakening's Real Sound here on Pro Game Guides.