The Genshin Impact Gifts of Encounter is a HoYoLAB check-in event where you can get additional rewards for cumulative check-ins and participate in a raffle to win a Blessing of the Welkin Moon. This event runs from September 28, 2022, to October 7, 2022, and is open to all players with Adventure Rank 10 and above.
How to participate in the Genshin Impact Gifts of Encounter Blessing of the Welkin Moon raffle in HoYoLAB
Head to the official event page on HoYoLAB, the official community platform for all HoYoverse games. You can access it through a browser or the app, which you can download on the App Store and Google Play Store. Once you've entered the event page, log in to your HoYoverse account (the same as your Genshin Impact account!) and select the correct server to ensure all rewards are routed to your preferred account.
Related: Genshin Impact Secret of the Scorching Desert Mysterious Ruins Domain walkthrough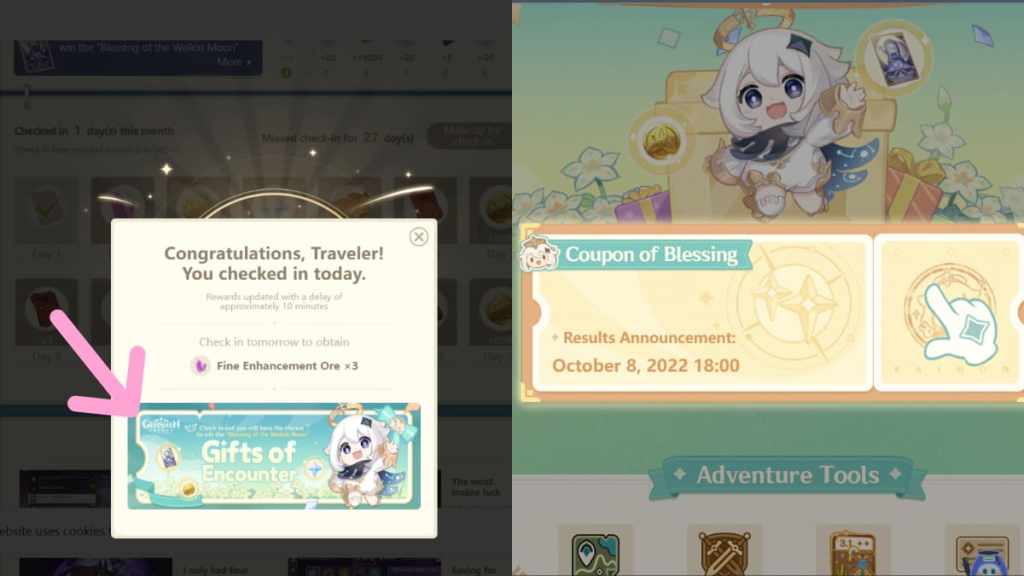 Click the Check In button on the event page to be redirected to the HoYoLAB daily check-in page. Then click on the day (based on your cumulative log-in history, not the actual date of the month) to check in. Apart from the specified reward, you will also receive a cumulative log-in reward within the event period:
One day: x3 Adventurer's Experience
Two days: x20 Primogem
Three days: x20,000 Mora
Four days: x20 Primogem
Five days: x3 Hero's Wit
Six days: x20 Primogem
Seven days: x3 Mystic Enhancement Ore
After checking in, a pop-up will appear. Click on the Gifts of Encounter button to be redirected back to the main event page. Then click on the Coupon of Blessing to participate in the prize draw for the Blessing of the Welkin Moon.
Genshin Impact Gifts of Encounter Blessing of the Welkin Moon prize draw details
Genshin Impact will distribute a Blessing of the Welkin Moon reward to 10 percent of all players who successfully participate by following the instructions above. If you're a lucky winner, you can expect to receive the reward in the account that you used to participate before October 8, 2022, 24:00 (UTC+8). This will be distributed via in-game mail, which expires in 30 days, so make sure to claim it by then.
Check out our Genshin Impact Canvas of Starlight Memories web event guide to participate in another second-anniversary web event.