Genshin Impact has had a fantastic launch, with millions of people downloading it to give it a go. No doubt, this number has skyrocketed, and no wonder as the title is incredible. The assortment of things you can do in it: annihilating beasties, scouring the land for treasure, even completing puzzles for more treasure! Like any game, errors can occur, which is frustrating when all you want to do is play the game! The most common error code at the moment is 4201, but how can you fix it?
This error code is the most common, but it's also quite new, so there is not much information on how to fix it, but there are a few things you can try. Most error codes from the 4000 are either your VPN (Virtual Private Network), network region location, or it's server related. Due to the error being on all platforms, it's safe to say that's it's a problem with Genshin Impacts servers. The following steps might help if you're on PC, however, as the affected servers could be regional. I'm afraid if playing on PS4 and mobile, trying the Google DNS method is at least worth shot, but alas, if that doesn't work, I'm afraid you're going to have to wait it out until the servers are fixed.
The first main thing to try is running Genshin Impact as an administrator. Windows 10 is awkward when it comes to this admin stuff; even if only a single user is on a PC with admin privileges, it still limits you from being a full 100% admin. You have to set the programs you want to run as an admin first, but it runs as an admin.
Head to where Genshin Impact is stored. Normally, if you haven't changed the game installer's file location, the location should be: Local Disk C > Program Files > Genshin Impact > Genshin Impact Game.

Right-click on the GenshinImpact.exe, at the bottom of the menu that appears will be Properties. Click on Properties, and you should see 6 tabs at the top, click on the tab called Compatibility. Once on that tab, look for the word Settings, and underneath Settings and above Change high DPI settings, should be an empty box that says Run this program as an administrator. Click on the words, and a tick mark should appear inside the box. The last thing to note is when you go to play Genshin Impact; a small window will appear saying, Do you want to allow this app to make changes to your device? Click on Yes, as clicking no will close the game. Yes, has to be clicked to start playing.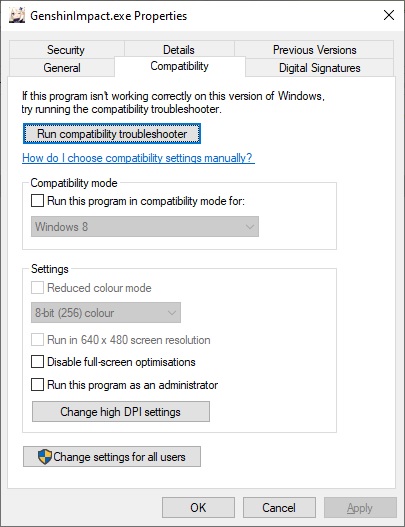 The second option is a more complicated solution and involves changing your VPN. Doing this might make it so you can play the game, but you'll have super high ping, which will cause the game to feel like it's lagging; it will not be smooth at all. To use this option, having really good internet is a requirement!
The method that I'll show you is not a VPN service. You do not have to download a VPN client; however, this method might not work as effectively as getting one.
In the Windows search bar, type in Network and click the best match at the top that will be Network Status. Once this window is open, click on the Change connection properties. Scroll on down to where it says IP Settings, but first take note of the numbers that appear to your right; there'll be a set of two sets of 4 numbers, for example, 12.5.2.9. Write these numbers down! For you to be able to change it back if this solution does not work for you.
Click on the Edit button and where it mentions Preferred DNS. Delete the number inside the box, and type in 8.8.8.8. In the Alternative DNS, delete the numbers in the box and type 8.8.4.4.
These numbers are Google's Public DNS IP.
This method may or may not work, but if it does work, the gameplay isn't going to be as buttery smooth as you're bouncing signals all over the place instead of only your modem. You need really good internet for this method to be effective. We'll keep you updated if any new information is found about this error!