Update: March 29th
We have made a new format for all of this information, and it includes everything you need to know for Rosaria!
We also have an All Genshin Impact Characters list, that gives all available details on all characters in the game, and that includes those rumored to be coming in later updates.
Additionally, we have an All Genshin Impact Materials list, which covers all Ascension and Talent Materials currently in the game!
---
Genshin Impact Rosaria Skills, Talents, and Ascension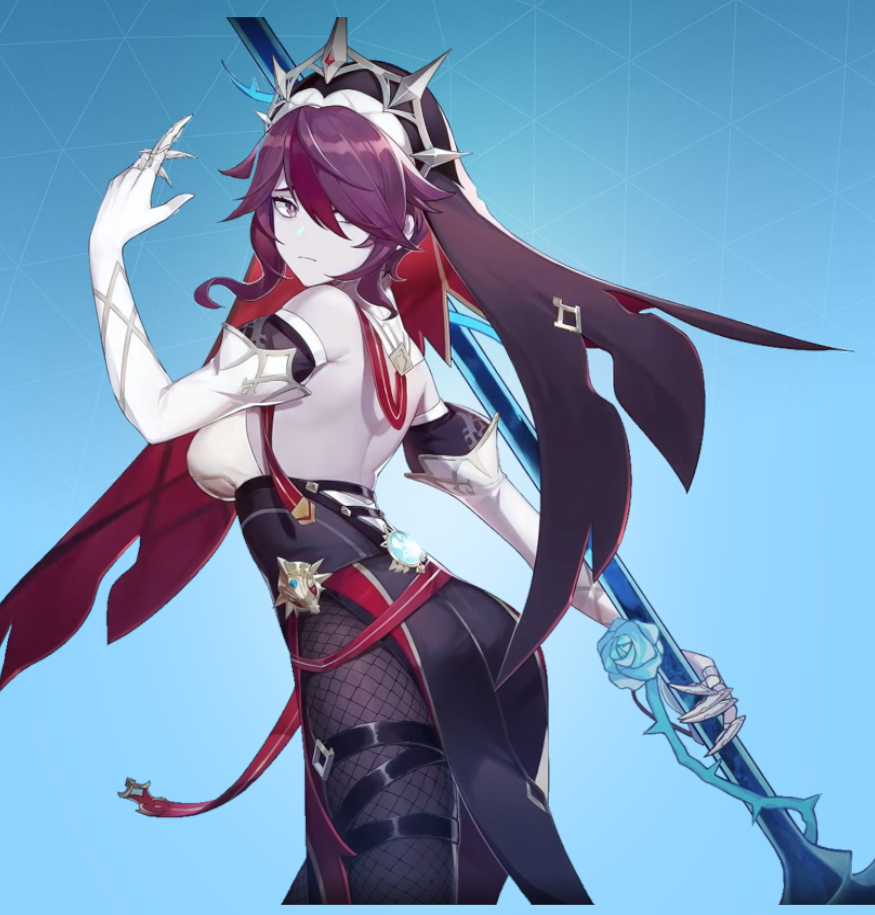 Rosaria is a 4 Star Cryo user who uses Polearm as a weapon. She is a member of the Church of Favonius in Mondstadt.
Attack Talents
Spear of Worship
Spear of Worship (Normal Attack)
Perform up to five consecutive spear strikes.
Spear of Worship (Charged Attack)
Consumes a certain amount of Stamina to lunge forward, dealing damage to opponents along the way.
Spear of Worship (Plunging Attack)
Plunges from mid-air to strike the ground below, damaging opponents along the path and dealing Area of Effect Damage upon impact.
Elemental Skill
Ravaging Confession
Rosaria quickly shifts her momentum behind her opponent, then with her polearm, pierces and slashes them dealing Cyro Damage.
However, this Elemental Skill cannot be used to travel behind beings of a massive build.
Elemental Burst
Rites of Termination
Rosaria prays, and after doing so, she slashes nearby surrounding enemies, she then summons an Ice Lance that strikes the ground dealing Cyro Damage.
When the Ice Lance is on the field, it releases cold air, dealing Cyro Damage to all those in proximity to it.
Talent and Ascension
You can find all talent and ascension details here: Rosaria
Passive
Night Walk | Unlocked Automatically
Between the hours of 18 pm and 6 am, your entire party's Movement Speed is increased by 10 percent. This only takes effect in the overworld.
Not stackable with other Passives that provide the same benefit.
Regina Probationum | Unlocked Ascension 1
When Rosaria uses Ravaging Confession and strikes from being, her Critical Hit Rate increases by 12 percent for five seconds.
Shadow Samaritan | Unlocked Ascension 4
Casting Rosaria's Element Burst increases the Critical Hit Rate of all nearby Party Members (Not Rosaria) by 15 percent of Rosaria's Critical Hit Rate by 10 seconds.
This bonus cannot exceed 15 percent.
Constellation
Each Constellation activation requires a Stella Fortuna.
Unholy Revelation | Constellation Lv. 1
Critical hits increase Rosaria's Normal Attack Speed by 10 percent for three seconds, and her Normal Attack Damage increases by 10 percent for four seconds.
Land Without Promise | Constellation Lv. 2
Extends the duration of the Ice Lances created by Last Rites by four seconds.
Sacrament of Penance | Constellation Lv. 3
Increases the Level of Ravaging Confession by three. Maximum upgrade level is 15.
Amazing Disgrace | Constellation Lv. 4
When Ravaging Confession lands a Critical Hit, it restores Five Energy to Rosaria.
It can only occur once per Elemental Skill.
Extreme Unction | Constellation Lv. 5
Increases the Level of Rites of Termination by three. Maximum upgrade level is 15.
Divine Retribution | Constellation Lv. 6
When Rites of Termination hits an opponent, it decreases their Physical Resistance by 20 percent for 10 seconds.
If you're looking for information on the Genshin Impact 1.4 update, check out this post! Stay up to date with the upcoming banners, and keep an eye on our Genshin Impact codes to get some free goodies!