Adventurer's Trials is a super-fun Genshin Impact event where you can complete a series of challenges using the unique abilities of predetermined trial characters. It's a fantastic way to learn how to apply those same skills in similar situations while battling in and exploring the open world.
The event runs from November 4, 2022, to November 21, 2022, and is open to all players with Adventure Rank 20 and above. It can be played solo and in Co-op mode.
How to unlock the Adventurer's Trials event in Genshin Impact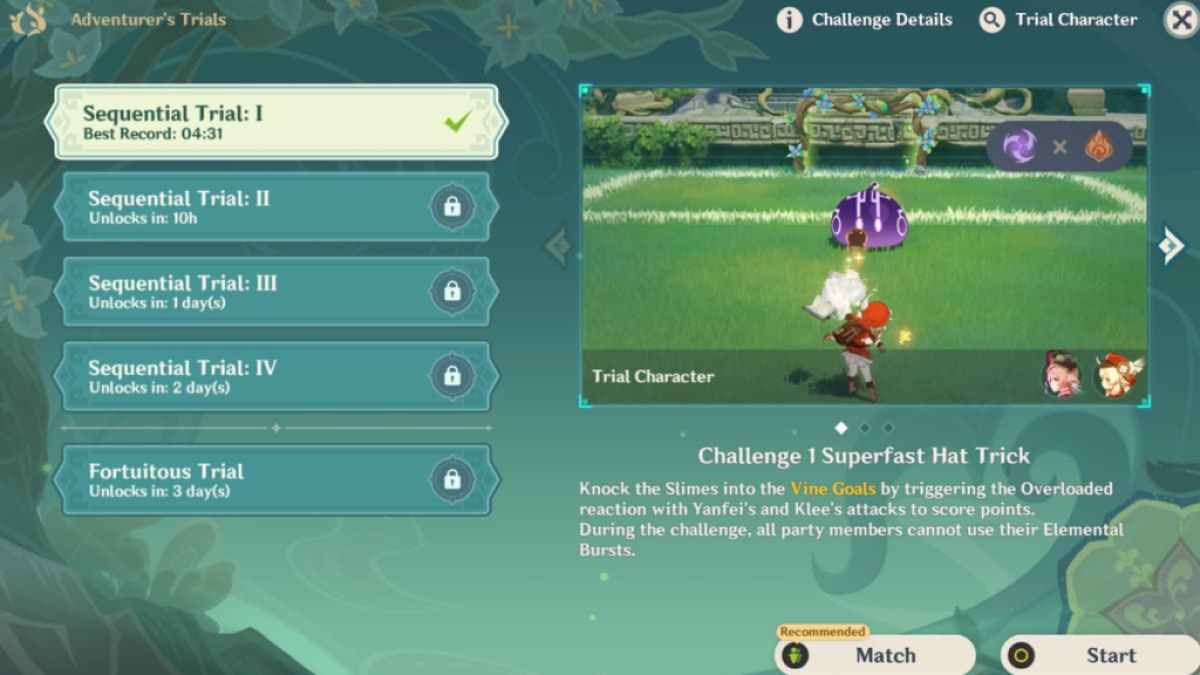 You can begin playing this event as long as you're Adventure Rank 20 and above. Head to the event menu, select Event Details, and choose a Trial. Click Start when you want to play solo or Match to find a Co-op team. After completing the challenge, don't forget to claim rewards from the event menu!
Genshin Impact Sequential Trial: II guide – Yelan, Sayu, Nahida, Keqing
Challenge 1: Boulder Run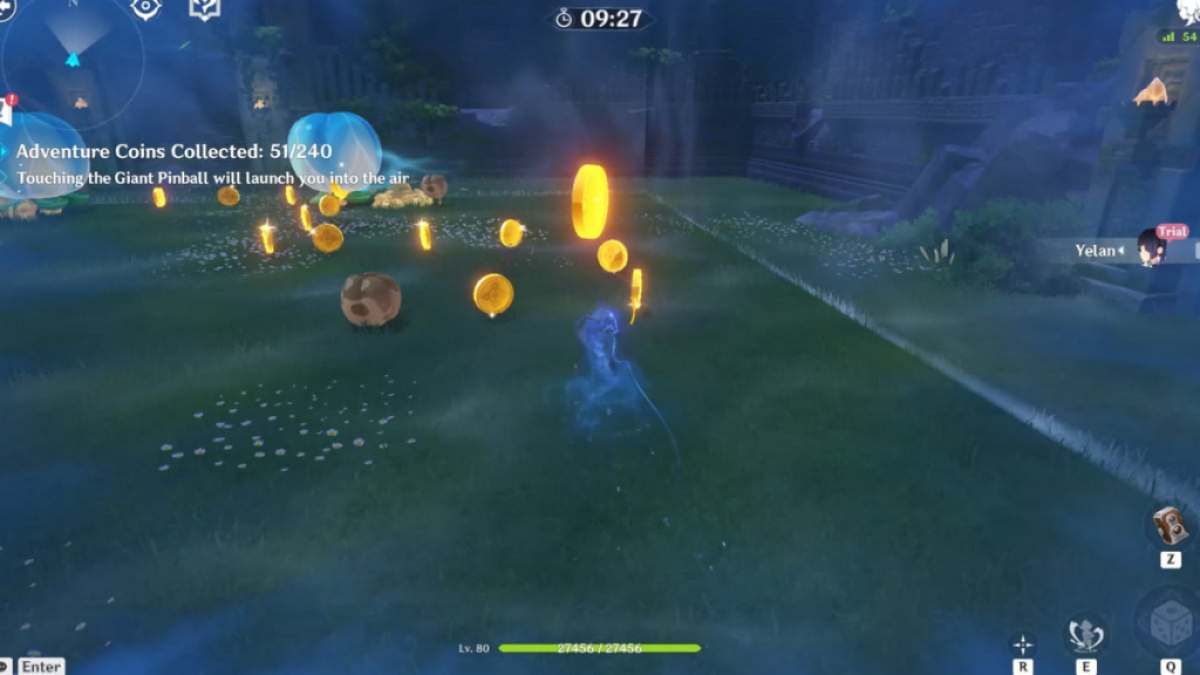 In this challenge, you must hold Yelan's Elemental Skill while selecting directional keys to quickly slither around the area, collecting Adventure Coins and avoiding obstacles along the way. Avoid the Giant Pinballs (big blue peaches), which will interrupt the Elemental Skill and knock you backward, while the mud balls will obscure your screen for a moment.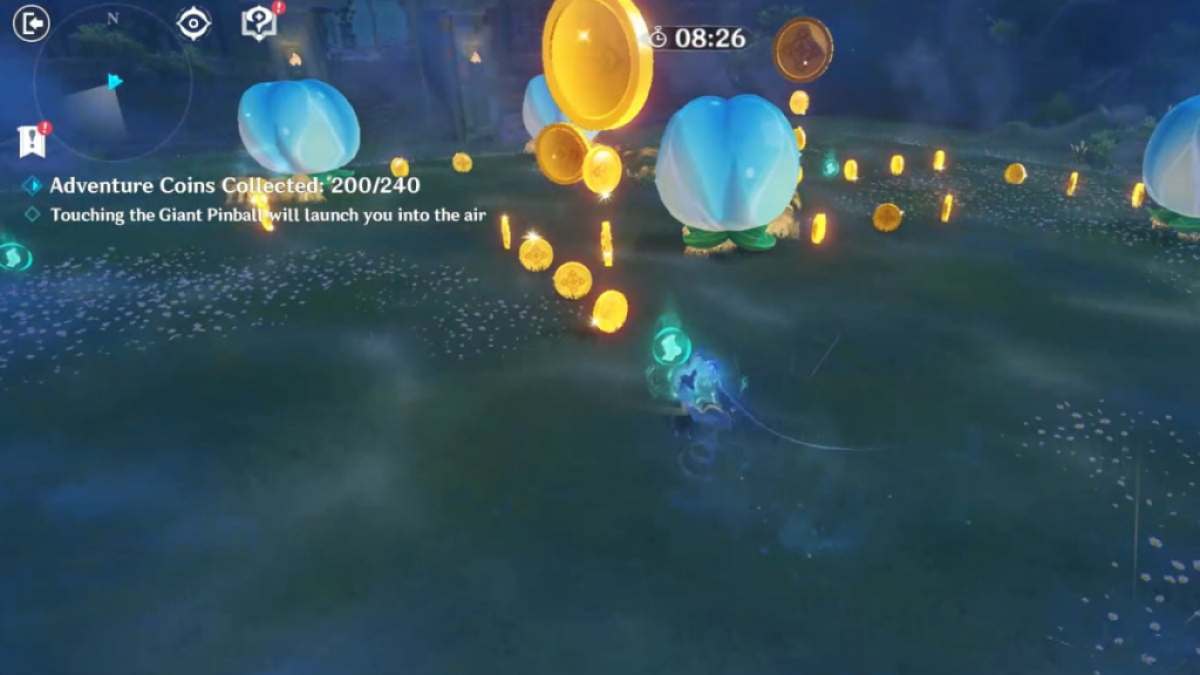 The obstacles will regularly change throughout the course of the challenge. You can pick up green buffs on the ground by approaching them, and they'll increase your jumping power to reach the coins floating higher up. Your goal is to collect 240 Adventure Coins in total.
Related: Genshin Impact Wanderer kit – All Skills, Constellations, Passives & more!
Challenge 2: Verdant Tsunami
In this challenge, you must use Sayu to create ice bridges using her Elemental Skill. Your goal is to collect 180 Adventure Coins, which are scattered across platforms all over the area. Simply hold the Elemental Skill for a few seconds, then release and use directional keys to roll around. Sayu's Elemental Skill can Swirl the Cryo emitted by the Cryo Slimes, allowing her to continuously apply it onto the water, seamlessly creating ice bridges to go from one platform to another. Make sure to avoid obstacles, such as the mud balls, which can interrupt the skill.
Challenge 3: Thunderlit Battlefield
In this challenge, you need to trigger as many Quick, Aggravate, and Spread Reactions, which are caused when Electro is combined with Dendro, to defeat the enemies. To do so, use Nahida's Normal Attack, Elemental Skill, and Elemental Burst to apply Dendro onto the enemies. Then follow up with Keqing's Elemental Skill and Elemental Burst to apply Electro onto the enemies (or vice versa).
Check out our guide on How to complete Sequential Trial III in the Genshin Impact Adventurer's Trials event to complete the next set of challenges.