A Returning Customer is a Monstadt Daily Commission that can only be obtained after completing Xiangling's Story Quest.
Prerequisite
The Trulla Chapter: Act I—Monstadt Gastronomy Trip is open to all players who meet the following requirements:
Completed the Archon Quest Prologue: Act I—The Outlander Who Caught the Wind.
Reach Adventure Rank 13 or above.
Once you've completed the above prerequisites, Xiangling's Story Quest will automatically be initiated at no cost. Complete it to obtain the recipe for Jade Parcels, which will be essential for the upcoming Commission.
Related: How to complete the Poetry Exchange Daily Commission in Genshin Impact
A Returning Customer
After completing Xiangling's Story Quest, you have a random chance to receive the Daily Commission called A Returning Customer. Set your Commission location to Monstadt in the Adventurer's Handbook to increase your chances of obtaining it.
The Commission will take you to Siegfria, who's located on the cliff above Springfield's residential area. Speak to her and give her Jade Parcels.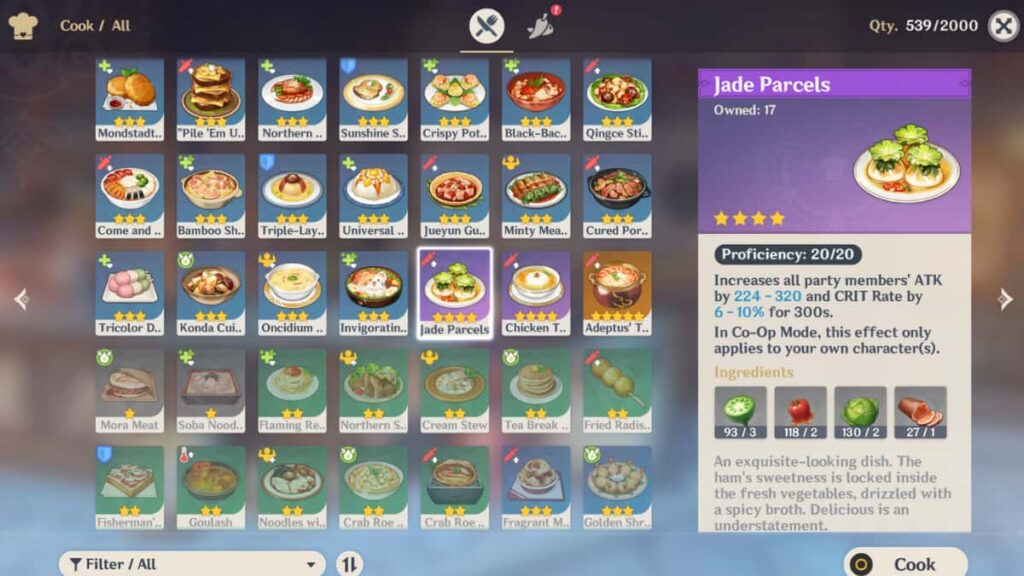 Jade Parcels can be cooked in any stove or fireplace with the following ingredients:
x3 Lotus Head
x2 Jueyun Chili
x2 Cabbage
x1 Ham (can be processed with x2 Raw Meat and x1 Salt)
Giving Siegfria the Jade Parcels in different Dish qualities will merit you different bonus rewards, on top of the usual 10 Primogems and 1,800 Mora:
Suspicious: no bonus
Normal: x1 White Iron Chunk
Delicious: x1 Crystal Chunk
Check out our How to get and complete the Recuperating from a Severe Illness Daily Commission in Genshin Impact to clear other Monstadt tasks.