The Golden Apple Archipelago is back for Genshin Impact's Summertime Odyssey event, which runs from July 15, 2022, to August 24, 2022. In this guide, we'll walk you through how to complete all the puzzles in the second room of Mona's optional Mirage to get four Chests.
You must first complete all the puzzles in the first room of the Mirage before you can proceed to the second room. From the starting point, turn left and head to the second room, which is marked by the pattern in the image below.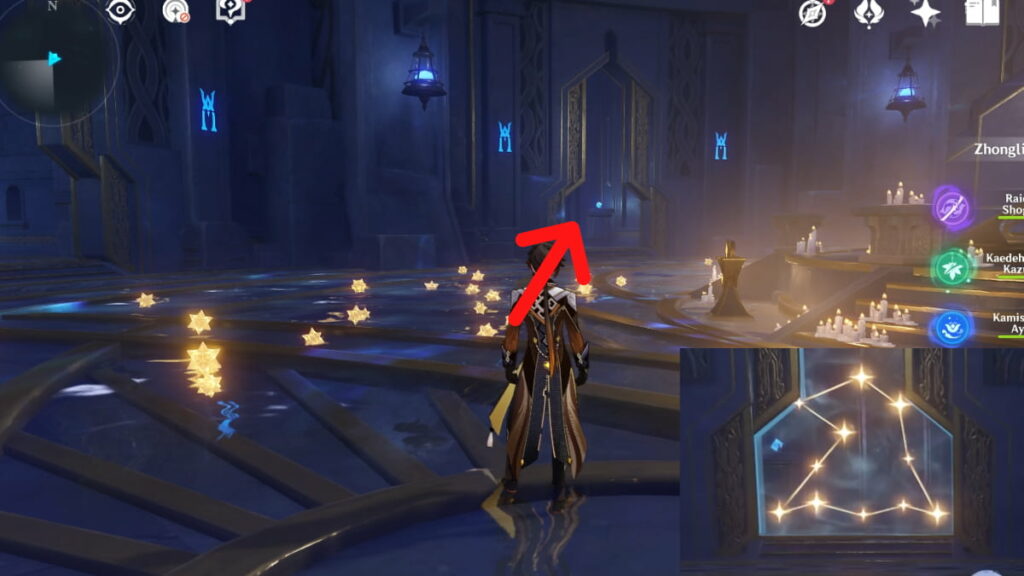 The Ancient Azure Stars second room walkthrough - How to solve all puzzles
Invisible bridge Astral puzzle
Upon entering the room, ignore the mechanism and turn right to find a staircase. Climb up and follow the path until you encounter a floating star. The star will lead you into the chamber—follow it until it floats to the sky. To reach the star, you need to create an invisible bridge by solving the Astral puzzle.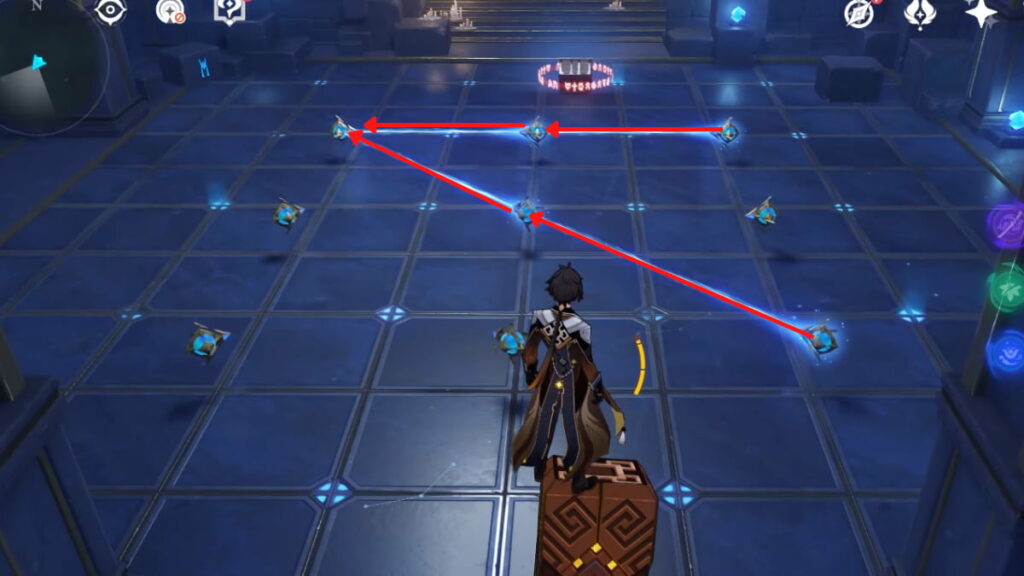 Reference the image above for the directions of the Star Guides. While there are nine Star Guides in the room, you only need to use the five specified above. After completing the puzzle, an invisible bridge will form behind the locked Chest. Climb it to reach the floating star, which will then float down and unlock the Exquisite Chest for you to loot.
Related: How to solve the Starlight Coalescence Astral puzzle in Genshin Impact
Water Ascension puzzle
After solving the invisible bridge puzzle, a magic circle will appear on the ground. Interact with it to Ascend, which will cause the water level to go up. Look to the side to find a Common Chest. After looting the Chest, swim back to the magic circle and Ascend one more time. You'll find an open door leading to a small room hiding another Common Chest.
After looting the Chest, Descend twice until there is no more water. Then exit the room and jump down until you see the mechanism. Interact with the mechanism to Switch it on and spawn a magic circle. Ascend once to force the water level to go up, allowing you to reach the third Common Chest.
Other Genshin Impact The Ancient Azure Stars Mirage guides
If you missed any of the previous steps before unlocking this part of the Mirage or need help with upcoming puzzles, check out the guides below to help you out. We highly recommend doing them in order.
Check out our guide on How to solve the Luxurious Chest Starlight Coalescence puzzle in Genshin Impact to find an amazing Chest hidden in the Minacious Isle.