Daily Commissions are the bread and butter of Genshin Impact dailies, supplying Travelers with a consistent stream of Primogems to make a little over 10 Wishes a month. Upon stepping foot onto the nation of wisdom, you might be eager to help its residents with their troubles straight away—but unfortunately, you're going to have to do a few things first before Sumeru's Adventurer's Guild sends you Commissions.
How to get Sumeru Daily Commissions in Genshin Impact
To unlock Sumeru Daily Commissions, you first need to complete Acts I and II of the Sumeru Archon Quest:
Once both are done, wait until the server resets to get a World Quest called Adventure Takes Courage! This will prompt you to head to Katheryne in Sumeru's Adventurer's Guild. After a quick dialogue, you can finally work on Sumeru Daily Commissions.
Related: Genshin Impact While the Dream Lingers World Quest guide
How to switch to Sumeru Daily Commissions in Genshin Impact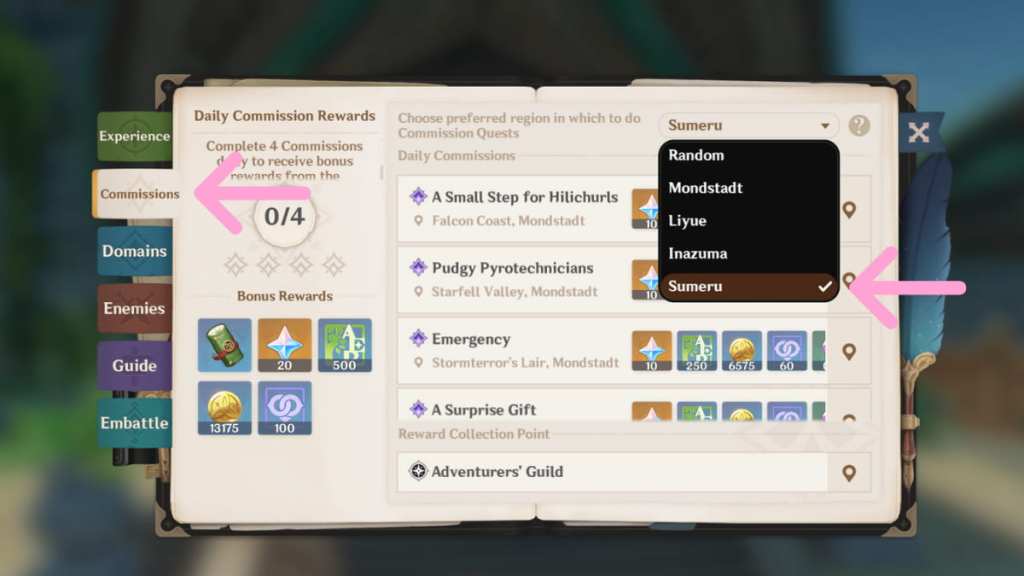 Open up the Adventurer's Handbook, which is the book icon to the left of the Inventory on the upper right of the screen. Then switch to the Commissions tab on the left-hand corner. On the drop down, select Sumeru to exclusively get Daily Commissions from this region, or Random to get Commissions from all over Teyvat.
Keep in mind that this option will only be available if you have already done the prerequisites above. After changing your Commission location, you need to wait until the server resets before receiving dailies from your region of choice.
Check out our guide on How to unlock the Sumeru City Reputation Board in Genshin Impact to get another important reward system in the nation of wisdom.