The Chasm's Underground Mine is sprawling with mysteries, from long-lost secrets of the fallen Khaenri'ah to the existence of Oozing Concretions. One of the biggest highlights of the area is an upside-down Teleport Waypoint that doesn't appear in the World Map until you've unlocked it.
This guide will walk you through how to find the upside-down Teleport Waypoint and unlock it. Keep in mind that you need to initiate The Chasm Spelunkers to get access to the Underground Mine.
Where to Find the Upside-Down Teleport Waypoint in Genshin Impact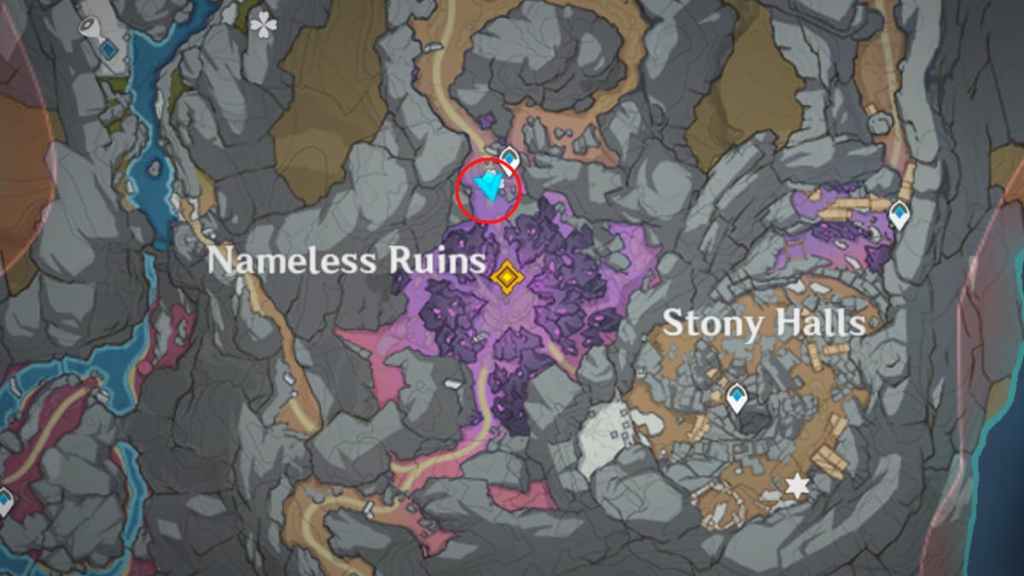 Head to the area circled in the image above. To get there, start from the Teleport Waypoint in the Stony Halls and move upward. You can also follow the Requiem of the Echoing Depths Archon Quest (The Grave of the Guarded), which will guide you to the same location.
Related: How to solve the hidden Precious Chest puzzle in Fuao Vale in The Chasm in Genshin Impact
How to Activate the Upside-Down Teleport Waypoint in Genshin Impact
After heading to the location mentioned above, you'll find yourself in a clearing with the upside-down Teleport Waypoint. Climb the pillar beside the Teleport Waypoint until you're touching the ceiling. This will allow you to interact with the Teleport Waypoint to unlock it. Consider using a tall character so that they can reach the top.
Alternatively, you can use the Wind Catcher Gadget or Venti's Elemental Skill to create a Wind Current to propel you high enough to reach the Teleport Waypoint.
Take a break and enjoy our Genshin Impact Quiz: Which element are you? to find out which Vision you're most likely to get.