While exploring the Golden Apple Archipelago in Genshin Impact (an exclusive area available only during Version 1.6), you'll come across lots of conch shells that contain the stories of other people. Collecting one of these conches, called "Moon and Wind" and found on Twinning Isle beneath the Teleport Waypoint, will activate the They Who Hear The Sea world quest.
Related: Echoing Tales Guide (Day 2): All Conch Locations in Genshin Impact
The location of a treasure chest will be marked on your map, pointing the way to a tiny island directly east of Twinning Isle. Dig the chest up and interact with it to find out that it's locked, requiring a code. Paimon will remind you that the conch shells seem to hold the answers.
To work out the code, you'll need to open the Echoing Tales event screen and go to Conch Retrospection, where you can examine all of the conches you've gathered so far. Check out the very first collection in the series, called "Songs of a Distant Home." Each entry starts with a number, giving you the sequence for the code you'll need to input into the chest: 5-2-1-4.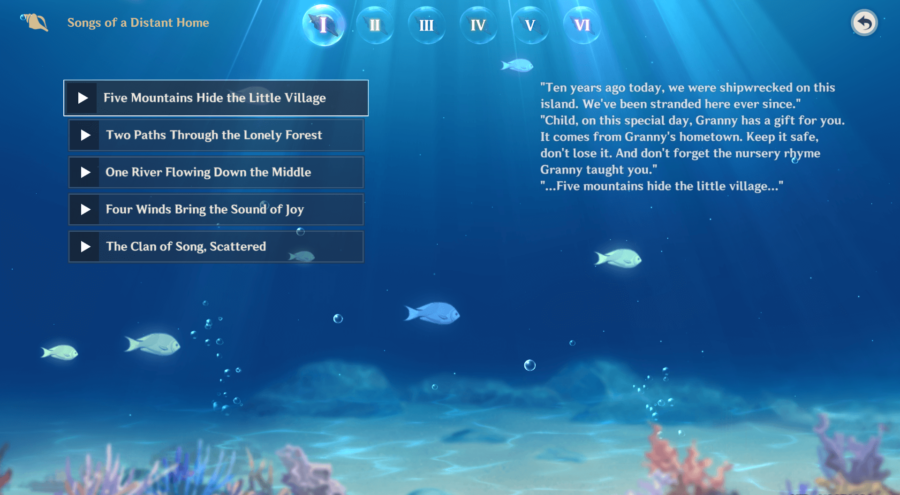 Once you enter the code, the chest will open and you'll automatically complete They Who Hear The Sea. For more Midsummer Island Adventure content, don't forget to check out our From Outer Lands quest guide.
Take our What is your Genshin Impact Vision quiz to find out which Archon you've been blessed by, or check out Genshin Impact Codes to snag free in-game rewards!