Genshin Impact 2.6 introduced a plethora of fun content in the form of new characters, areas, quests, and weapons. Kamisato Ayato of the Yashiro Commission finally became a playable character, The Chasm's depths opened up for exploration, and what is arguably the best DPS weapon so far was introduced—the Five-Star Haran Geppaku Futsu sword. Here's why the Haran Geppaku Futsu is the best DPS weapon currently in Genshin Impact.
Haran Geppaku Futsu stats and abilities
What sets the Haran Geppaku Futsu apart from other swords is its ability, which gives the wielder a massive increase to their Normal Attack Damage output. The stats and ability for a fully refined and ascended Haran Geppaku Futsu are as follows: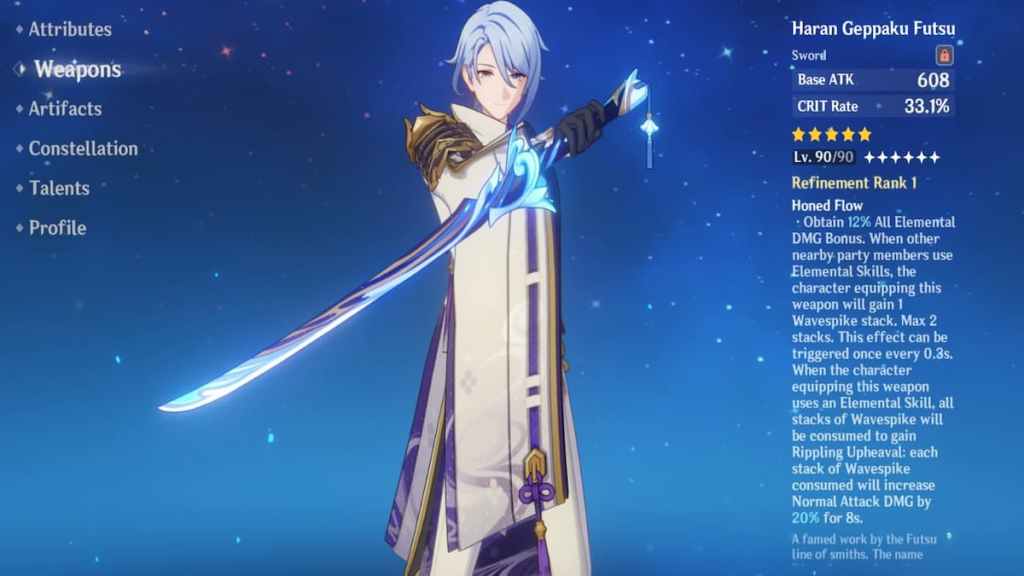 Attack
Sub-stat
Ability

The equipped character gains a 24 percent All Elemental Damage Bonus. When other party members use an Elemental Skill, the equipped character will gain one Wavespike Stack, for a maximum of up to two stacks. When the equipped character uses an Elemental Skill, all Wavespike Stacks will be consumed and provide the character an increase to their Normal Attack Damage by 40 percent for eight seconds.
The sword provides a healthy amount of points to the wielder's Attack stat, and the Crit Rate sub-stat ensures that at least one-third of the attacks landed on opponents will be a Critical Hit. This means that you can focus on increasing other stats for your character, such as Attack Percentage or Crit Damage Percentage to ramp up the damage output even further.
Additionally, the increase to Normal Attack Damage still applies to characters whose Elemental Skills alter their Normal Attacks. For example, Kamisato Ayato's Skill converts his Normal Attacks into Hydro Area-of-Effect Damage, though the attacks are still considered Normal Attacks. This means his Elemental Skill Damage can also be increased by 40 percent when wielding the Haran Geppaku Futsu, turning him into a powerhouse on the battlefield.
This sword can only be obtained through Weapon Banner Wishes, unfortunately, meaning the odds of acquiring one are fairly low. Despite that, the Haran Geppaku Futsu is certainly a weapon worth spending your Primogems on if you're looking to build a sword-wielding DPS character!
Looking for more great Genshin Impact content? Be sure to check out Genshin Impact New Adventure? Let's Go! Web Event guide here at Pro Game Guides.